Customer Portal Overview
HostGator has developed a new Customer Portal with a billing and support system that allows you to manage everything related to your HostGator account.
---
A Guide to HostGator's Customer Portal
The video demonstrates some common tasks that can be accomplished within the HostGator Customer Portal.
Jump to a Section
Use the links below to jump to a specific section for more information about the Customer Portal.
---
Login
For a more in-depth tutorial on how to access your HostGator Customer Portal, please see the following article:
If you've lost or forgotten your password, you can retrieve your password using the Forgot Your Password link on the login page.
---
Main Menu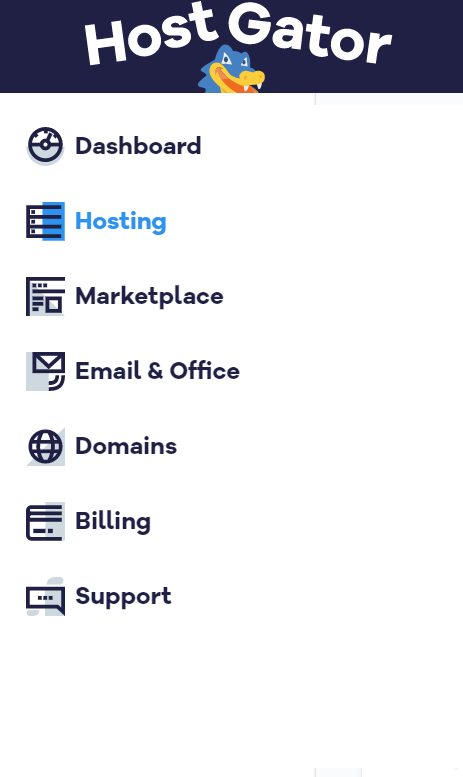 On the left-hand side of every page in your billing account, you will find icons to various areas of your account. Below is a list of each section of the menu and corresponding icons that offer help with the various features of the Customer Portal. Click on the links below to learn more about each task.
---
Dashboard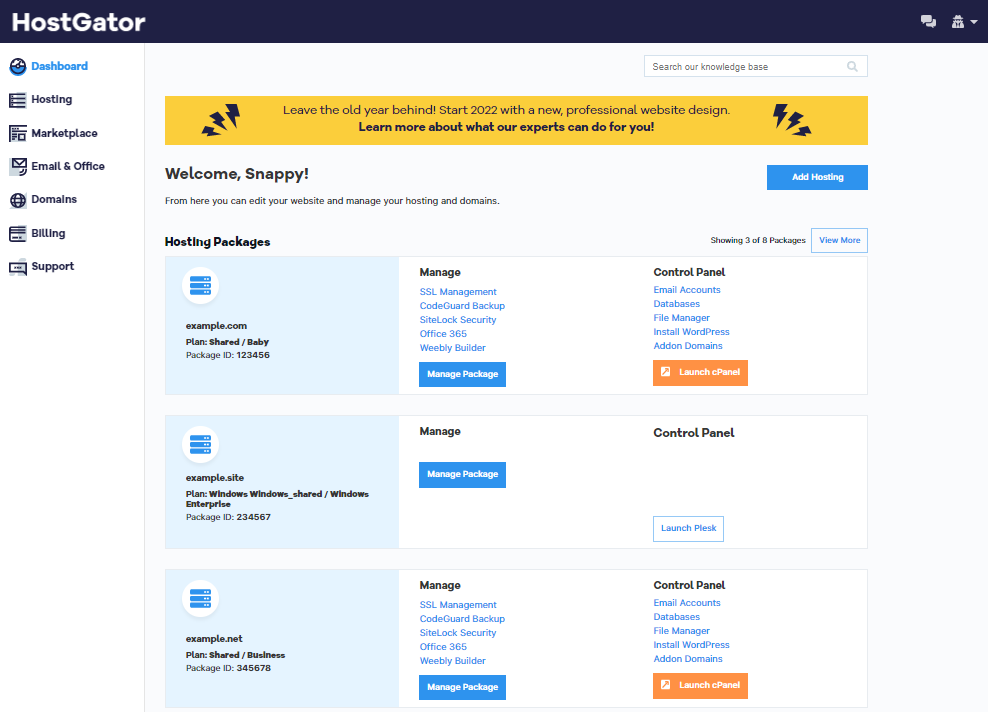 When you first log into your billing account, you will be taken to the Dashboard page, which gives you quick access to your hosting packages, addons, and account management. For Shared and Cloud packages, there are direct links to sections within cPanel.
---
Hosting
The Hosting section has been incorporated into your Customer Portal to extend our Single Sign-On initiative. The various icons within this section are outlined below and will take you to the associated cPanel page without requiring your unique cPanel credentials. You can even change between your primary domains if you have multiple shared packages.
Overview Tab

Overview Dashboard - This will be the main landing page when you view your hosting plan.
cPanel - Clicking this icon will automatically log you into cPanel where you can manage your account's hosting. The following articles provide more information:
Webmail - The Webmail link will first take you to a list of your email accounts, and then you'll be able to navigate to the inbox by clicking Access Webmail. The following articles provide more information:
Email Accounts - This will take you directly to the section of your cPanel to create and manage email accounts for your domain(s). The following articles provide more information:
Install WordPress - WordPress is one of the most widely-used content management systems to create websites. Use the following links to jump right into installing and using WordPress for your website!
Databases - Create, Modify, or delete MySQL databases and/or database users. The following articles provide more information:
Addon Domains - An addon domain is a secondary domain hosted on a cPanel account. For more information, check out these articles:
phpMyAdmin - phpMyAdmin is a web tool used to handle the administration of MySQL databases. Use the following articles to learn more about phpMyAdmin:
File Manager - The File Manager is a web interface that allows you to easily navigate and manage your website files. The following articles provide more information:
Settings Tab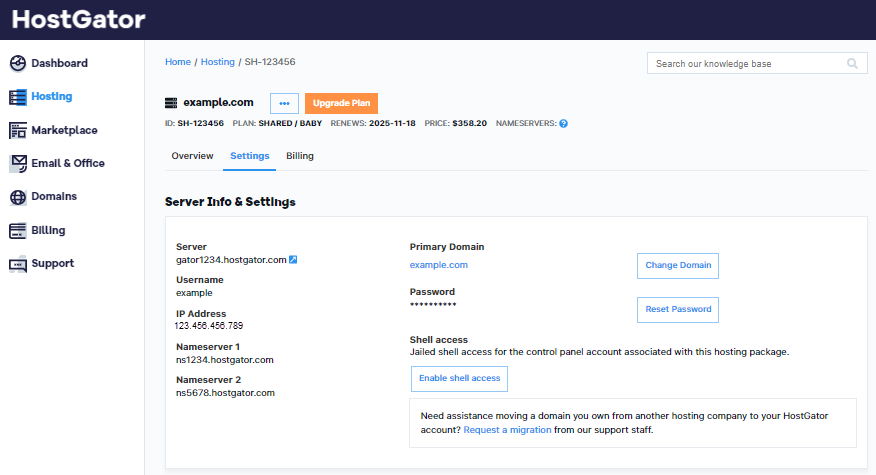 Server Info & Settings - This is where you will find your hosting package's server details.
Server - This is your package's server name.
Username - This is your cPanel's username (Shared and Cloud hosting accounts)
IP Address - This is your cPanel's Site IP. All domains hosted in this package should be using this IP address as their A records. You will also find this in your cPanel's General Information section on the right-hand side.
Nameserver 1 & Nameserver 2 - These are the name servers assigned to your hosting package. You can point your domains to these name servers. To learn more on how to point domains to your preferred server, please check this article: How Do I Change My DNS or Name Servers?
Primary Domain - This is your hosting package's primary domain. You will have the option to change your primay domain anytime. Please check this article on how to change your primary domain: Customer Portal - Change Primary Domain.
Username and Password - This is your cPanel's login information. While the username cannot be modified, you will have the option to reset your cPanel password by clicking the Reset Password button. Please note that the cPanel can only have one user. It does not have feature that allows us to create another user account.
Shell access - Hosting accounts would have secured shell access which is enabled by default. To know more about SSH access, plesae check the article, How Do I Get and Use SSH Access?
Billing Tab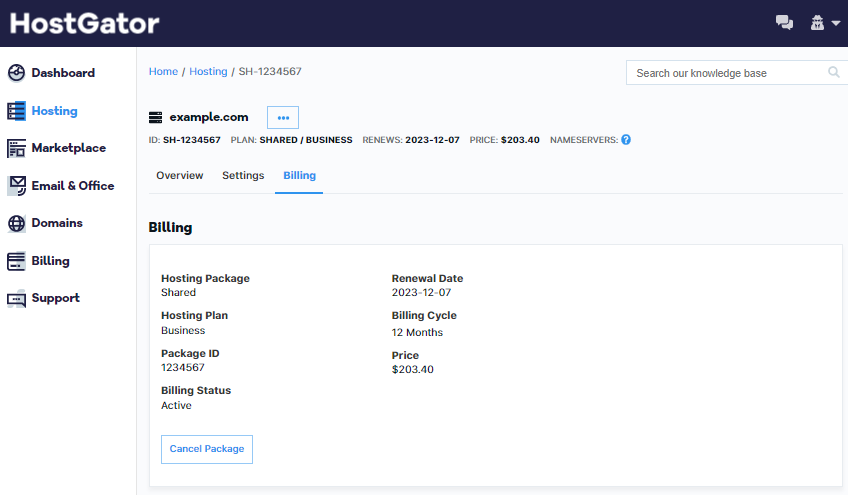 Hosting Package - This is your hosting package type.
Hosting Plan - The type of plan you chose for your hosting package.
Package ID - Your hosting package's ID number.
Renewal Date - This is the date when your package will be renewed. A renewal invoice is automatically generated in your account as discussed in the Billing section below ⤵.
Billing Status - It shows whether the hosting package is Active, Suspended or Cancelled.
Price - This is your hosting package's price.
Cancel Package button - You will have the option to cancel or discontinue your hosting packge's subscription anytime. Please check this article for the complete guide on how to cancel your hosting account: How Do I Cancel My Account?
---
Marketplace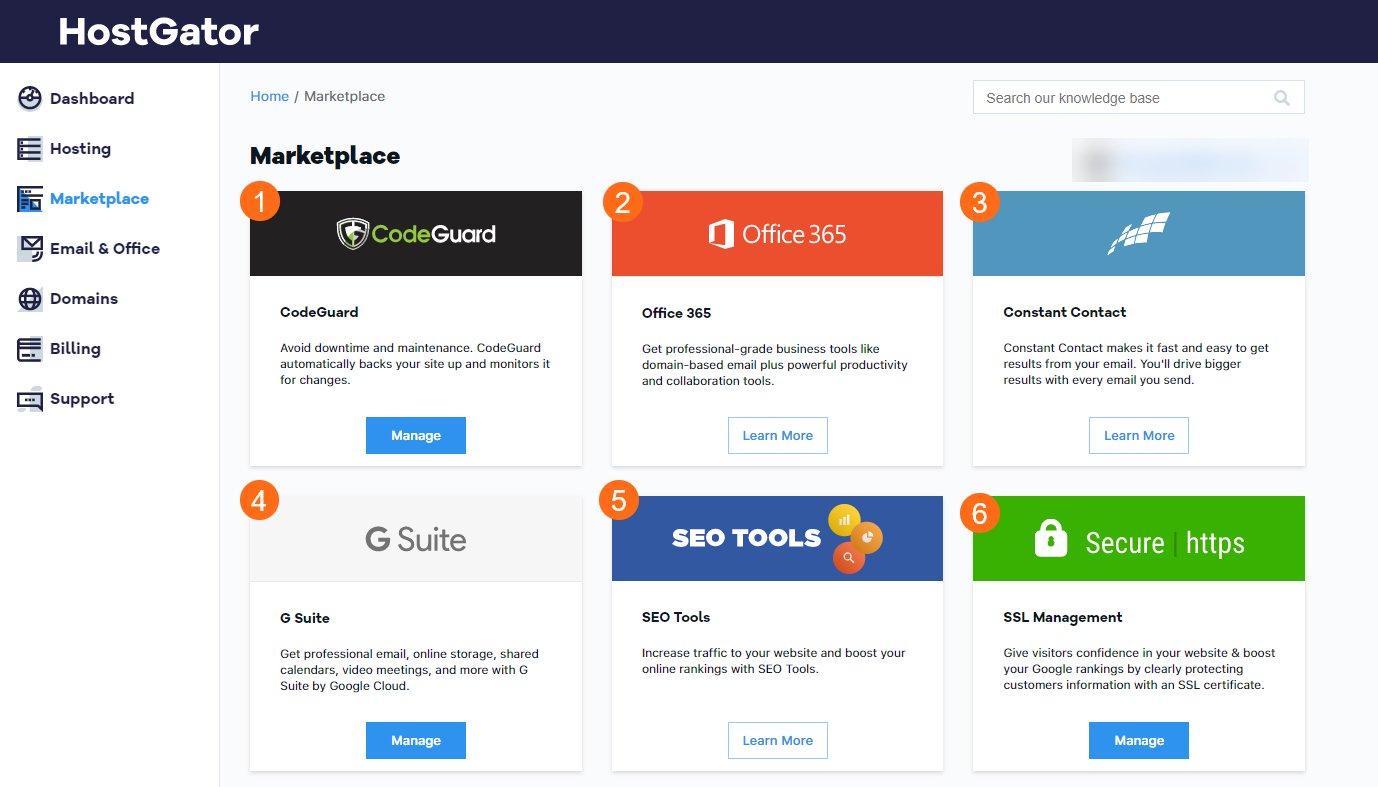 Inside the Marketplace, you can add and manage addons for your hosting package. Here you can search for themes, plugins, and professional services for various software.
Click on the corresponding links below to view more information:
Related Services

Special Offers

Click on the corresponding links below to view more information:
Bing Ad Credit* - 160 million people use Bing to search online. Make sure your site is at the top of their results.
Google Adwords Credit* - Make it easier for potential visitors to find your site by bringing it to the top of their Google search results.
*Subject to change.
---
Email & Office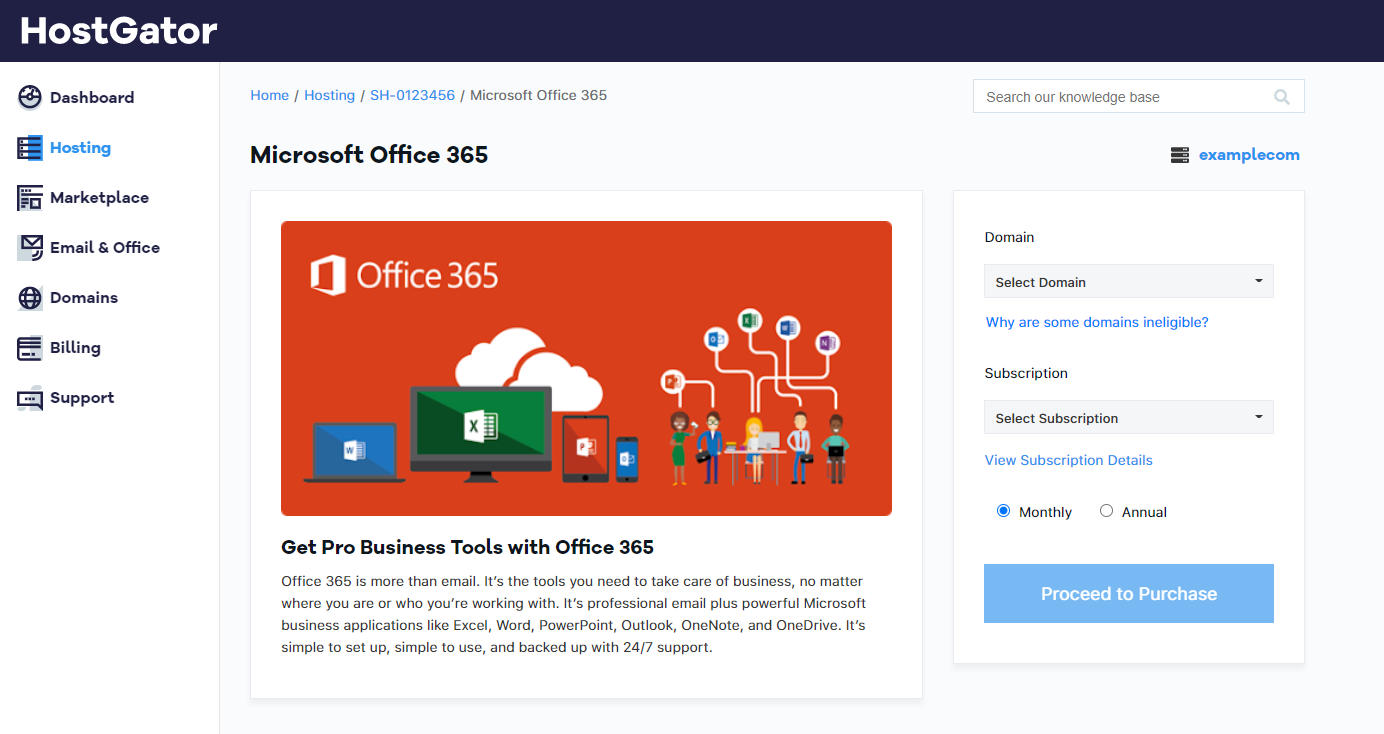 This is a new feature in your Customer Portal which gives you the option to choose your email service that suits your business needs. Email services now include Microsoft 365 and G Suite.
---
Domains

When clicking Domains, you will be brought to the HostGator domain control panel. For additional information regarding the domain control panel, please see the following articles:
---
Billing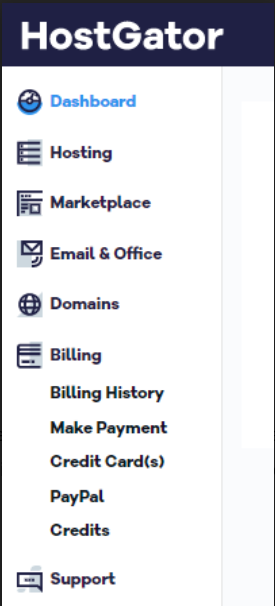 ---
Support

---
My Account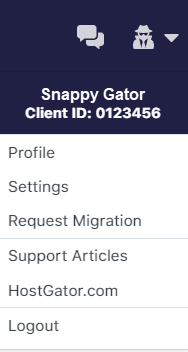 ---
Specific Tasks
The following articles provide details on how to perform specific tasks within the Billing/Support Customer Portal that may not be obvious from the menu options.
---
Additional Features

At the top of the page, you can find:
Option to open a Live Chat
Knowledge Base search bar
Account Management
---
Account Addons
Our Addons page lists all the information needed to proceed with the following account addons and services:
---
Shared Hosting Startup Guide
---