How to Log in to cPanel
Once you purchase a hosting plan with HostGator, you'll have access to your control panel and Customer Portal.
This article will discuss how you can log into your cPanel.
Want to know your cPanel username, password, and other account information? Go to the Welcome Email section below ⤵.
Need to know the methods on how you can log into your cPanel? Check out Option 1 (via Customer Portal) and Option 2 (via cPanel URL) ⤵.
Did you not find what you're looking for? Please visit the FAQs section below ⤵.
---
Welcome Email
When you initially sign up with HostGator, you will receive a Welcome Email that contains pertinent information about your new hosting package. The email looks similar to this: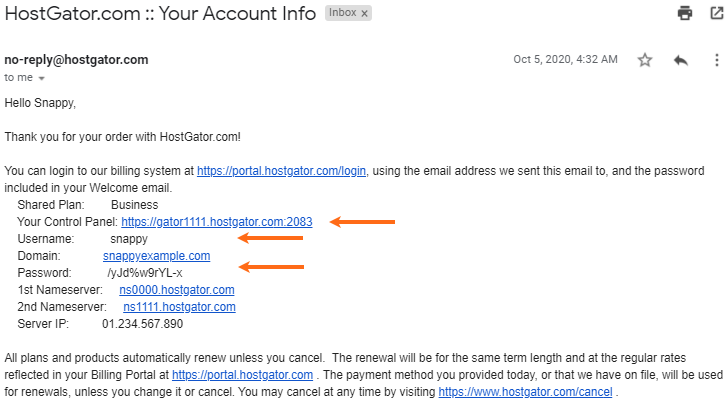 In the email, look for the following information:
Your Control Panel - This is the URL to access your cPanel directly. Usually, this link ends with ":2083". You will want to open that link in a new tab/window and bookmark the URL.
Username - This is your cPanel username.
Password - This is your cPanel password.
If you do not have the correct login credentials from the Welcome email, please contact us via
phone
or
chat
for assistance.
---
Option 1 - Log into cPanel via Customer Portal
The Customer Portal provides a single sign-on option to your own cPanel for Shared and Cloud hosting plans. Please use the steps below to access your cPanel through your Customer Portal.
Tip:
 If you're already logged into your Customer Portal, you can click this link to go to your cPanel directly: 
Take me to cPanel!
To launch cPanel via the Customer Portal:
Log in to your Customer Portal. Your Customer Portal login details are the email address and password you've used to register with us (see Customer Portal - How to Login).
On the Dashboard, locate the hosting package with which you wish to access the cPanel.
Click the Launch cPanel button.

A new tab will open, logging you directly into your cPanel.
---
Option 2 - Go to cPanel via URL
You can directly go to your cPanel using any of the following ways below; however, Direct Option 1 and Direct Option 2 are the most dependable as they rely on the server address instead of the domain's DNS. These two options do not require your domain to be connected to the server.
Why does having your domain connected to HostGator matter?
Some people may have their domain hosted by another hosting provider. While they work to create a new website at HostGator, they sometimes keep their domain connected to their old site. Thus, their domain will not be connected to their new HostGator account initially, so Direct Option 3 will not work for them. Once they connect their domain to HostGator, Direct Option 3 will work.
Tips:
Both your Server Hostname (Your Control Panel without the ":2083") and your Site IP (Server IP) address are provided in your Welcome email.
The Server Hostname for Shared hosting customers will look like gator1234.hostgator.com or secure1234.hostgator.com.
The Server Hostname for Resellers will look like car-name.websitewelcome.com or secure1234.websitewelcome.com.
We always recommend using a secure connection. Your connection will be encrypted by using HTTPS along with the port address 2083 to access cPanel.
Direct Option 1:
Use https and your Server Hostname followed by a colon and the port address of 2083 (best method).
URL Format: https://ServerHostname:2083
Example: https://gator1111.hostgator.com:2083
Direct Option 2:
Use https and your server's Site IP address followed by a colon and the secure port number 2083:
URL Format: https://Site-IP:2083
Example: https://01.234.567.890:2083
This will produce a browser warning. Please see the following article for instructions on how to bypass this:
Direct Option 2 with the Site IP address will redirect you to the Server Hostname URL, as shown in Direct Option 1.
You can use the Direct Option 2 method without the "https"; however, you need to use port 2082.
Direct Option 3:
Use https and your domain name followed by a colon and the secure port number 2083:
URL Format: https://yourdomain.com:2083
Example: https://snappyexample.com:2083
Note: Please replace "yourdomain.com" with the actual domain connected to your server. If the domain is not connected to the server or is using a CDN, it will be unable to access your cPanel.
---
We also created a video tutorial to guide you in logging into your cPanel and Customer Portal.
The video above may show some buttons or icons that look slightly different; however, their functionality should remain the same.
---
Frequently Asked Questions
Are you looking for an article to guide you in logging into your Customer Portal? If yes, please visit the following article:
If you're on Reseller, VPS, or Dedicated (Linux) hosting, you'll get access to WHM. To know how to log into your WHM, please check out this article:
Did you sign up for a Windows (Shared or Dedicated) hosting plan? Plesk access is provided for you. Visit this support article to guide you in logging in:
Are you on an Optimized WordPress (OWP) hosting plan? Sorry, this hosting package doesn't have cPanel, but you'll get to have your Customer Portal to manage your billing and hosting accounts. Please refer to this article for more information.
Want access to your emails? Or are you trying to figure out where to add more Webmail users as an administrator? If you find yourself in these situations, review these articles below to guide you through accessing Webmail with your HostGator account.
Are you new to hosting and want to know more about what and how awesome cPanel is? Here are helpful articles to guide you with your cPanel journey.
Are you looking for other cPanel-related articles? You can utilize our Knowledge base to find what you need.