What is Google Workspace (Formerly G Suite)?
Google Workspace (formerly G Suite) seamlessly integrates Google's Business platform, including Google Email, Docs, Analytics, and much more! Get started today for as low as $6 per month (hosting plan required)! 
Google Workspace boasts a wide variety of intuitive tools for your business that work in conjunction with numerous software applications to bring you a slew of additional features. You can find Google products within your web hosting control panel.
This article discusses the following topics.
---
Ready, Set, Google!
Google Workspace puts the power of speed and innovation in your hands as a cost-effective solution to high-priced IT configurations. With robust backend management and streamlined administration, you can create and modify users at any time from any location. These applications facilitate collaboration across operating systems, browsers, and devices. Multiple creators can work together in real-time on documents, presentations, and spreadsheets for internal or external publications.
Create and attend online meetings with Google Meet using video and calendar integration, allowing you to quickly adjust your schedule on the fly. You can even participate in screen sharing and integrated chat features without video conferencing equipment.
Over 5 million businesses entrust their email services to Google to operate and function globally. Gmail offers easy task management and promotes efficiency with innovations in the inbox organization. A 99.9% uptime guarantee backs this service paired with exceptional 24-hour technical support.
---
Getting Started
Bring the power and scale of Google into your company with flawless performance combined with an uninterrupted workflow. Starting services is now smoother than ever with our onboarding experience. You can easily verify your domain name and even migrate your consumer Gmail account into your new Google Workspace platform.
How to Order Google Workspace with HostGator
HostGator customers can purchase and enable this service within their Customer Portal. Please use the steps below to walk you through this process.
Log in to your Customer Portal.
Once logged in, click Marketplace in the left-hand menu.

Search for the Google Workspace card and click the Learn More button.

You may also click

Hosting

, then select

Manage

under the hosting package you would like to add

Google Workspace 

to. Either option will open a page with information about what

Google Workspace

 offers.

To begin the ordering process, click on Get Started! button.

Select your preferred Number of Licenses, Billing Term, and click the Buy Now button.

Note: When you select your Billing Term, this will set the Billing Term for all additional licenses/seats for Google Workspace purchased within the hosting account.

In the Make Payment section, you will have an overview stating how many Google Workspace Seats you will purchase and the billing term selected. Confirm that this information is correct.
In the Select Payment Method section, choose either Use a Credit Card on File or Use New Credit Card for this order and confirm or enter the credit card information.

Make sure to check the box to confirm you have read the terms and conditions, and click Make Payment to place your order.
After purchasing Google Workspace, you may access the Google Workspace dashboard by clicking on Marketplace within the Customer Portal.
Within the Marketplace, locate the Google Workspace card, then click on Manage.

The first time you access your dashboard, you will be prompted to select the domain name to use with the Google Workspace Apps as well as create an administrator and contact information.

Notes:

You may choose any domain installed on your hosting package from the Google Workspace Domain dropdown. If you do not see your preferred domain here, you need to add it to your cPanel.
You must use an email address ending with @example.com for your Admin Email.
Your Alternate Email cannot use the same domain as your Admin Email.
Manage your Google Workspace
You can find additional information as to the necessary steps to verify your domain, update the CNAME, and modify your MX entry using the following tutorials.
If you already have or ever had a Google Workspace account with HostGator or another Google Workspace reseller, you will need to retrieve a transfer token before you can link your domain to another Google Workspace account. Please refer to the following article to guide you through this process and find the HostGator Reseller Public Identifiers.
In addition to the steps above, you can now buy Google Workspace directly from our registration form as an addon with a new hosting package, then manage it within your Customer Portal.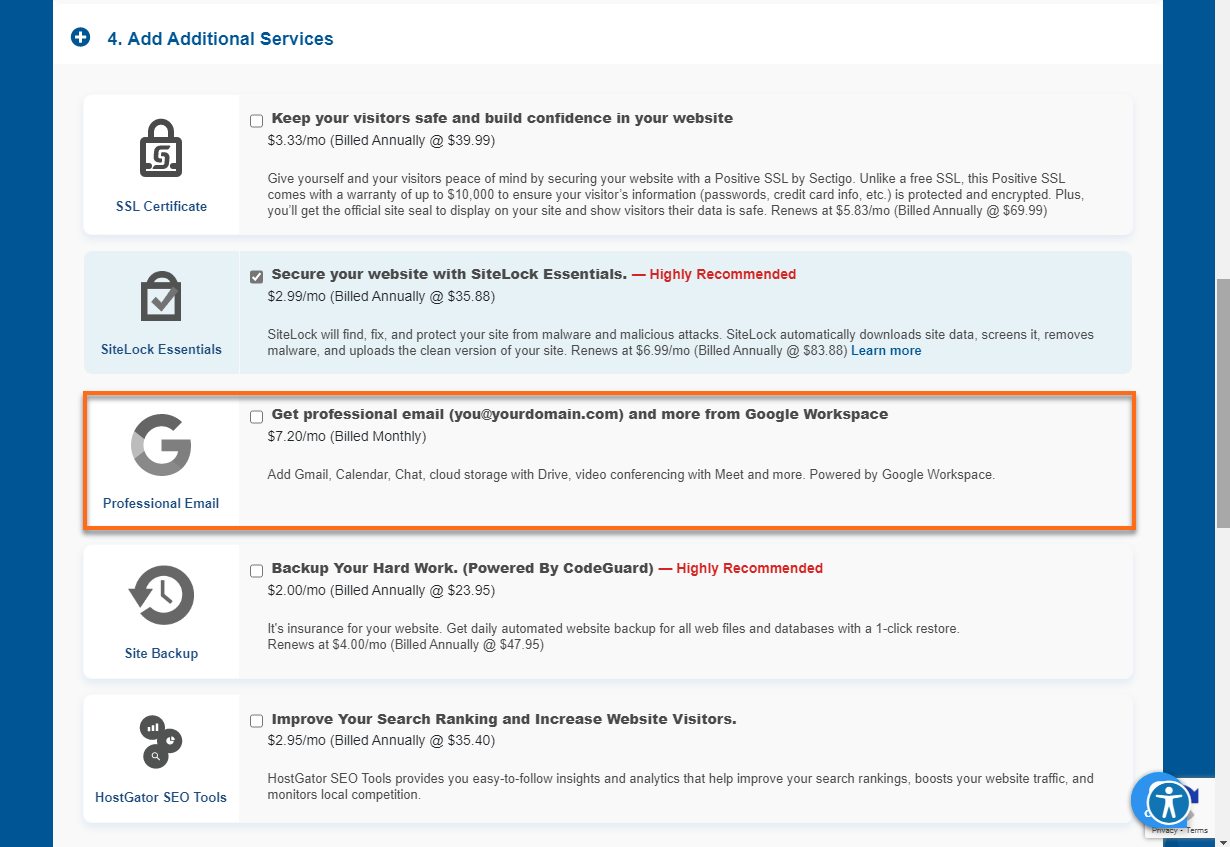 Get Google Workspace with a new hosting package today!
---
Feature List and Pricing
Note: As of May 7, 2019, the price of Google Workspace increased from $5/month to $6/month.
Google Workspace has the following features
Professional email address (name@yourdomain.com)
Video and voice calls
Integrated online calendars
30GB of online storage for file syncing and sharing
Online text documents, spreadsheets, and slides
Easy to create project sites
Security and admin controls
Mobile device management
24/7 live support
Please visit our front-of-site to see the features and current prices, Google Workspace.
---
Google Workspace vs. Gmail
So, why would you pay for Google Workspace if you can get Gmail for free? Well, free Gmail offers a lot of great features for personal use. On the other hand, Google Workspace provides you with the business versions of the tools and services you may already know and love, plus even more. For a business, security is vital, and Google Workspace offers you peace of mind over data security with centralized administration and simplified endpoint management.
With a Gmail account, you can only use the @gmail.com extension, but Google Workspace allows you to use your domain for all email accounts, which further aids customers' trust in you. You also can create group email boxes and shared calendars to keep teams organized and on the same page. Another bonus is that a lot of this functionality is available without even having to leave the business Gmail app, regardless of whether you're on a phone, desktop, or another mobile device.
If you need personal email and occasional access to Google Apps, then a free Gmail account may be the best fit for you. However, if you have a business that you want to manage securely, and need to make it easy for your team to collaborate from anywhere while keeping your data secure, then
---
---