Registering a Domain Name with HostGator
It is important to note that domain name registration does not require that web hosting be purchased with it, just as web hosting does not require domain name purchase through HostGator's registrar LaunchPad. You can choose to sign up for either one separately.
This article will cover the following topics:
---
What is a Domain Name?
The internet is a network connection and can communicate using a network protocol called TCP/IP. For the machines to identify themselves, they are assigned a numeric value called an IP address (ex: 123.12.123.12). As it is impossible to remember all those numbers for different sites, domain names were introduced. A domain name is a human-readable and memorable representation of an IP address. When someone types in a domain name like HostGator.com, the browser communicates with a root domain name server that acts as a dictionary and provides the appropriate IP.
What's in a Domain Name?
A domain name consists of a top-level domain (TLD) and a second-level domain (SLD). In the domain name HostGator.com, the TLD is .com, and the SLD is HostGator. The http and www are not part of the domain name; rather, they are part of the entire web address, called a URL. So, when you choose your domain name, you are only concerned with the TLD and SLD.
.com is just one of many TLDs from which you can choose. Your choices include variations such as .net, .org, .biz, .us, and many more you may have never seen. The major deciding factor when selecting a TLD is availability. For example, mystore.com may be taken while mystore.net may still be available. The second factor affecting your TLD choice may be price. A .cc domain is typically more expensive than a .com domain.
The SLD is where your creativity and originality come in. You may choose any name you like, as long as it does not infringe upon someone else's trademark. You may only use alphanumeric characters and hyphens, though hyphens can not be used adjacently. Symbols and blank spaces are also not permitted in domain names.
Acceptable Domain Names:
mystore.com
my-store-4-u.com
MY-STORE.com
m-y-s-t-o-r-e.com
Unacceptable Domain Names:
my_store.com
my--store.com
my store.com
www.mystore.com
Note: One of the domains contains capital letters in the list of acceptable domain names; this is still acceptable since domain names are not case sensitive. In other words, when you register mystore.com, you also get MYSTORE.COM, MyStore.Com, mySTore.com, and any other variation where lowercase and uppercase letters are interchanged.
---
How to Choose a Domain Name
When selecting your domain name, you should ask yourself:
What is the purpose of my website?

If this is a hobby site or a special interest site, you probably want your domain name related to the hobby or interest.
If your answer is "to make money," then the subsequent question is "doing what exactly?" You might consider including the name of the service or product you are selling in your domain name; this will help you get better traffic, especially from search engines. Although you may like mystore.com, it doesn't tell a potential visitor what you're selling. A name like rare-electronics-and-lamps.com is identifiable and contains keywords visitors will Google to find you.
For more help on choosing a domain name, please read:
---
Domain Name Registration with a New Web Hosting Order
If you are ordering a new web hosting package with HostGator, you should register a domain while purchasing your web hosting. On the web hosting order form, there is a section where you can register a domain. Specify the domain you want to register, and we will include it in your order.
---
Launchpad Domain Registration
LaunchPad is HostGator's domain registrar. Any registered domains will be part of this system during the initial account setup of Shared and Reseller plans. LaunchPad allows you to do a domain name registration directly at hostgator.com/domains or via the Customer Portal.
If you are registering a domain without hosting, the recommended method is to purchase it automatically online. However, some domains and payment methods may require you to use support to register your domain:
---
How to do a Domain Name Registration Automatically
Here is a video guide we created to assist with your domain name registration.
---
Via hostgator.com/domains
If you pay with either a credit card or PayPal, you can automatically register any of the following domain names via hostgator.com/domains directly.
.BIZ .CLUB .CO .COM .HOST .INFO .ME .NET .ONLINE .ORG .SITE .SPACE .STORE .TECH .US .WEBSITE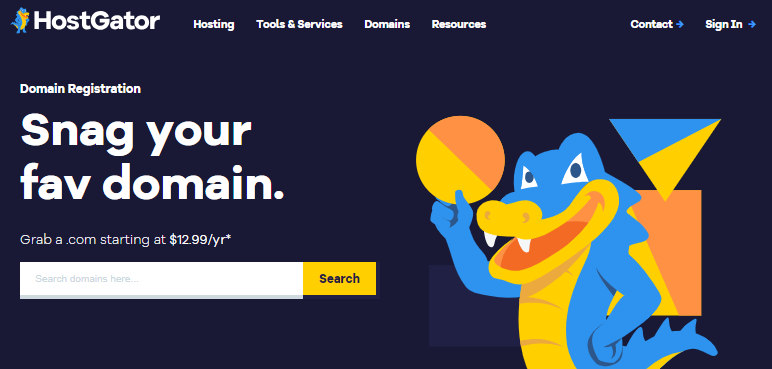 ---
Via the Customer Portal
To register a new domain through your Customer Portal:
Click the Domains tab from the left-hand menu.

Hit the Register a Domain button on top.

You will be redirected to the Search Domain page. Enter the domain you want to register in the search box and click the Search button.

If the domain is unavailable, you may search for a different domain or add a recommended alternative domain to your cart with the Add To Cart button.
If the domain is available, it will automatically be added to your cart along with Domain Privacy.

Please refer to this article to know more about Domain Privacy and help you decide whether to keep it or not during the registration, though we strongly recommend you do so: Domain Privacy.
 
Privacy protection may be added or removed from your domain by clicking the x or + next to Privacy Protection in your cart.

You may search for additional domains you wish to register or click the Add To Cart button next to any domain recommendations you'd like to add.
Once your selection is complete, check your domain(s) to ensure the correct spelling and the exact domain you want to purchase. You can also remove extra domains or domain privacy in your cart.
Click Continue to Checkout.
Note: If you do not have an account, you will be prompted to create one or use your existing billing account credentials to log in.
Select your preferred payment method, enter your details, and click Continue to Checkout again.

On the next page, you will have the option to change your registration term, set your name servers, and enter your discount code.

Once everything is set, select the checkbox for the Terms of Service, Domain Registration Policy, and Privacy Policy to confirm.
Click Place Your Order.
---
Once the domain has completed the provisioning process, which usually takes 24-48 hours, you will be required to validate your domain order. This is a necessary step in the domain registration process following the ICANN 2013 Registrar Accreditation Agreement. For more information regarding the domain order validation process, please see the following article:
You can check the status of your domain through your Customer Portal's Domains section.
If you have difficulty choosing a domain name, here are some articles with tips on making your decision:
---
How to do a Domain Name Registration with Support Assistance
To register domains not supported by the Customer Portal or to pay with another method, please contact our Billing department via phone or Live Chat, and we will assist you in registering your domain.
For a complete list of the domains that we can register, including all domains not available through our online portal, please see the following article:
Note:
Any domain that requires Live Support to register can only be registered by a customer who already has a HostGator billing account. A HostGator billing account may only be acquired by purchasing hosting from
hostgator.com
or an eligible domain from
register.hostgator.com
.
---
Does HostGator Protect Me from Domain Name Sniping?
To ger more information to avoid domain sniping, please see the following article:
---