Domain Order Validation
In accordance with the ICANN 2013 Registrar Accreditation Agreement, HostGator requires domain order validation for any of the following actions:
Domain Registration
Domain Transfer
WHOIS Update
Domain Order Validation for LaunchPad Domains
Step 1: Complete Your Domain Order
To complete your domain purchase, please check out the instructions in this article.
Once the domain has been successfully purchased, you will receive a confirmation email for your payment.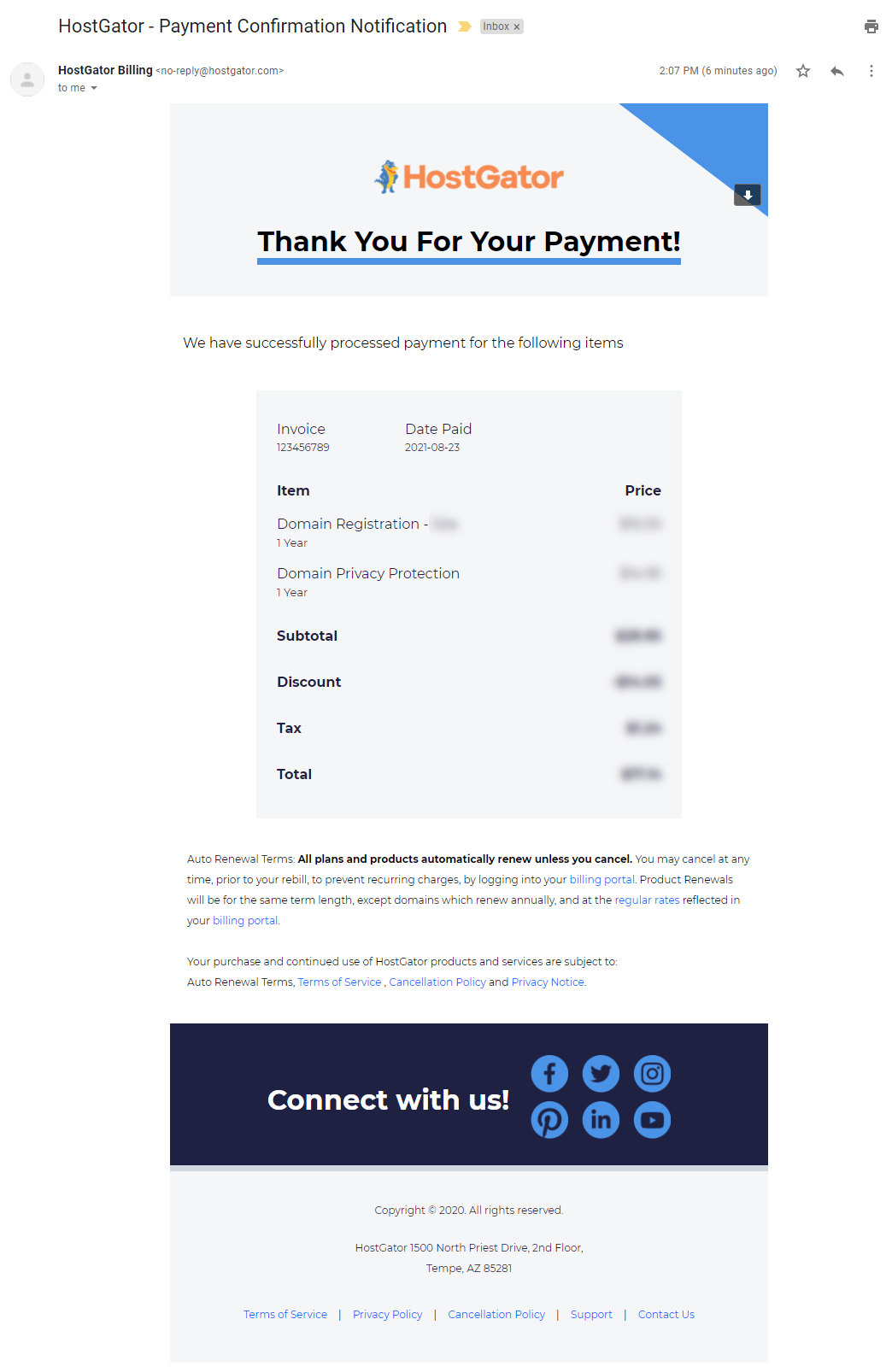 The sample image above shows the billing details of your domain registration and domain privacy (if included in the purchase).
Step 2: Check Your Emails
After the purchase, you will need access to your Customer Portal where your new domain name is. You will be receiving a Welcome email from HostGator with details on how to log in to your Customer Portal.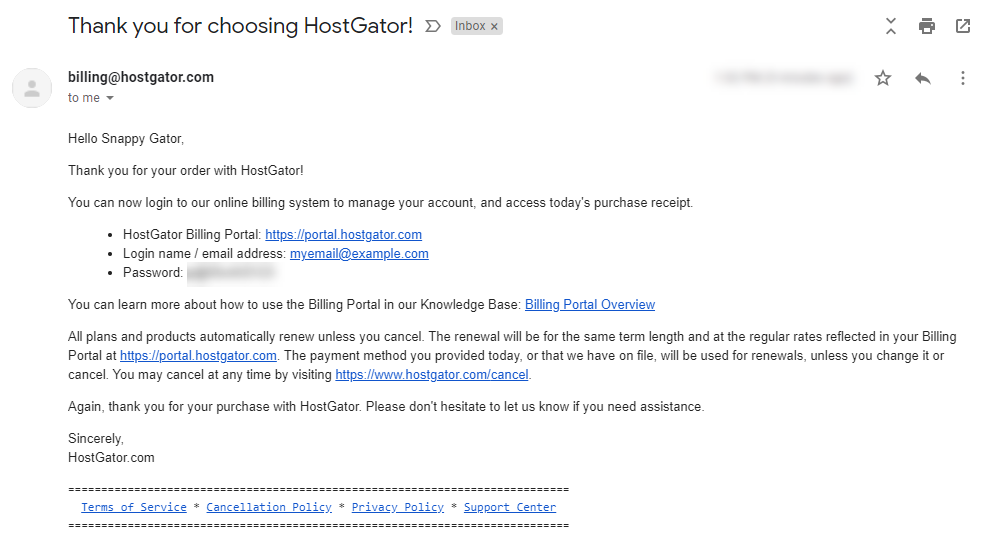 You will also be receiving another email for your domain registration validation from LaunchPad: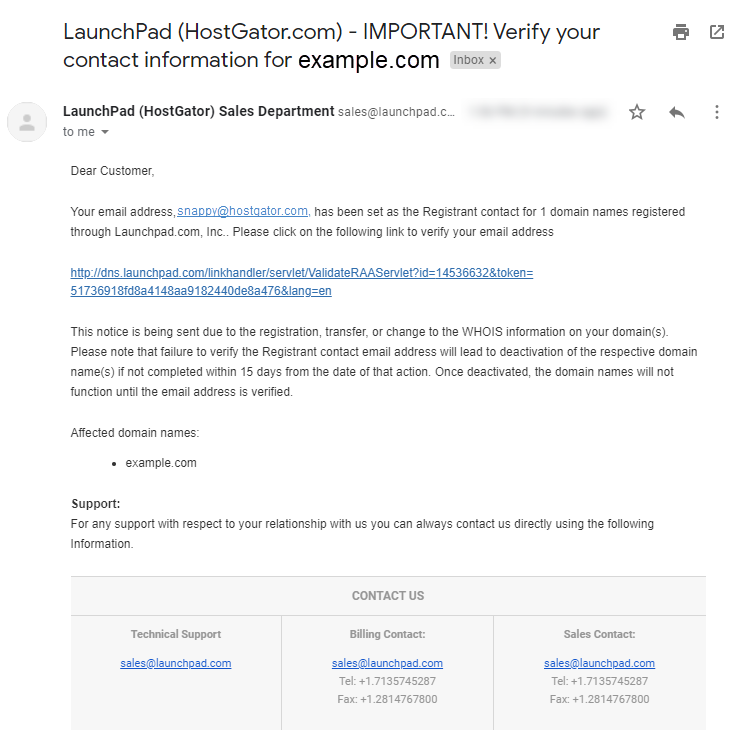 Step 3: Validate Your Domain Order
Once you have received the Domain Registration Validation email, complete the validation process by clicking the link within the email. If you did not receive the validation email, please do the following:
A confirmation page will be displayed, notifying you of the successful verification.
---
Domain Order Validation for eNom Domains
Immediately after any new domain registration is completed, eNom will send an email to the registrant's email address to validate the domain. Subsequently, eNom will send reminder emails every 5 days up to the 15th day until validation is completed.
---
Failure to Validate
A validation email will be sent to the registrant's email address on the following schedule:
Day 1 - The initial validation email you will receive right after you purchase the domain.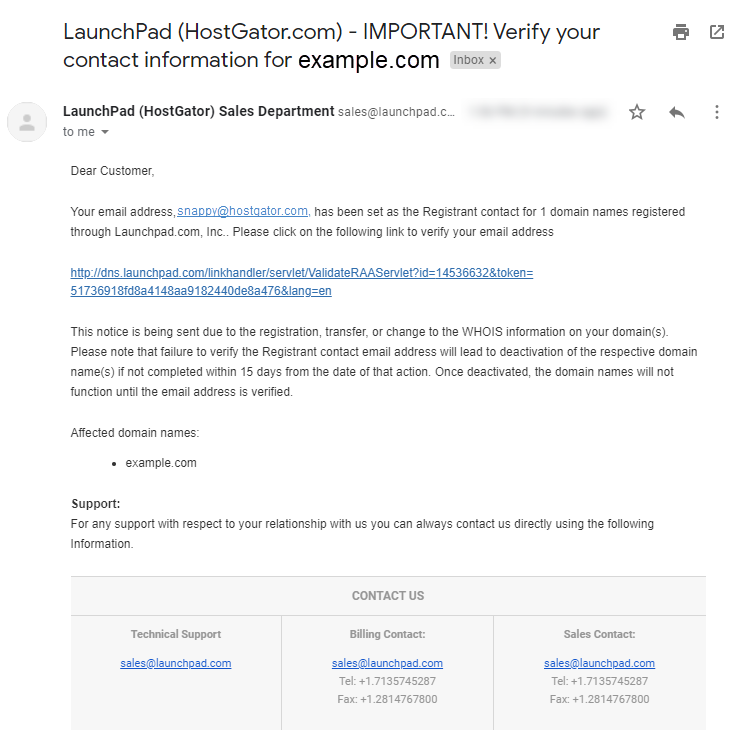 Day 7 - If you failed to validate your email on the 1st day, you would be receiving a reminder email.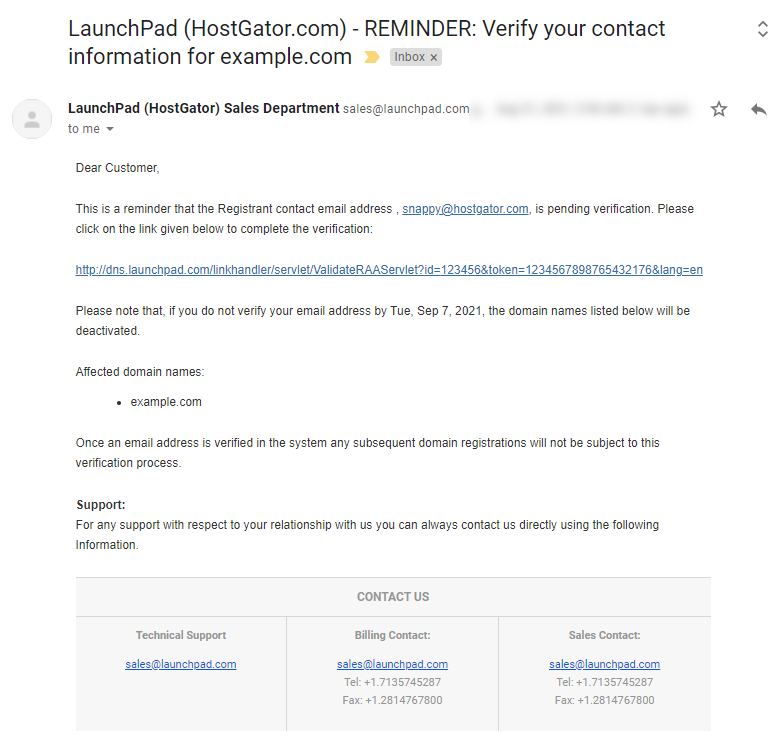 Day 14 - If, for some reason, you're still unable to validate your domain on the 7th day, another email will be sent to your registrant email address.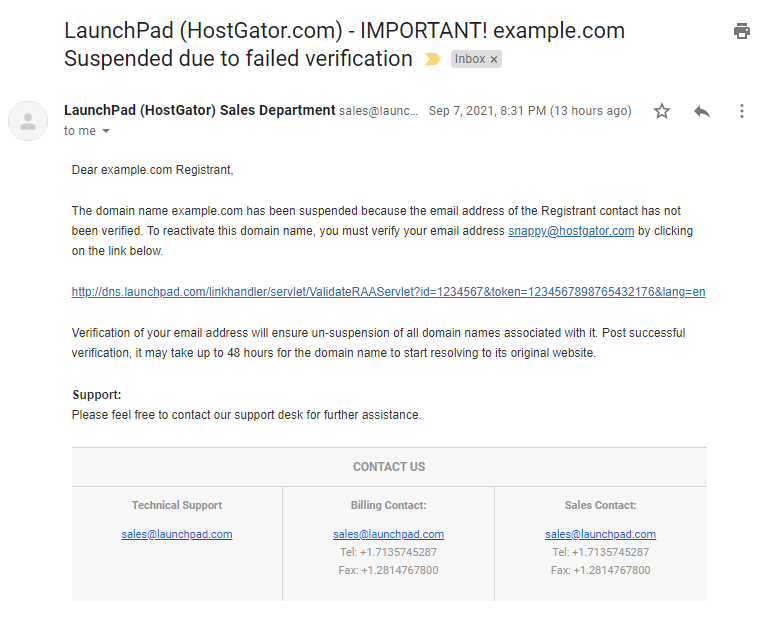 Failure to validate your domain through the verification link in the email will result in the domain being suspended.
LaunchPad Domains
If the domain order is not validated within 15 days, the domain name will be suspended, and a ticket notification will be sent to the email address under which the domain was registered. Once this occurs, you will need to respond to the ticket notification.
eNom Domains
If no verification is received by the end of day 15, the domain name will be suspended. No additional emails are sent after the 15th day. Once suspended, eNom will display a "Not Verified" page on the domain itself, indicating that the domain name is suspended due to a lack of verification. From this page, customers can request to have the validation email resent.
Once validation is completed, the domain page will be updated to a "Verified" page. The site may then take 24-48 hours to come back up due to propagation.