Understanding Domain Life Cycle
This article discusses the following topics:
---
Life Cycle of a Domain
Every domain has a life cycle starting with its initial registration and ending with it being returned to the public for new registration. This life cycle can be extended indefinitely by regularly renewing the domain. Understanding your domain's life cycle will help you know when a domain can be renewed and what is affected when the domain expires.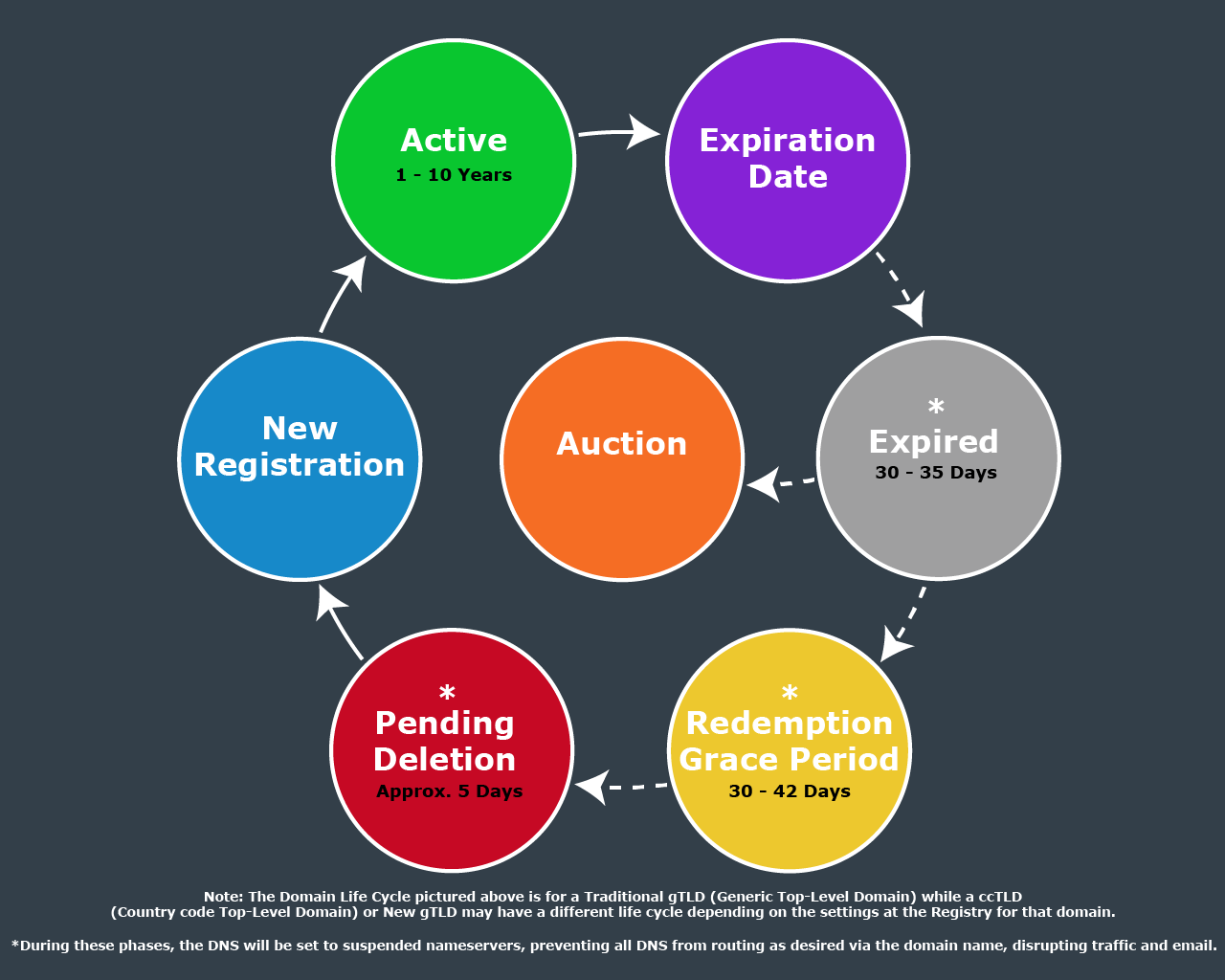 The image above shows the life cycle of a domain.
Phase 1: New Domain Registration
ICANN (Internet Corporation for Assigned Names and Numbers) regulates domain registrations and sets prices. Visit www.internic.net to learn your rights as a consumer.
The registrar can be a company other than the hosting company. While HostGator can host any domain name (as long as the DNS is pointed to us), we cannot register every domain.
A comprehensive list of domains HostGator can register can be seen in the article Which Domain Names Can HostGator Register, TLD Prices?
For instructions on registering a domain via https://hostgator.com/domains or through your Customer Portal, please visit our support guide Registering a Domain Name with HostGator.
When registering a new domain, be sure to provide a valid email address for your WHOIS, as you will be required to verify your WHOIS information via email. If verification is not received within 15 days, the domain name will be suspended.
If you register a domain directly with HostGator, you should always contact HostGator for domain-related help. If you register your domains as an eNom reseller, then most issues will be handled directly by eNom. You may still contact HostGator first to be sure. To know if your domain is with LaunchPad or eNom, please see the article Is my domain registered with LaunchPad or eNom?
Notes
:
It is recommended that you use an email address independent of the domain you are registering, as you will need access to this email address to verify your WHOIS information.
Per rules set by ICANN, the maximum registration period for any domain is 10 years.

For example, you initially registered the domain example.com for one year. Six months later, you decide to renew this registration for the maximum time possible. You may add up to nine years to the term since this is less than the 10-year maximum.

Great news! HostGator's Customer Portal has a new feature that allows you to renew (or extend) your domain manually to its full term. Please check out the article Renew the domain manually to learn how to extend your domain's registration for up to 10 years.
If the type of domain you want cannot be purchased online, or if you need to pay with a method other than a credit card, please contact us via
phone
or
Live Chat
so we can assist you!
Domain Order Validation
Once you have completed your domain registration with HostGator, you will be required to validate your domain order. This is a required step in the domain registration process in accordance with the ICANN 2013 Registrar Accreditation Agreement.
For more information regarding the domain order validation process, please see the following article:
Phase 2: Active Domains
Once a domain is successfully registered, it is then Active for the term of the registration. Depending on the registrar you use, you may be able to register the domain for up to 10 years.
While a domain you have registered is Active, you may perform the following actions on it at any time:

Domain Renewal
Renew your domain registration early before the expiration date. For instructions on how to renew your domain name, please read the following article:
Phase 3: Domain Expiration
If you fail to renew your domain, your registration will be interrupted, at which point the registrar will change your name servers. This means it may take a few days before you can see your site is down, and after you finally pay to renew, it may be a few more days before you can see your site is back up.
We will email domain expiration notices before the expiration date to the Registrant Email address listed on the domain WHOIS. The first notice will be sent thirty (30) days before expiration, and a second notice will be sent seven (7) days before expiration. A final email will be sent immediately after the domain has expired.
Domains registered via HostGator will be registered with either Launchpad or Enom, which have the following expiration periods:
Enom: 30 Days
Launchpad: 35 Days
Note
: Expired domains registered with LaunchPad will appear for sale on backorder at
SnapNames
.
Domain Auction
Per our terms and Domain Registration Agreement, domains in their expiration period may appear for sale on backorder at SnapNames.
If any bids were placed during the first 35 days of expiration, the domain will not enter the Redemption phase and is instead sent to SnapNames.com to be sold at auction. Once queued, the domain will either be sold or deleted by the 42nd day after expiration, depending on whether or not SnapNames successfully sells the domain.
HostGator loses all control over a domain sent to auction, and if the domain owner wishes to purchase the domain back, they may do so by either signing up for an account with SnapNames.com or waiting for the domain to be released to the public once more.
If an expired domain did not receive any bids at SnapNames while within the expiration period, the domain will enter its Redemption Grace Period.
IMPORTANT: 
HostGator has absolutely no ability to stop/override this process or make an exception. If the customer wishes to bid, they must to sign up at
SnapNames.com
and place a bid for their domain. HostGator is
NOT
directly associated with SnapNames.com. Once a domain is put up for auction,
HostGator loses all control of the domain
.
Phase 4: Domain Redemption
After approximately 42 days of being expired and the domain is not renewed or placed on backorder during an auction, the domain will enter its redemption period for approximately 30 days. While in redemption, the current owner can renew the domain for the normal renewal fee plus a $75.00 redemption fee. If not restored during redemption, the domain will be placed into its pending delete status.
Phase 5: Pending Deletion
If the domain name is not redeemed during its redemption period, it will move to the Pending Delete period for five (5) days. In this status, the domain name can not be redeemed, and after this period, the domain name will be released and available for public registration.
---
Domain Transfers
Domain transfer is switching your domain from one registrar to another. This process takes approximately 5 to 7 days to complete. It is important to keep in mind that several obstacles can make a valid domain registration transfer fail.
If you have been with your current registrar for less than 60 days, then you are not allowed to transfer yet; however, if you just renewed your domain, you may still transfer because this means you were with the current registrar for more than a year.
If your domain status is "Locked," you will need to ask your current registrar to unlock your domain.
If your WHOIS information is incorrect or private, you must have your valid email listed as the Registrant Contact Email so you can receive the Transfer Authorization Email to authorize the transfer of your domain to the new registrar.
If an invalid EPP code ("Auth key") was provided, you must get the EPP code from the current registrar and provide it to the new registrar. If you change any contact information or nameservers with the previous registrar, you must get a new EPP code because it may have changed.
If your domain name is in redemption, you must pay the current company before you may transfer.
Please initiate your domain registration transfers at least one
month before the domain expires. This will give you ample time to fix any mistakes and re-initiate the transfer in time.
Normally, when you transfer your domain registration to a new registrar, you get an additional year added to your expiration date. However, if a domain expires, is renewed, and then transferred between registrars within the first 45 days after the expiration date, the domain will not retain the original renewal year once the transfer completes (meaning your expiration date stays the same). This is a registry restriction and applies to all registrars.
To learn more about domain transfer, here are support articles you can refer to.
---
Related Articles