Guide to WordPress Plugins
The information provided below is for reference only. Please note that HostGator cannot offer direct support to WordPress plugins.
Another cool feature of WordPress is the use of plugins. A WordPress plugin is like an addon to your website, just like you have an app on your phone to enhance its features. Similarly, a plugin is a small software application that is used to enhance the functions of a WordPress site. Having the right theme and plugins can enhance your website to keep visitors on your site to purchase products, view content, or reach out for more information. If there is something you want to do that is not available on the default features of WordPress, using a plugin is the way to go. You can find a plugin through your WordPress Dashboard or third-party websites.
In this article, we will discuss the following topics:
How to find the right/"almost right" plugin
Nowadays, thousands of plugins are available, and choosing the right plugin may seem a bit overwhelming. Some plugins are unique, while some can accomplish similar tasks, with at least one feature making them different from each other. (Okay, make them two!) Now, the question is, how do you find the right plugin?
There's this saying, "There are plenty more fish in the sea." It seems this also applies to choosing plugins.
Remember, you do not need just one plugin to do everything you want to do on your website. You can use multiple plugins to do various tasks. You can download and install free and paid plugins depending on your website's needs. Some of which you can download through WordPress.org's repository or third-party websites. You are not restricted as to where to purchase plugins. "You pay for what you get" is what usually describes some plugins. Some advanced features are not available on free plugins, and you need to upgrade to premium plugins to "unlock" these features. If you choose to purchase plugins from a third party, ensure that you get them from a reliable source!
Here are a few things to look out for when choosing a plugin.
Is the plugin compatible with your current WordPress version?
You may find a plugin that you think is "perfect" for your website; however, you may find that it is not so perfect for your WordPress version. WordPress evolves constantly, and plugin developers are aware of that. Make sure to read the plugin's information first before purchasing it and see if it's compatible with your current WordPress version. The easiest way to check your WordPress version is to look at the bottom right corner of your WordPress Dashboard.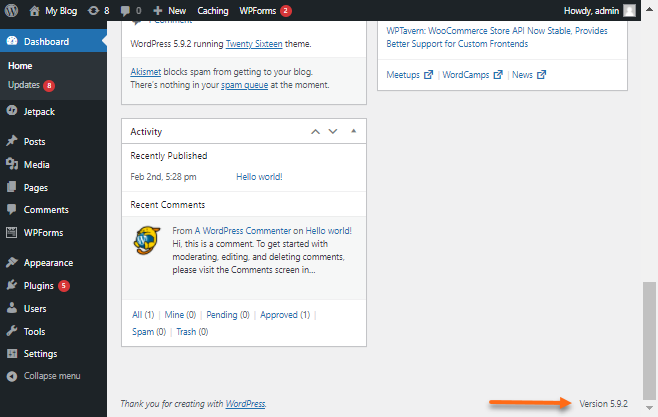 What is the plugin's required PHP version?
Plugin authors develop and test plugins on different PHP versions. The WordPress ecosystem is written in PHP, which is a scripting and programming language used to create interactive and dynamic websites. Read through the plugin's information page to check its PHP version requirement and if your current hosting plan supports it. If you want to know your HostGator account's current PHP version, please check out the article, What Version of PHP Are You Using.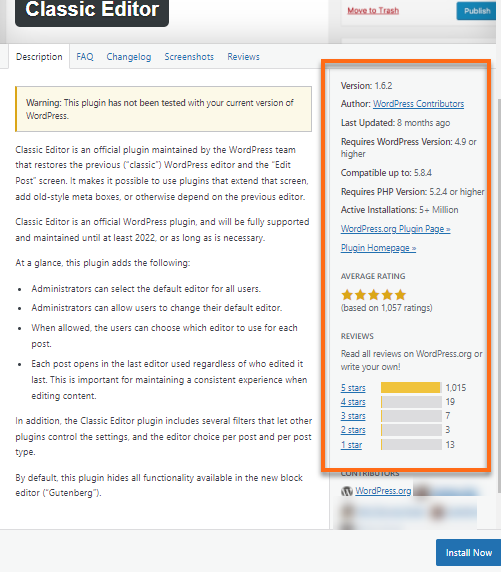 How long was the plugin last updated? 
WordPress is constantly evolving, so should its plugins, but that is not always the case. Plugin developers are the ones who update and improve their plugins. However, there are times when plugin developers do not update their plugins for one reason or another.
If a plugin is updated, it usually means it is safe to use on your WordPress site. Meanwhile, a plugin that has not been updated for some time say 2 years? You may want to reconsider purchasing or using that plugin. Check the plugin's information page first!
What are the plugin's ranking and reviews?
A plugin information page also shows the "star" ranking. You can also check its Reviews section to see how it works on other users' websites.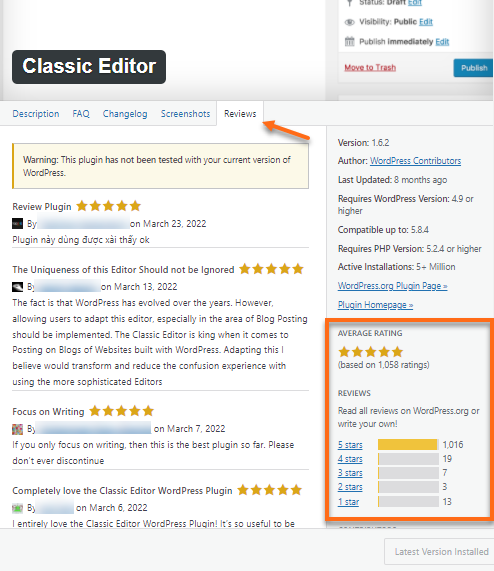 Please check out our support article, 
Plugin Advice
, for more tips about plugins.
---
Installing Plugins
There are several ways to install and uninstall plugins on your WordPress website. For instructions, please visit the article:
Are you curious about the pre-installed plugins on your WordPress Dashboard? Please visit the following article for more information on the pros and cons of these plugins.
A few more tips about plugin settings can be found in the article.
If you're looking for information about SEO plugins, please visit this article for details.
---
Not all plugins are good
Some plugins can actually decrease your site's performance and speed, possibly damaging your SEO ranking due to downtime. Certain SEO and sitemap plugins (such as the All-in-One SEO Pack and Google Sitemap, respectively) are known to cause issues. WordPress is already built on an SEO platform, complete with a built-in sitemap.
For more information on WordPress plugins, please see our related articles:
---
Effects of a bad plugin
All plugins alter the core files of WordPress and can change the way WordPress functions. This can lead to unexpected and possibly negative results. In severe cases, improperly coded or outdated plugins can cause damage to your site, including:
The inability to log in to your WordPress dashboard
Your site is loading slowly or not loading at all
Damaged databases
Damaged site content
Additionally, deprecated plugins can allow serious security exploits on your site. HostGator strongly recommends that you check the compatibility of the plugins you use with your version of WordPress and with any other plugins.
---
What if I've installed a bad plugin?
If you run into any issues after installing a bad plugin, HostGator can certainly assist you in removing the plugin itself. However, we may not be able to repair any resulting damage. If you have a backup of your site, you may request restoration. Alternatively, we may be able to restore your site from our weekly backups. Refer to this article for more information on requesting a restoration:
Here is an external document you can check out. Please note that this is for reference only, and HostGator cannot offer direct support for the information stated in this article.
We strongly recommend creating a full backup of your WordPress website before you add or activate a new plugin. 
CodeGuard
generates daily automatic backups, alerts you if any sketchy changes are identified, and restores a previous version of your website using your backups!
---
Additional Information
Are you new to WordPress or would like to familiarize yourself with the basics and how-tos in WordPress? We've got you covered! Here are the links to our "Building your First WordPress Website" videos to get you started.
---
---