VPS Hosting Guide
If you are looking for a hosting environment for installing custom software, creating custom configurations, sending emails without the shared server limitations, and hosting live streaming media, you may want to consider a Virtual Private Server (VPS). A VPS will give you the freedom you need without the cost of a Dedicated Server. It will also allow you a much easier upgrade path.
Note: This is not a solution to resource-intensive accounts or heavy traffic as, in most cases, a VPS has fewer resources available than a standard Shared account.
---
How Do I Order a VPS?
You may order a VPS here. VPS and Dedicated Server packages are available for billing terms of one, three, six, twelve, twenty-four, or thirty-six months at a time.
What Do I Do After Ordering a VPS?
After you have ordered your VPS and the server completes provisioning, you will want to go through the initial setup. This will entail performing the initial setup of WHM and cPanel and configuring your private name servers. Keep an eye on your Inbox for an email titled "Your server is ready! 🎉."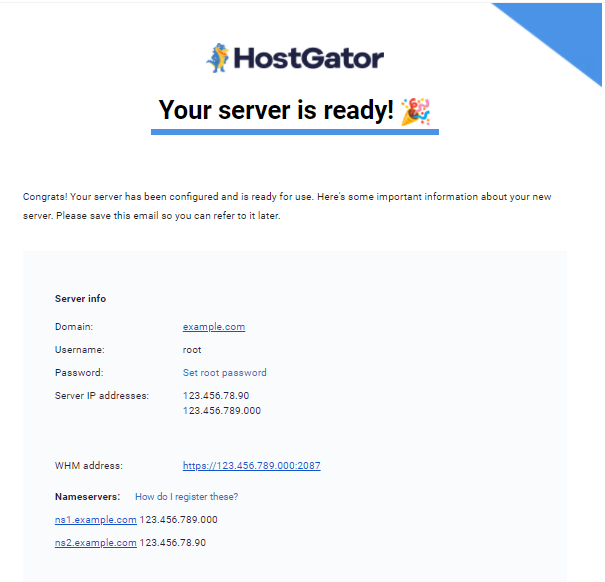 The email will contain your login credentials, step-by-step instructions on the initial setup of your VPS, and how to request a site migration if you're transferring from another package type or third-party hosting provider.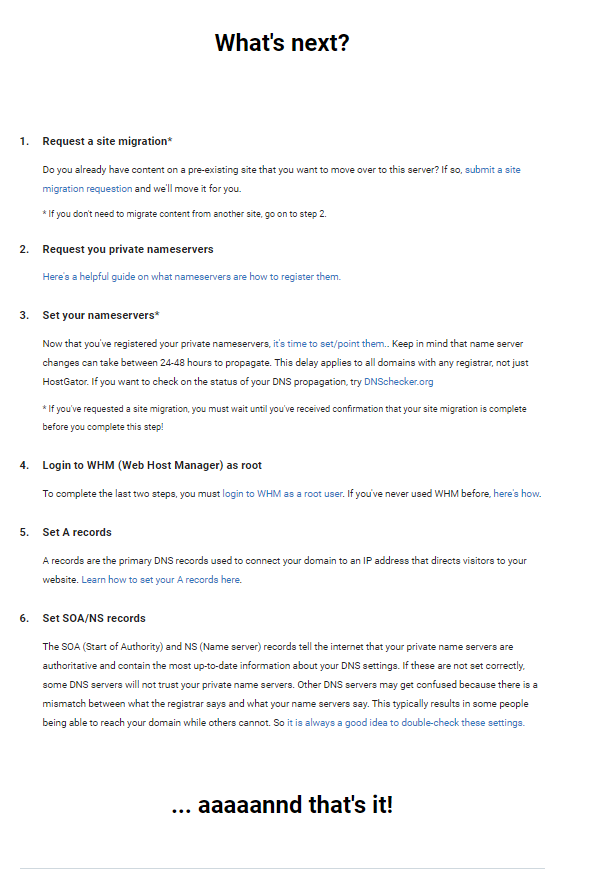 Check out our getting VPS Getting Started article for a full walkthrough of things you should do after you receive access to your new VPS:
Can I Upgrade or Downgrade My VPS?
If you would like to upgrade or downgrade the level of your existing VPS, please use the steps located in the following articles:
If you are looking to modify your VPS's specs, such as changing, adding, or removing the control panel, please contact us via
phone
or
Live Chat
.
---
Additional Resources
The following additional resources we provide are available to assist with owning and maintaining a VPS with HostGator:
General Information
VPS Specifications
Custom Software
Troubleshooting VPS Issues