Weebly vs. WordPress
Guide to selecting the right Builder
In this article, we will talk about some of the pros and cons of choosing which builder, Weebly or WordPress, will be best suited to create your next website.
Weebly
Weebly is a website builder that offers many different styles, designs, functions, and flexibility, allowing users to create a dynamic and unique website regardless of prior knowledge or experience. This makes Weebly an ideal website builder for novices or people building their first website. Weebly is a "What You See Is What You Get" (WYSIWYG, pronounced 'wizee-wig') type of editor that allows you to drag and drop items directly onto your web page. This drag and drop feature allows you to customize and structure the content as needed to create the look and feel you want your website to convey.
Weebly also offers various functions through widgets that can be activated with a few simple clicks. These widgets provide features that further enhance your websites like an eCommerce store, online membership that allows users access to certain pages, blogging, etc.
Weebly provides all of its extensions and features within the builder itself, eliminating the need for third-party plugins. However, this does limit you to only the features and extensions that Weebly offers. One of the advantages of using Weebly is that it doesn't require any coding knowledge. Still, for more advanced users, it does allow you to embed HTML coding into your website if a widget is not readily available.
---
WordPress
WordPress is a Content Management System (CMS) that powers over 33% of the websites on the web. While thousands of users create exceptional websites with WordPress, there is a slight learning curve. Due to the vast amount of themes, customizations, and plugins you can use to create a unique website, WordPress can be overwhelming for a beginner. However, with patience and tutorials, you will begin to navigate through the WordPress dashboard with the best of them!
WordPress, unlike Weebly, is an open-source website builder. An open-source builder allows anyone to know how WordPress works to create their own plugins, compose their own themes, or integrate WordPress with third-party technology, to enhance the website and user experience. This open-source opportunity is what builds a thriving WordPress community. You can find copious themes and plugins available for free, free with paid upgrades, and paid premium ones that you can install on your WordPress site. Instead of needing to know how to code to create advanced functions, you can find a plugin that's already configured. Just install and configure the plugin to work on your WordPress site.
Having numerous options for plugins and themes does have its downfalls. You never know when a theme or plugin will stop being supported by its developer and break your website. You may install various plugins to make your website amazing, but one wrong plugin may conflict with another and take your website down. While this is an inconvenience, one of the best advantages of WordPress is if a plugin doesn't work or is out of date, chances are there is another plugin that performs the same function you are looking for and is compatible with other plugins.
WordPress, similar to Weebly, updates its platform constantly to improve performance and ease of use and add more features for its users. To keep the core WordPress files, themes, and plugins up-to-date, you will have to stay on top of update notifications and install new versions through the WordPress dashboard.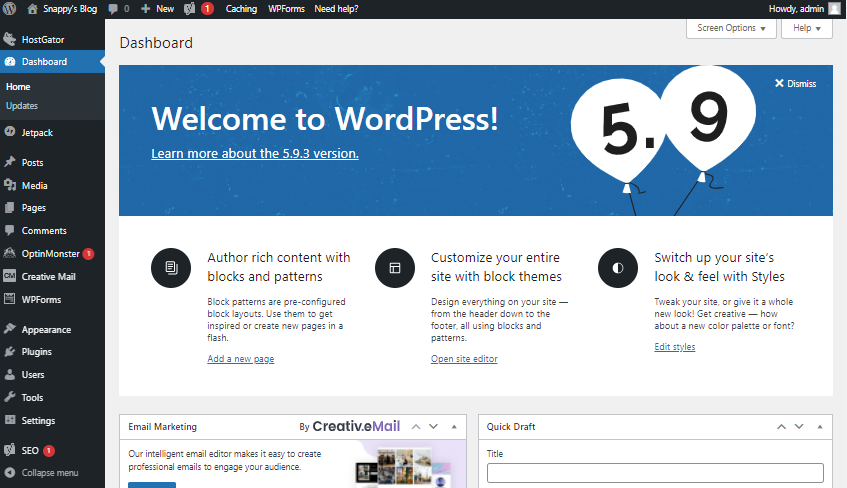 ---
Comparing Weebly and WordPress
Flexibility
Weebly, like WordPress, also offers a decent amount of flexibility when designing your website. However, unlike WordPress, you are limited to using only the building items Weebly provides, which poses limits. While this might sound like a big negative, one of the advantages is that you can be sure that you will not encounter any compatibility issues when using Weebly features.
WordPress offers many features, allowing you to create a complete website each time. This is increased even further by WordPress's new block editor. As previously mentioned, WordPress is open-source. You may run into compatibility issues with your plugins and themes, but this is quickly resolved by selecting another plugin or theme to meet your needs.
Ease of use
Weebly is easier to use as it was initially created for users with no prior experience creating a website. Users revere Weebly's drag and drop builder, both beginners and experts alike. The Weebly panel is conveniently split into a Dashboard and a Builder section. The Dashboard section allows you to manage your website's settings, such as how your blog comments are displayed or your site's visitor stats. The Builder section offers a visual editor to drag and drop images, contact forms, maps, and other helpful building items directly onto the page.
WordPress is a bit more complex and poses a learning curve, especially for users new to building a website, compared to Weebly. However, don't let this deter you, as there are numerous amounts of support documentation and tutorials online for WordPress, HostGator, or countless Youtube videos. Despite being more complex, WordPress is still fairly straightforward, yet it will require further experience and knowledge to take advantage of its more advanced customization options.
Themes and design layouts
When a Weebly theme is chosen, you can rest assured that it will be compatible with everything else Weebly offers. While this assurance gives a warm, fuzzy feeling, it can leave much to be desired in ways of choice. Each individual has their own vision of what they want their website to look like. While Weebly can help you build a fantastic website, you will be limited to the themes and customizations with the Weebly builder.
WordPress offers a massive collection of free themes and plugins that can change your website's entire look and functionality. While WordPress is superior in choice, each theme and plugin will need to be downloaded and installed. Some will require a different setup or even HTML coding in order for them to behave the way you anticipated.
Overall experience
Weebly had one goal when making their website builder -- simplifying the website building experience for the everyday user. In this, they have succeeded. Weebly has been the go-to builder for both novices and experts for many years. Weebly's drag and drop method of building a website is prized by many, and several other website builders have tried to mimic Weebly's WYSIWIG approach. If you are looking for a place to house your modeling photos in a portfolio, a place where you can blog about your travels to Europe, or an online store to display your goods, then Weebly's simplified website building might be for you.
WordPress has been used to make some of the most stunning websites on the web today, boasting that over 30% of the websites on the internet are made with WordPress. At the same time, more complex than other site builders, the freedom and customization options can make the juice worth the squeeze. If you are an experienced web developer or if you design multiple sites at a time for people, then WordPress's expansive collection of customizations will allow you to create a complete website each time.
---
Related Articles
For more information, here are support articles to guide you with your Weebly and WordPress journey.
Weebly
WordPress