Google Workspace (Formerly G Suite) Setup Part 2
After agreeing to the terms of service, verifying your domain, and setting up your Google Workspace DNS, you will now be able to access the full suite of Google Workspace Tools available to you. This article will address additional setup required from inside of Google Workspace to take advantage of its full functionality.
This article will walk you through using the Google Workspace Setup Wizard:
---
Accessing the Setup Wizard
When you log in to your admin console ( https://admin.google.com/a/example.com ), it will require the admin email and password you provided during the final step of the Google Workspace (Formerly G Suite) order process. After you log in, you may be prompted to set up your email; however, this prompt takes you to the middle of the setup wizard.
To use the Setup Wizard from the beginning, click on < symbol to access the right-hand side menu and then select Admin Console Setup under Tools.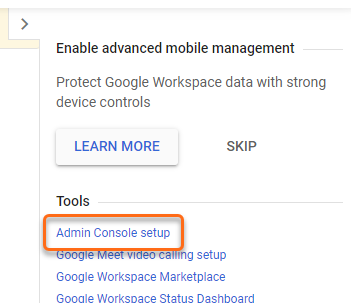 This will take you directly to the Welcome section of the Setup Wizard.
---
Welcome
The welcome section will provide you with a warm welcome to your new applications as well as links to a video tour of your features and to join upcoming webinars to learn more about your tools.
You can return to this page at any time or view the video and sign up for a webinar now. Click Next when you are ready to proceed.
---
Users and Groups
If you have purchased multiple seats for your Google Workspace license in order to allow additional users to take advantage of your services, you'll need to set them up before continuing. If you do not yet have additional users, please select the appropriate radio button and then click the Next button.
Please indicate that you would like to set up additional users before clicking next if you have purchased additional seats. You will then be prompted to perform the following actions:
Add users: This is required to allow additional users to use your services.
Set up Google Groups: Google Groups can be used as mailing lists, user forums, or for sharing and collaborating between your users.
Create email aliases: This will allow you to set up alias email addresses for users who want to receive an email at more than one address.
Announce your upcoming switch: This will help you with informing your users of the upcoming changes to your services.
Select the actions you would like to perform in addition to setting your users and click the Next button. You will then be provided with step-by-step instructions for the most up-to-date process for each action. Once you have completed the desired steps, in addition to setting up any users who will be using your services, please click next again to Set up your apps.
---
Set Up Your Apps
This section will walk you through the setup of all the apps you intend to use immediately. On the first page, please select the apps you would like to set up at this time, then click Next; it is recommended to select Gmail at a minimum:
The next page will display a list of features, and you will need to click Next again to continue. Select the setup options you would like to use with your new Gmail account:
Access Gmail in a web browser: Required. This is always an option.
Use other mail clients (e.g., Outlook): Setup Gmail to work with your third-party email software.
Restrict email delivery: This will allow users with qualifying accounts to restrict mail to an internal email.
Set up Gmail: This is a required step.
Migrate old mail: This step will let you migrate email from your old account at this time.
Access contacts
Help prevent spoofing: Perform easy steps to prevent spammers from forging your email address.
Most of the options above will include complete setup tutorials with the following exceptions:
Set up Gmail:
If you already performed the required DNS changes for your domain, then you may indicate during the setup process that these changes have already been made after indicating that you wish to use Google servers to route your email.
If you made the change very recently, Google might not be able to identify the changes yet and will attempt to provide tutorials on how to make the change. Please disregard these and indicate that you wish to continue. If you have not made the change, you will need to follow the steps to update your DNS before your email may be completed.
Migrate old mail:
Important note: Use the server name where your mail was previously hosted for your previous mail server, even if you used your domain name to access your email previously. This will allow Gmail to correctly access your email from your previous server.
Here you will be provided with a large number of options ranging from migrations for individual users to admin-managed migration. Please select the options to match how you wish to have your migration managed.
Once you have provided the method desired for migration, you will receive either tutorial directions for how your users will need to migrate their email or the migration tool. Be sure to use your old server name whenever asked for the mail server for your previous email host.
Help prevent spoofing:
The required DNS changes for your domain outlined in part 1 includes the SPF record update recommended during this step. This update will need to be made at your DNS hosting provider. If you use HostGator name servers, this will require the Advanced DNS Zone editor.
---
Mobile Management
You and your users will want to access apps from your mobile device, too. Google Workspace works great in any smartphone's browser, where you can access your mail, contacts, and calendar much like you do on a computer. Or in some cases, you can keep using the phone's native apps to access these services.
From here, you will be able to select how restrictively you wish to manage your user's access to your services via mobile. Once you have selected your level of management, this screen will only provide setup tutorials in the future.
Selecting the desired device type and clicking next will provide instruction for how to correctly set up services on that device.
---
Extend and Customize
This section will allow you to choose to walk through a variety of customizable options. Select from among the following and click next to be walked through the desired tutorials for each selection:
Add Marketplace Apps: This will let you add even more apps from the Google Workspace Marketplace. You'll be able to choose from business apps for project management, finance, CRM, and much more.
Use the Chrome browser: This will help you set up and use the Chrome browser for a more unified experience.
Create custom web addresses: Create custom URLs for your apps. The DNS changes made in Part 1 of this tutorial series will have already assisted with setting up many of these.
Add domains: Add additional domains you own for hosting email on multiple domains.
Tailor who uses which apps: Place restrictions on which types of users will be able to access which apps.
---
Training and Support
Congratulations! If you've gone through the entire setup wizard, your Google Workspace is now fully set up. The Training and Support section provides resources for your deployment and getting support when you need help.
You can view these resources now or even return later for additional tutorials for the user-level experience, administrator resources, and additional support options.
---