How to Manage Optimized WordPress
You will be able to install, modify, or delete a WP blog directly from your Customer Portal.
Optimized WordPress users will have tabs in their portal to manage their Optimized WordPress installations and email accounts. WordPress Manager will open up the area where the WordPress install(s) will be managed.

How to Install a New Optimized WordPress
To install a new Optimized WordPress (OWP) site: 
Navigate to your Dashboard in your Customer Portal and select the domain you wish to manage:

Click Create Blog.

Enter your domain name and the name of your blog, then click Add Blog.

The status of your new blog will then be Installation Pending. Refresh the page after a few minutes, and it will then say WordPress Installed.

How to Manage Your WordPress Installation
To manage your new WordPress site, first ensure that your nameservers are updated to the ones provided in your welcome email. Then, you can either go to the Dashboard > or Hosting >tab to see the domains you wish to manage: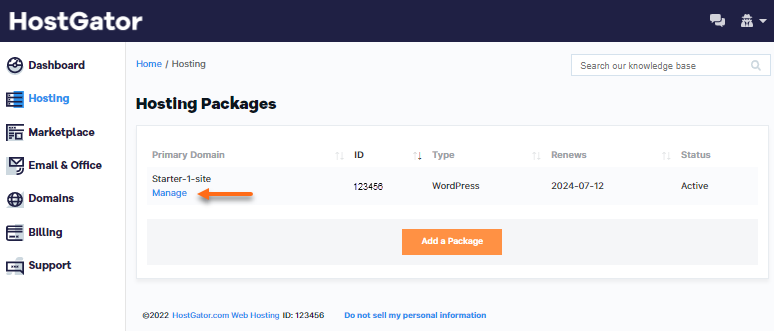 You will then see the following screen: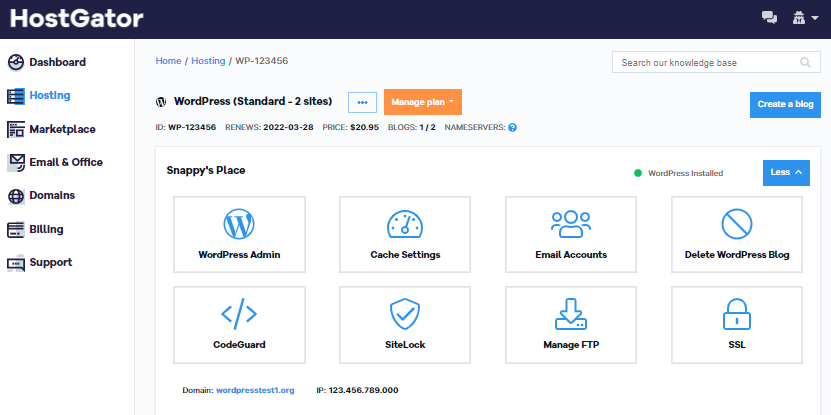 From here, you may perform the following actions:
WordPress Admin: Takes you directly to your WordPress Admin dashboard.
Cache Settings: Manage your WordPress caching settings.
Email Accounts: Manage and access the email accounts for your blog's domain.
Delete WordPress Blog: This option will allow you to delete an OWP installation to make room for a new one on your current plan.
CodeGuard: Takes you directly to your CodeGuard dashboard to manage your backups.
SiteLock: Takes you directly to your SiteLock dashboard to manage your site's security.
Manage FTP: Let's you create and modify FTP accounts for your OWP installation.
SSL: This will allow you to manage your website's SSL certificate.