A Beginners Guide to cPanel
If you are just getting started with web hosting, you will likely hear about cPanel at some point, but what is it? In short, cPanel is a control panel for your hosting account. When you think about hosting, even if you are not too familiar with how to use a hosting web server, the control panel is what you see and how you access all the server features.
Why cPanel? 
If you are a beginner, you may not know that cPanel is considered the hosting management platform of choice amongst amateur and professional developers alike; and is regarded as an industry standard. As an example, cPanel is typically available on nearly every major web hosting provider's server offerings. Suppose you have been building sites for a while. In that case, odds are, you're already very familiar with cPanel, much like Photoshop users are very familiar with the different looks despite the constantly changing versions.
This article will cover the look, feel, and getting started with the control dashboard for beginners of cPanel on HostGator. The video below will take you on a tour of the new cPanel theme.
---
Getting Started: The Steps to cPanel
To get started using cPanel, you'll first need to purchase the appropriate hosting package and choose Linux as your operating system. For more assistance with account types, check out: New Account Sign Up v2.
Once you have ordered your hosting package, you will have two ways to log in and access your cPanel features. Continue reading for more information about accessing cPanel.
How To Log in to cPanel
Since cPanel has a lot of ins-and-outs to cover, we have assembled a detailed guide explaining the necessary steps to logging in here: How to Log into cPanel.
Want to log in now to cPanel? Take me there!
What Can You Do with cPanel?
If you have used cPanel before, you may already be familiar with the different features that come with each type of cPanel installation. If not, no worries, we have you covered on the basics in the rest of this guide.
---
Video Tutorials for cPanel
HostGator is ready to help the users of cPanel by creating helpful Tutorial videos to guide new users and those familiar with the platform. Aside from the steps provided below and the link to Learn cPanel, you can now visually follow the steps with what you need to accomplish with cPanel.
See the list of the videos by HostGator in this link: HostGator cPanel Video Tutorials.
---
The Control Dashboard Explained for Beginners
What are the Different Features of cPanel?
As a beginner, the cPanel dashboard can be pretty overwhelming. First, you will see all these different icons in rows and columns, with tables of information clustered together with words and numbers that all seem unfamiliar.
Rest assured, all of this will start to make perfect sense the more you use your cPanel dashboard. 
Let's break down the important stuff.
Overview- One way to reduce the eyestrain created by seeing so much new data is to think about your cPanel, just like keys on a keyboard. Some keys you use a lot, while others you have never even touched. Some you may apply by themselves, or you can use multiple at a time to achieve a particular result. 
You may notice each section has a header with a title and some icons underneath. These titles and icons help quickly sort your control panel's necessary features, which all web servers have.
Look through the sections and check out the icons contained within. Remember, it's unnecessary to know or memorize every icon. We recommend getting familiar with the sections and understanding why those icons were grouped into that section.
Files - This popular area will allow you to access all your files, including webpage files, images, FTP accounts, and the data associated with those.

Email - Here, you can add new addresses, manage email, and other things like contacts, security, and email filters. For more information on email, check out: How Do I Create Email Accounts in cPanel?

Databases - This is where you can manage your database content, features, and users. Think of Databases as large spreadsheets that are tracking information for your website. 

Domains - This more common area is where you go to manage domains, sub-domains, and DNS. 

Metrics - This is where you can review the performance numbers associated with your site and server, such as bandwidth, errors, and visitors statistics. 

Security - This area will help you to monitor and manage the more sensitive areas of your site.

Software - For more advanced users, or developers, this area will help provide more in-depth tools regarding PHP, Ruby, and Perl. If you are unfamiliar with these, no worries, you won't need these items to get started.

Advanced - Just like software, this section is for more advanced users or developers but still Advanced features of your server, such as Cron jobs, Apache Handlers, and more error pages.

Preferences - Here, you can edit the look, feel, and specifics of your cPanel dashboard to better suit your needs.

Softaculous Installer-  This area lists the scripts like WordPress, Joomla, Magento, etc., which you can use for website development.

You may also see (at the  left-side of your cPanel) the following data sections:
Statics- Sometimes separated, the statistical data will provide the overall # of features you are utilizing and the data. For example, here, you will see the number of the email address you have created, the number of Databases and the total amount of usage they contain, and the number of domain/ subdomains you have added to the cPanel, and more.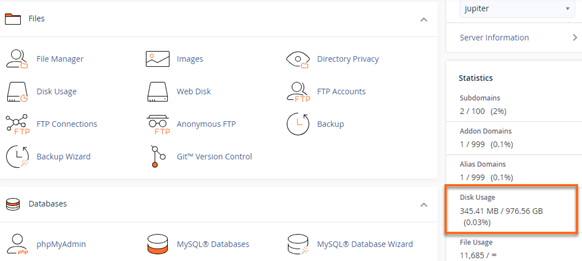 General Information - Will provide the unique information needed to identify and link to your server, such as your current user name, IP address, nameservers, and so much more.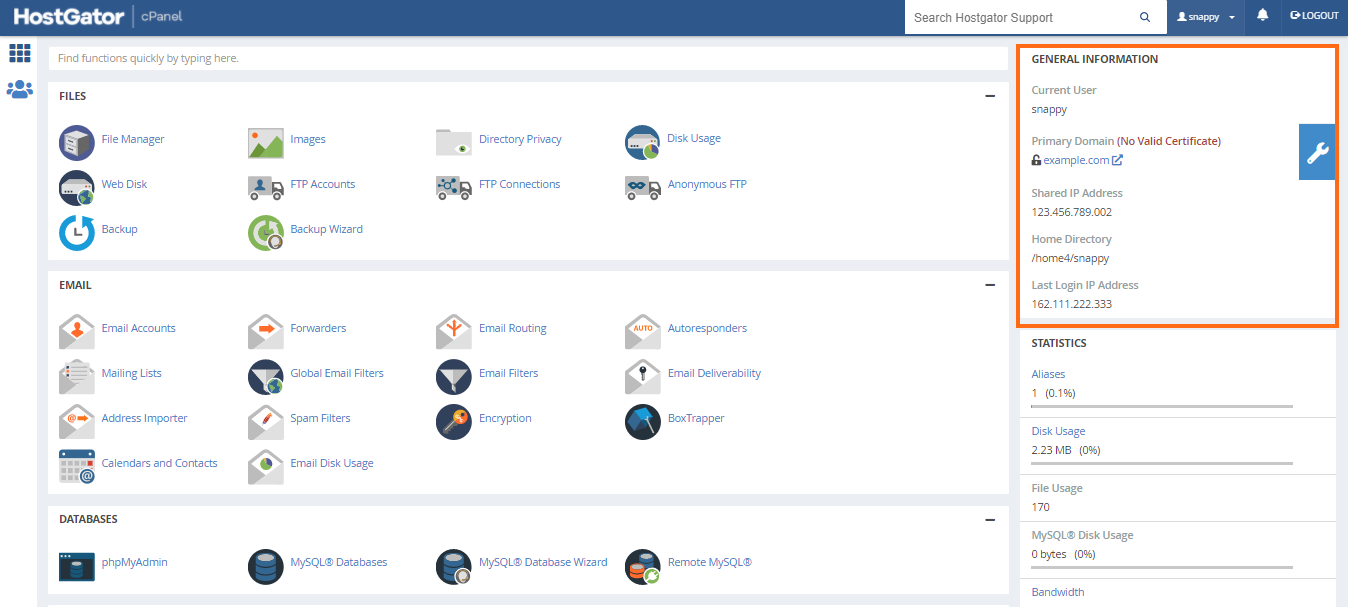 ---
Why Is It Important to Learn about cPanel?
cPanel is the core area where you will begin to identify all the things needed to make your project successful. From development to maintenance and security to troubleshooting, it's all done from within your cPanel dashboard. The layout is designed to create the least amount of steps along the path to success. 
Troubleshooting / FAQ:
What if you need more help than you can find in the cPanel? Can HostGator walk you through cPanel?

Yes! Our Support Agents are always available to assist you via phone or chat should you need assistance with your cPanel. Just reach out to us via phone or Live Chat so we can help you.
 
Why do you need cPanel for HostGator?

Although it is not necessary or standard on all HostGator hosting servers, cPanel is the industry standard and comes installed on most packages.
 
How do you add a new user?

This is not applicable for Shared hosting as it allows only one cPanel per one user. However, WHM gives the option to create multiple cPanels. To learn more about creating a new user in WHM, please check out this article: How Do I Create a cPanel Account?.
 
How do you navigate email accounts and settings?

For help with email on cPanel, check out this helpful guide here: How Do I Create Email Accounts in cPanel?
Does cPanel cost anything?

Although free on shared accounts, cPanel's price starts at $15 a month with another hosting.
Now that you know a little more about cPanel and its core functions, you should be able to walk into your server environment ready to get started confidently. If not, that is fine. We have plenty of information for you to dive deeper into cPanel, should you desire. For more information, check out: Learn cPanel.