How to Log into Webmail
Webmail is a great feature offered by cPanel. With webmail, as long as you have access to the internet, you can open and manage your emails through your preferred browser. This article discusses how you can log into your webmail via direct links in your browser.
There are two ways that you can log in to Webmail.
Is your email helping you succeed online? If not, then work smarter by adding Google Workspace. Google Workspace gives you professional email, online storage, calendars, video meetings, and more. Googles Apps make collaboration simple and effective. You will be able to share spreadsheets and documents, create video conferences with Google Meet, and use instant messaging. You can also share calendars with others, making meetings easy to plan.
---
How to access webmail via direct link
Step 1: Use the following links to access your webmail in a browser
If your domain has propagated, you can access webmail by typing the URLs below into your browser's address bar. In the samples below, replace example.com with your actual domain name.

http://www.example.com/webmail
You can also access webmail via the default webmail port 2095:

http://www.example.com:2095
The following method does not work for addon domains:

http://webmail.example.com
If you wish to directly access Roundcube using a direct link, use the following link:

https://www.example.com:2096/3rdparty/roundcube/index.php
Due to how the shared SSL works, you will have to accept the certificate warning to access the webmail interface after navigating to the URL provided above.
Step 2: Enter your email login credentials
Using the direct links discussed above, the webmail login page will be displayed on your browser, asking you to enter your complete email address and email password.
Note: You are not being asked for your cPanel username and password.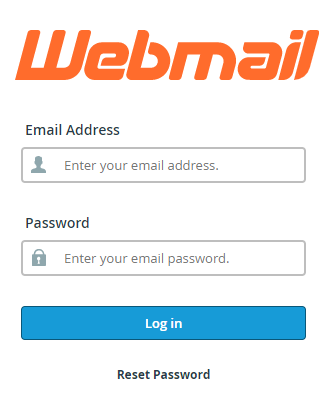 Type your complete email address in the Email Address field (for example, [email protected]).
Enter the password you provided when you created the email account.
---
Professional email
If you upgrade your email to Google Workspace (formerly G Suite) or Microsoft 365 (formerly Office 365), logging in to your email will differ from the steps above.
Google Workspace
With Google Workspace, you will log into your email via https://mail.google.com. You will need to enter your complete email address and password if you have already completed the Google Workspace setup and created at least one email account. If you have not completed those steps yet, please finish the setup so you can send and receive emails.
Microsoft 365
HostGator will no longer be offering Microsoft 365 products. These will be taken offline from the Customer Portal and Front-of-Site. Existing customers who purchased Microsoft Office 365 through HostGator can still manage their subscription through the Customer Portal. If you want to purchase a professional email, you can sign-up for 
Google Workspace
.
For Microsoft 365 users, you will use Outlook and log into your email via https://login.live.com. If you need to create an email account, follow the step-by-step instructions in the video below or read through the process in this article, Setup Email for Desktop with Microsoft 365. If you have not gone through those steps at least once already, you will need to before you're able to send and receive emails.
---
Related Articles
We have listed down articles you may find helpful in navigating and setting up your Webmail. Please check out these useful references.