How Do I Cancel My Account?
We're sorry to see you go. If there is anything we can do to keep you as a customer, please let us know. If you need assistance with your bill or need to pause your website temporarily, we can help! Please don't feel like you have to cancel your account. Contact us via phone or Live Chat so we can find a solution that works for you.
What Do You Wish to Cancel?
Depending on what hosting package subscription you wish to cancel in your account, please click the link below for the instructions.
Not sure about your hosting package subscription type? Click here for the instruction
Before proceeding with the cancellation, it is important to know what type of hosting account you will be canceling. Here are the two types of accounts you may find in our front-of-site. Please note the differences in their portals.
Gator Builder Portal
If your portal looks like the image below, you are currently in your Gator Builder account. To cancel your Gator Builder plan, please refer to this article: Gator Builder Hosting Package.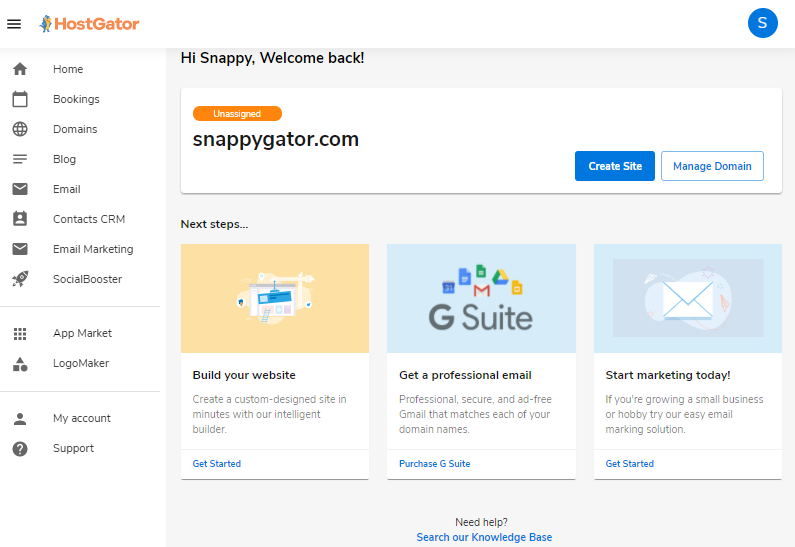 ---
HostGator Customer Portal
If your portal looks like the image below, you are in your HostGator Customer Portal. This account is where you can find the following hosting plans:
Shared, Cloud and Reseller hosting plans
VPS hosting plan
Dedicated hosting plan
Optimized WordPress plan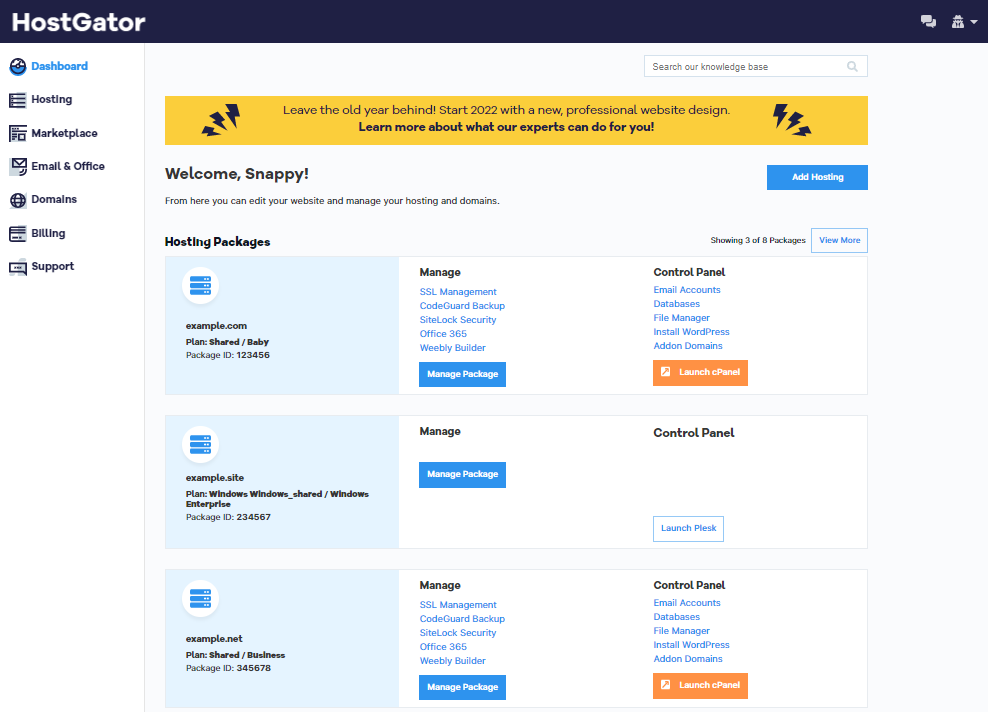 As discussed in this article, you can cancel your hosting plan via the direct link or through manual cancellation.
---
Jump to Section:
---
How to Cancel my Hosting Package via Direct Link
The easiest way to cancel your hosting plan is by using this link to our cancellation form:
Important Note:
If you have multiple hosting packages in your account on the cancellation page, please ensure that the right hosting package is selected before finalizing the cancellation. In the upper right-hand corner, you'll see the primary domain associated with the package. If you run into issues or have concerns about selecting the right hosting package to cancel, please don't hesitate to contact us via
phone
or
Live Chat
.
How To Check You're Cancelling the Correct Hosting Plan
To check if you are canceling the correct hosting plan in your HostGator account:
In your Customer Portal's cancellation page, check the primary domain in the top right corner to make sure you selected the correct hosting plan.

This section displays the primary domain of the hosting package.
Select the reason why you wish to cancel the hosting package.
Click the Continue button once the reason is selected.
Another pop-up window will appear, giving you the option to contact Support or Finish Cancelling. Click Finish Cancelling to finalize the cancellation.
Select the Take me Back to Billing button to go back to the billing page.
You will no longer be charged for this hosting package's renewal. It will remain active only until its next renewal date. Please make sure to generate a backup before the renewal date.
Note: Cancelling the web hosting plan does NOT automatically cancel your domain name registration.
---
How to Manually Cancel my Shared, Reseller, Cloud, VPS, or Dedicated Hosting Plan
Log in to your Customer Portal.
Select Hosting from the left-hand menu.

In the Hosting Packages section, locate the hosting plan you wish to cancel, then click the Manage link below it.

On the next page, click the Billing tab.

In the Billing section, scroll a little bit down and click Cancel Package.

Read through and complete the fields in the form to submit your cancellation request.

Make sure to select the checkbox I give permission to terminate the plan above on the scheduled renewal date to proceed.
Finally, click the Cancel Package button. Please allow 72 hours for this request to be completed.
Note: The screenshots above are referencing to cancel a Shared Hosting package, but the steps are the same for all packages, except for Optimized WordPress.
---
How to Delete my Optimized WordPress Blog
If you do not wish to cancel your Optimized WordPress Plan but instead want to delete the WordPress blog only, you can do so through your Customer Portal.
Note
: Deleting your Optimized WordPress Blog doesn't cancel the plan itself. If you wish to cancel your Optimized WordPress plan, please contact support via
Phone
or
Live Chat
for assistance. 
Instructions in Deleting a WordPress Blog
In your Customer Portal, click the Hosting tab.
From your WordPress package, select the blog you wish to delete by clicking on Manage.

On the next screen, you will see a list of management options for your WordPress. Check the domain in the lower-left corner to make sure you're canceling the correct WordPress blog. 
To delete your blog, click the Delete WordPress Blog icon.

A confirmation page will appear. Please select the checkbox for Yes; I give permission to delete my installation and files.
Click Delete Installation to confirm.
Note: Canceling the web hosting plan does NOT automatically cancel your domain name registration.
Gator Builder Hosting Cancellation
Please check out this article to cancel your Gator Builder hosting plan cancellation:
---
Domain Name Renewals
By default, your domain name is set to renew automatically. If you do not wish to renew your domain name, you can disable its auto-renewal through your Customer Portal's Domain section. Please refer to this article on how to enable/disable your domain's renewal feature.
---
Account Addons & Other Services
To cancel an account addon, please follow the relevant article's instructions to complete the task in your Customer Portal.
Need help with your addons?
Please reach out to HostGator Support via
phone
or
Live Chat
so we can assist you.
---
HostGator India, Brazil, Turkey, etc.
HostGator.com only handles accounts that are purchased from HostGator.com. For cancellation, you would need to contact the company you signed up with. For example, if you signed up with HostGator India, you would need to contact HostGator India to cancel.
Note: Cancelling the web hosting plan does NOT automatically cancel your domain name registration.
---
Frequently Asked Questions
What Happens After I Submit the Cancellation Request?
You will receive an email immediately confirming we have your request. If you do not get this email back within 1 hour, we did not receive your cancellation request, and you will be held responsible for any charges as a result.
Once you know we have your request, please allow us 72 hours to verify your identity and close your account. Your account will remain active until you receive our follow-up email confirming you were canceled successfully.
When Will My Cancellation Be Effective?
Unless you tell us otherwise, your account will be canceled on the next renewal date, and you will continue to have access to your account until that time. For example, if your next renewal date is in 2 weeks, and you tell us you want to cancel, your account will stay open for those two weeks, then cancel on the renewal date. If you want the cancellation to be effective on any date other than the next renewal date, please let us know when we contact you to confirm your cancellation. We can cancel the account according to your instructions.
Want to Cancel your Customer Portal Account? 
Canceling your HostGator account will also cancel the Customer Portal. If your HostGator account is active, you must keep your Customer Portal account.
---
Related Articles
Why Do I Have to Cancel? Why Am I Still Being Invoiced?
I Already Canceled My Hosting. Why Am I Being Contacted to Pay?