Email Client Troubleshooting
This article discusses troubleshooting steps for email applications or what is commonly referred to as email clients. Some of the more popular mail clients are Outlook, Mac Mail, Gmail, Thunderbird, etc. If you are using the cPanel email web applications (Horde or Roundcube), please check out Webmail Programs for more details.
There are many possible causes as to why your email client may not be working. In this guide, we've gathered the most commonly known issues, including but not limited to expired/inactive domains, incorrect email client settings, and email routing.
Here are the troubleshooting steps that we will discuss:
Have you recently signed up with HostGator? Are you a new customer and planning to host your emails with HostGator? If so, welcome! To set up your emails with us, you first need to add your email address to your HostGator account. Please check out the article
How Do I Create Email Accounts in cPanel?
Once you get that added, you will need to configure your email client to access your email address. If you find that your email client is not loading your emails or sending them, the next step will be to check the items listed below. So, here we go!
Check the email client settings
When you are having an issue with your email application, the first thing you want to do is to double-check if you are using the correct incoming and outgoing email server. Check the article below to find your email settings and how-to configure them properly.
Please continue reading below if you still have ongoing issues in receiving or sending emails to your email client despite using the correct email client settings.
---
Check the domain status
You need a registered and active domain to use for your HostGator email. Just like websites, emails only work if the domain being used is active.
If your domain was registered with HostGator, check the status of your domain in the Domains section of your Customer Portal. The Status should state that it's Active.
If you see the Expired status, your domain needs to be renewed. See the steps in the article How Do I Renew My Domain Name to know how to manually renew your domain. You can also use a third-party domain lookup tool, like ICANN Lookup, to check the status of your domain name.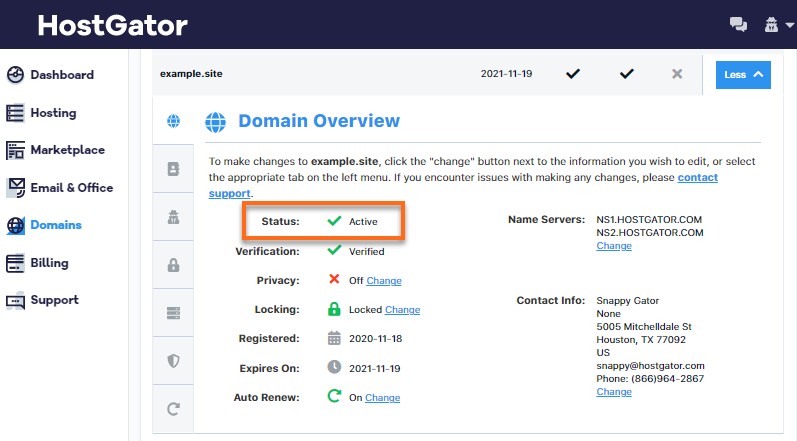 Suppose your domain is not registered with HostGator, great news! You can transfer it over to HostGator so you can manage your domain and website all in one account. Check out the article
How Can I Transfer My Domain to HostGator?
for the steps.
---
Check the MX records
Email accounts need to be connected to the domain to get it working. The MX records serve as the bridge for the two. Think of it this way - the MX records tell the internet where to deliver your email for your domain email. If the domain is confirmed to be active, check its MX records to ensure it is connected to your HostGator email host.
If you are using HostGator for your email, the MX record should be 'mail.yourdomain.com. Just replace 'yourdomain.com' with your actual domain name. You may also use online tools such as LeafDNS or WhatsmyDNS to confirm that your MX record actively shows publicly.
---
Check the email routing
Email routing or the email delivery method tells how-to handle your incoming emails. You can configure your email routing in cPanel depending on where you want to host your email.
If you're using the HostGator email server, set your email routing to Local.
If you've decided to use a professional email product like Microsoft 365, Google Workspace, or a third-party email provider, change your email routing to Remote.
Please check out the article, Local, Backup, and Remote Mail Exchanger, for steps to set up email routing.
---
Still not working?
Here are additional troubleshooting tips to help you get your HostGator email up and running.
Change your incoming and outgoing mail servers from mail.example.com to the IP address listed in your Welcome email. You can also find this IP address in your Customer Portal and control panel. 
Ensure that you use the full email address as your username, all in lowercase. Example: username@domainname.com or snappy@hostgator.com
Check if there are no additional characters or spaces in your username or password.
Double-check the capitalization is correct for your password.
---
Additional Information
Are you able to receive emails but unable to send them?
Your ISP is likely blocking your SMTP port if you receive mail but can't send it. For more troubleshooting steps, this is a good read.
Are you able to send emails but unable to receive them?
There are many possible causes as to why you are not receiving emails. Here is your guide on how-to to troubleshoot the issue.
---
Related Articles