Welcome to SiteLock - An Intro to SiteLock Account
The security of your website is essential to us. We've partnered with SiteLock, the global leader in website security, to help protect your site against cyber threats.
This article is intended for customers who have already purchased SiteLock and want to learn how to navigate their SiteLock Dashboard. Let's get started!
If you aren't a current SiteLock customer, be a security superhero!
SiteLock
provides automated malware removal, protects your brand's reputation, and defends your site from malicious attacks. Use the link below to know more about how to sign up and start protecting your website from cyber threats today.
---
Click the links below to learn more on a specific SiteLock dashboard feature:
---
An important note about SiteLock service
SiteLock services will not work without proper configuration, specifically for SiteLock TrueShield and SiteLock TrueSpeed custom. You will need to activate your services within your SiteLock Dashboard as a first step board.
The following articles will help you activate SiteLock TrueShield and SiteLock TrueSpeed:
Logging in to your SiteLock Dashboard
Customer Portal
Log in to your Customer Portal.
Click Hosting from the left-hand side menu.

Locate the hosting package in the listing and click Manage located under the primary domain.

In the Overview section, click the Manage button on the SiteLock card.

Next, click the Shield under Settings to access the SiteLock Dashboard.
cPanel
Log in to cPanel.
Click on the SiteLock: Protect Your Site from Hackers icon in the Special Offers section.
You will be redirected and prompted to log in to the Customer Portal. If you are already logged in to the Customer Portal, you will be redirected to the Customer Portal SiteLock page. 
On the Customer Portal SiteLock page, click the Shield under Settings to access the SiteLock Dashboard.
Reseller Hosting
Directions on accessing SiteLock will be emailed to you when you sign-up.
---
SiteLock Dashboard navigation overview
Once you are logged into your SiteLock Dashboard, you will see a list of options on the left navigation menu. These options are Dashboard, Sites, Users, Settings, Account, Help, and Support. See the details below for an overview of each of these options.

Dashboard
The Dashboard tab serves as a centralized hub for the status of your domains and website security products, including Max Risk Score, Business Security Section Risk Score, Security Summary Report, Trust Seal, Product "Drill Down" Information, and Site Security Section.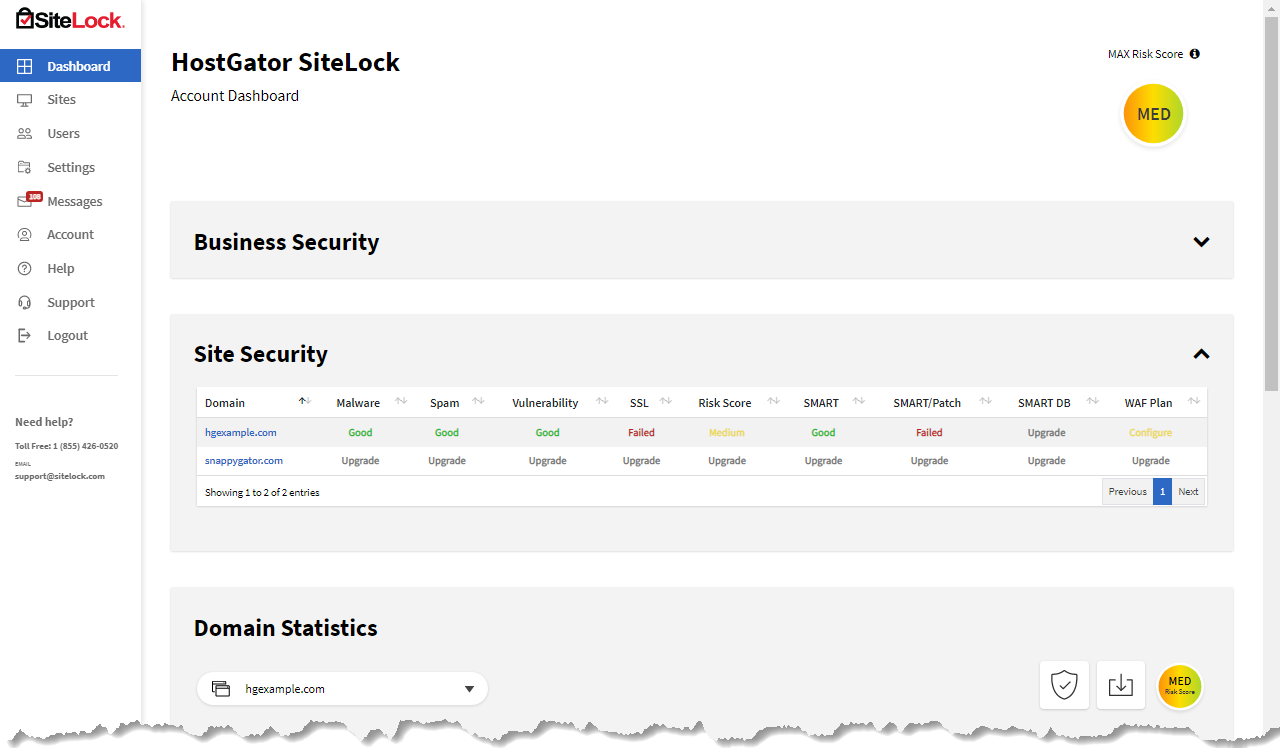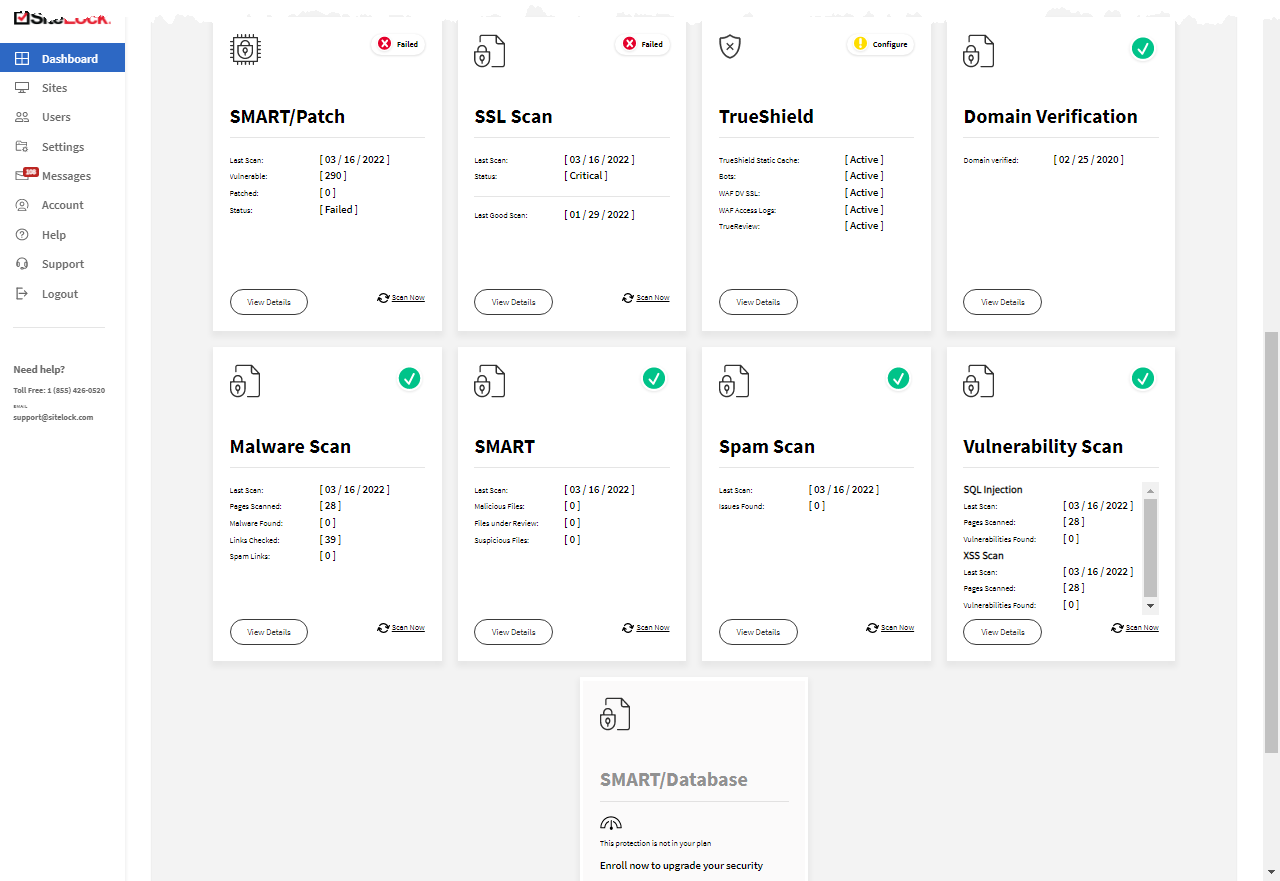 Want to know more about the new SiteLock Dashboard? Please check out these support articles:
If you would only like to see the results for one specific domain, use the dropdown below Domain Statistics to select the specific domain.

The following color-coded links (all domains view) and icons (single domain view) for each product/scan indicates the following:
Green Text / Green Check - Everything is in good condition
Yellow Text/ Yellow Exclamation Point - Something is pending (like a scan) or needs to be configured.
Red Text/ Red  X - Something failed, or malware/vulnerabilities were found.
Grey Text/ Gray  Arrow - Your service needs to be upgraded to use this feature.
Sites
This page displays all the current websites in your account that SiteLock is protecting and an option to add a site.

The colored dots to the left of the domain indicate the following:
Yellow - Site Compliance: provisional
Green - Site Compliance: verified  
Users
This page displays a list of users who have access to your SiteLock Dashboard. As the owner, only you can change the users, domains, and account information. The other users on your account can only view the Dashboard site data, install the SiteLock Trust Seal, and open a support ticket via the Dashboard.

Settings
The Settings page allows you to change your language settings and security settings, configure two-factor authentication, email subscription, notifications, and product settings.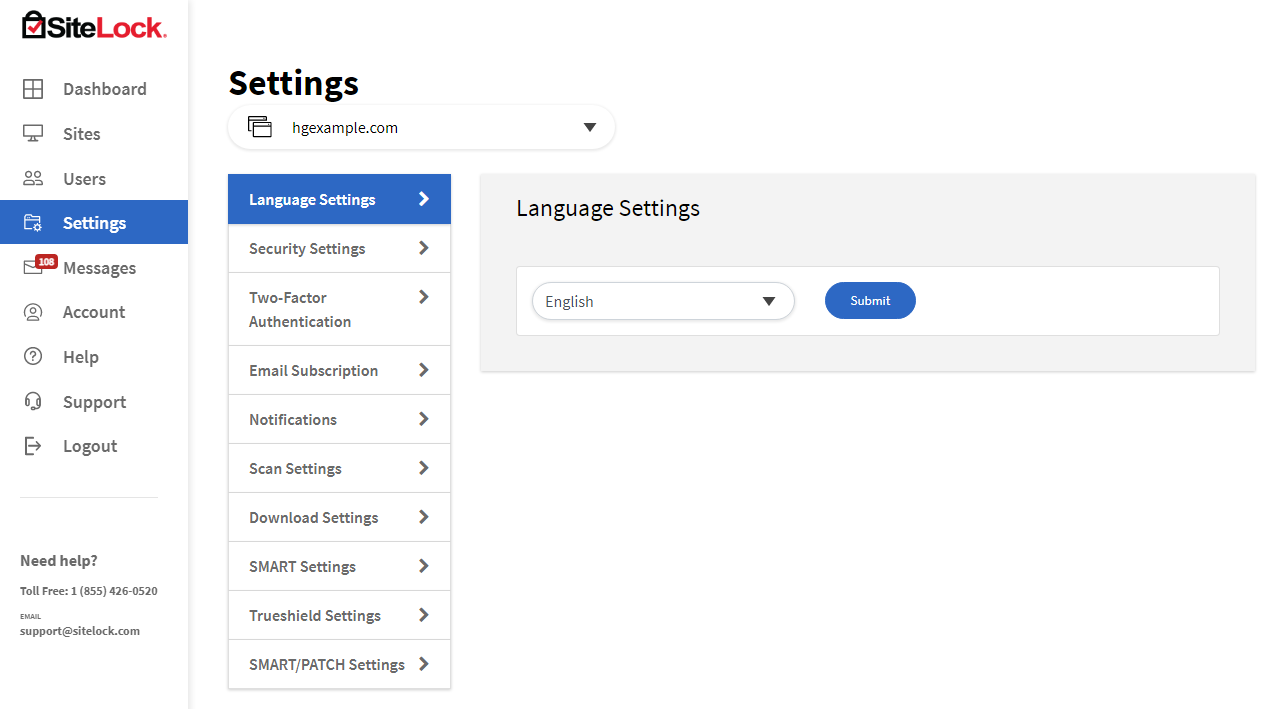 Messages
This page shows messages and urgent alerts from SiteLock regarding the security and reputation of your business.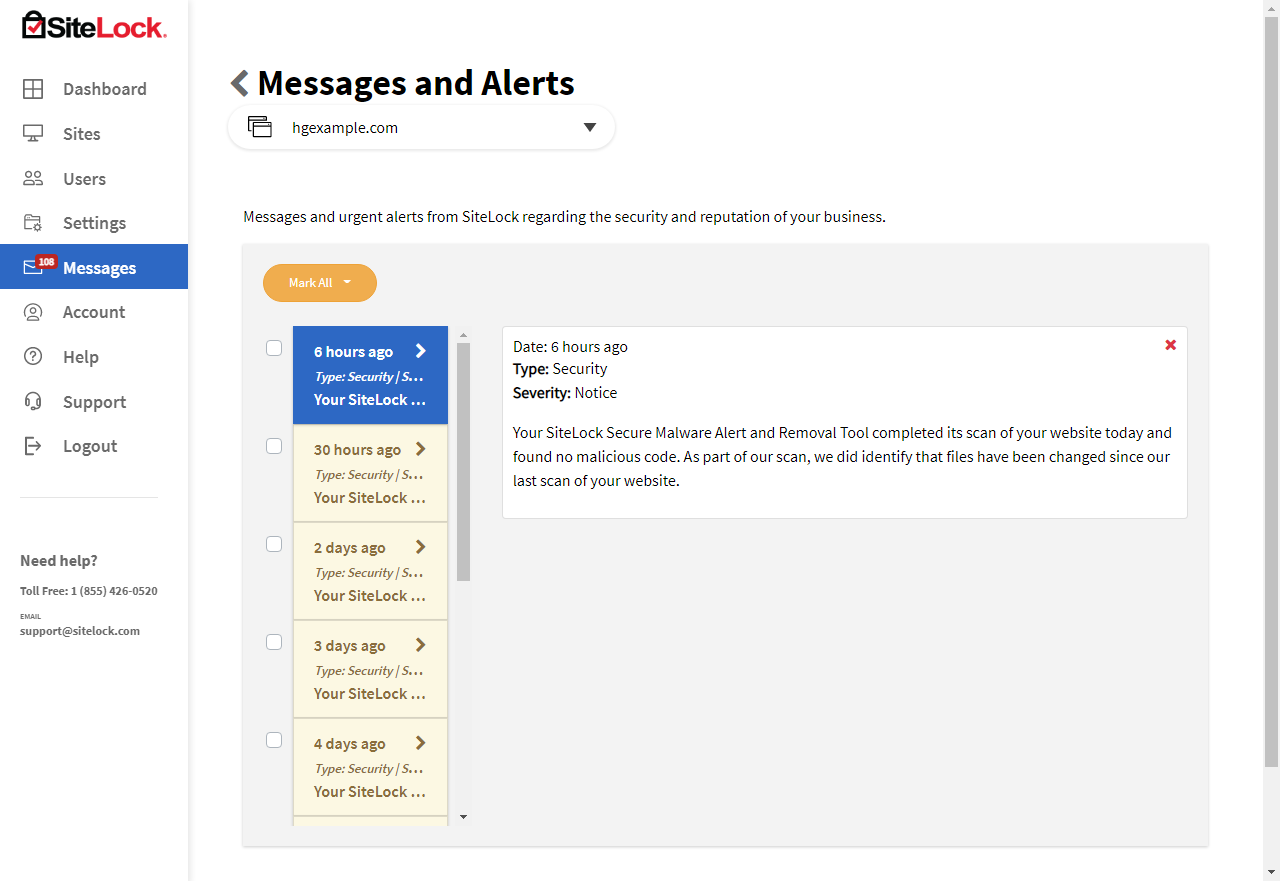 Account
This page will allow you to update your account information, such as contact information for the primary account, or configure information individually for each domain.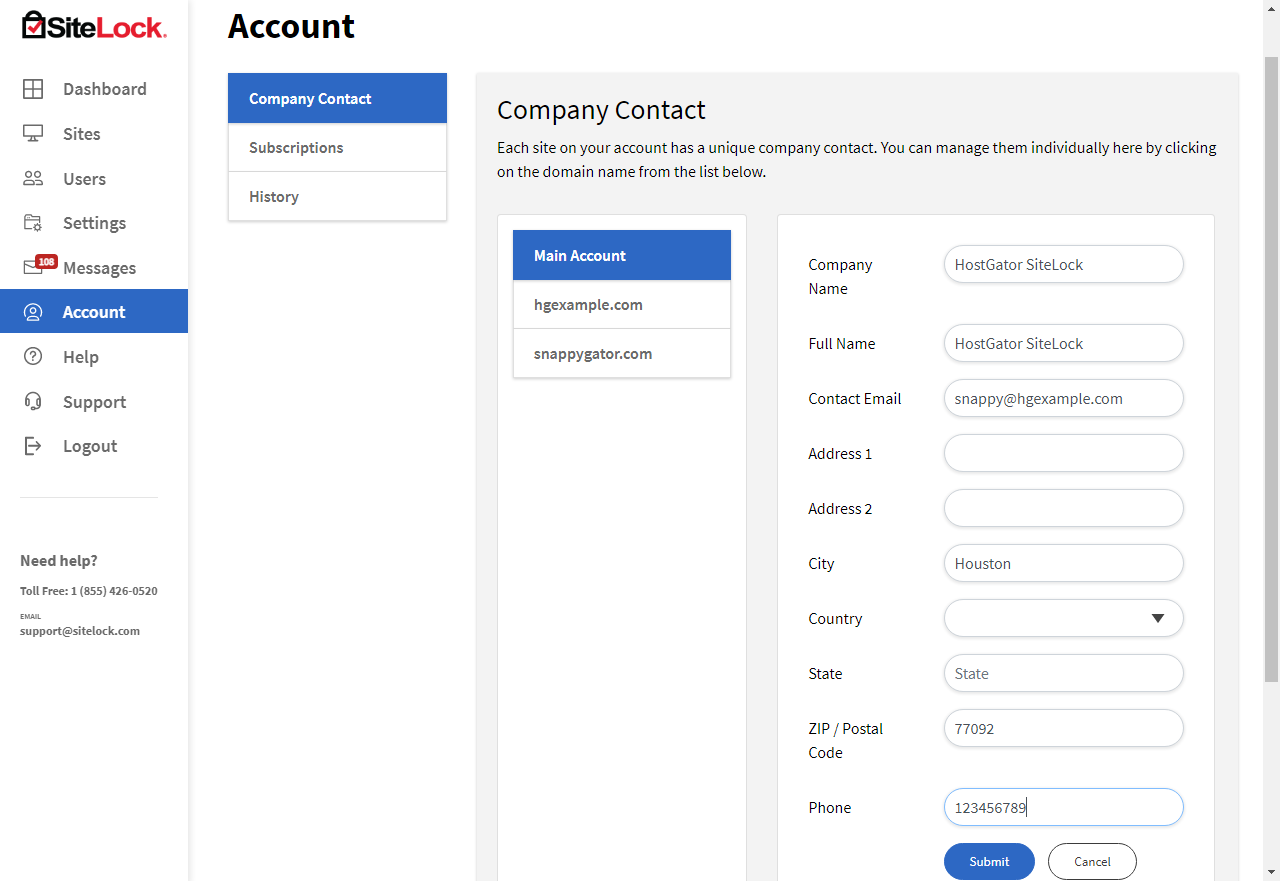 Help
This is your go-to page if you need additional assistance navigating your Dashboard. It provides an overview of your Dashboard and information about your products.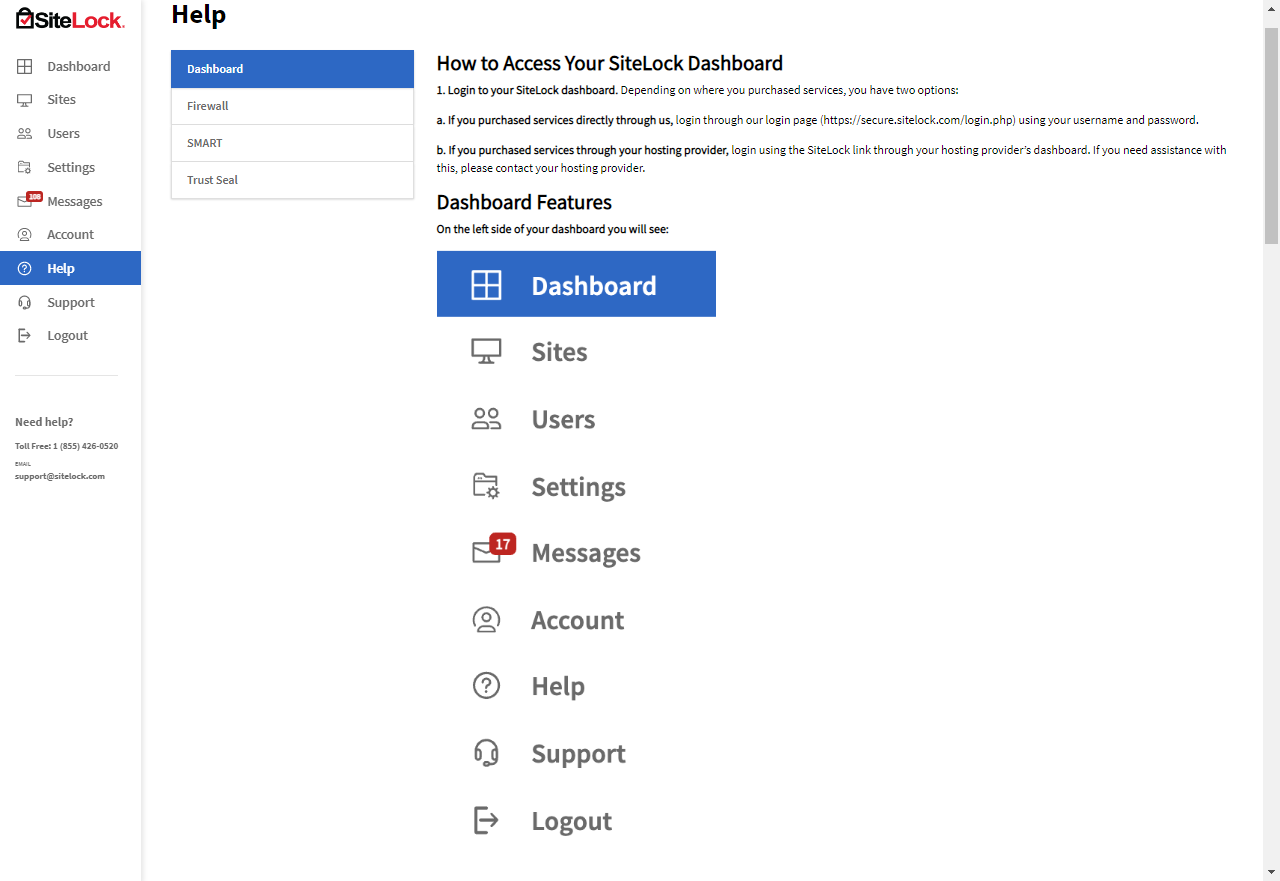 Support
Use the Submit Ticket popup to select one of your SiteLock domains and provide a message.

---
Getting to know your Dashboard features
The following section provides a brief overview of the basic features of your SiteLock Dashboard.
SiteLock Logo

Clicking the SiteLock logo in the top left will always bring you back to the main Dashboard page.
Deploy SiteLock Trust Seal

The SiteLock Trust Seal graphic is located to the left of the exclamation point icon. By clicking this icon, you will be redirected to a new page outlining how to set up and install your Trust Seal.
Download Security Summary Report

The Security Summary Report is located at the top left of your Dashboard. Download your security report at any time to see a current overview of your recent scans and their results.