WordPress - HostGator Plugin
HostGator always seeks to make your web hosting experience an enjoyable one. We want to help you achieve your goals when you go online. With this purpose in mind, we integrated your WordPress site to your HostGator control panel. We want to provide you with the convenience of managing your website and control panel without the hassle and the bustle of switching to different systems all the time.
New WordPress installations will now see the HostGator plugin in their WordPress Dashboards. This plugin gives you the ability to manage your WordPress website and HostGator control panel, including performance, security, and update features.
This article will discuss the different sections, features, and functionalities of the HostGator plugin.
---
How to access the HostGator plugin
Please note that the HostGator plugin is only available on HostGator Softaculous new WordPress installations and cannot be installed from WordPress.org. You can visit the following article for instructions on installing WordPress via Softaculous.
There are a few ways to access the HostGator plugin Settings section within your WordPress Dashboard.
Main menu
The main menu is the quickest way to access the HostGator plugin. For new WordPress installations, you can find the HostGator plugin on the left-side menu of your WordPress Dashboard.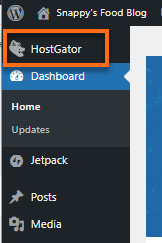 Plugin section
The HostGator plugin is one of the pre-installed plugins in your WordPress Dashboard, which you can access in the Plugins section. Click the Settings link to access the HostGator plugin menu.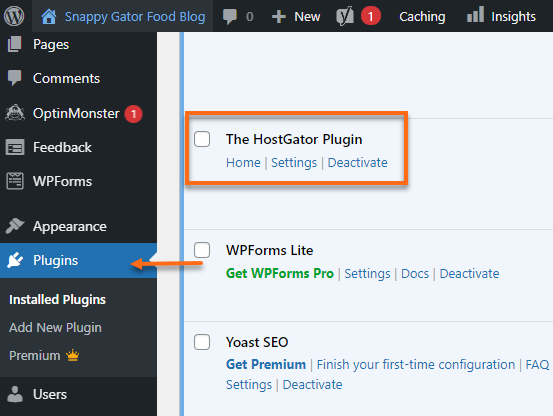 ---
HostGator plugin menu
You will find the following sections once you access the HostGator plugin menu
Home
The Home tab provides an overview of what you can find within the HostGator plugin.
Website Content
Create, manage and sort your WordPress blogs, pages, stories, and categories.
Blog - This is where you can write a new blog post for your website.
Pages - The New Page button allows you to add fresh pages to your website.
Categories - This allows you to organize existing content into categories.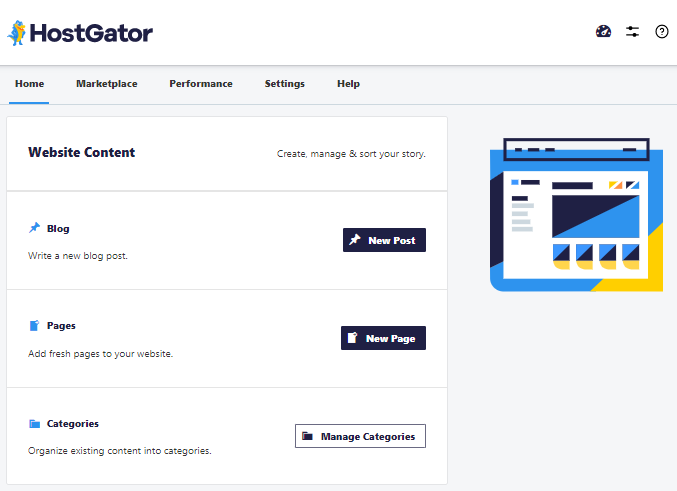 Settings and Performance
Customize and fine-tune your WordPress website.
Manage Settings - You will be redirected to the Settings tab, where you adjust automatic updates, comments, and revisions and configure your Coming Soon page. 
Performance - Redirects you straight to the Performance tab, where you can manage site performance and caching settings and clear the site's cache.
Marketplace - This section allows you to add site services, themes, or plugins from the marketplace. It redirects you to the Marketplace tab.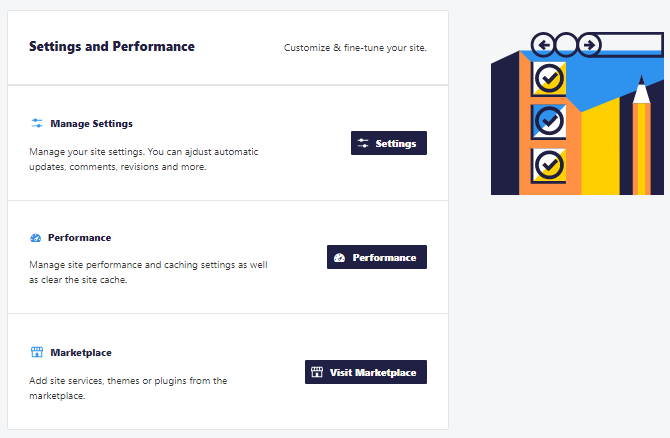 Web Hosting
Access and manage your HostGator account
Manage Sites - Redirects you to your HostGator Customer Portal's  Hosting Packages section, where you can access your hosting's control panel, create backups, configure security and improve your site and server performance. 
Email - You will be redirected to your Customer Portal's Email & Office section, where you can create email accounts, compose, send, and receive your email from the control panel and choose your email service that best suits your business needs.
Domains - Redirects you to the HostGator Search Domains menu inside the Customer Portal, where you can find a new domain and assign it to your site or start a new site with a fresh domain.
Help - Redirects you to the Help tab, where you can find various platforms to get in touch with HostGator's Support team and available self-help options.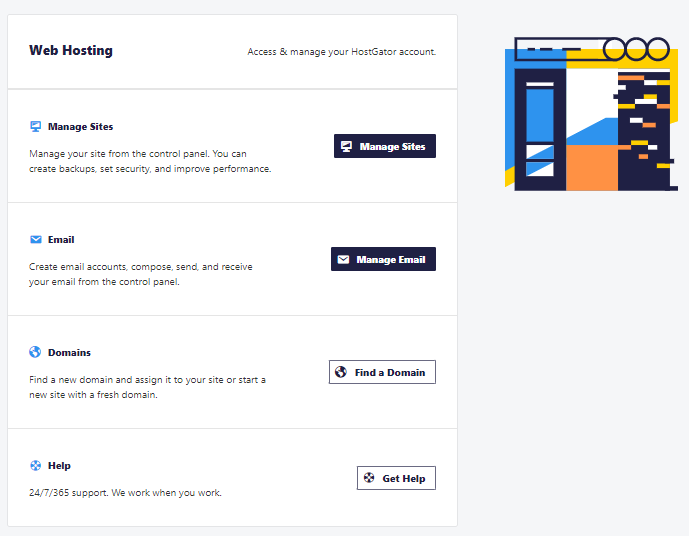 Marketplace
The Marketplace tab provides you with the ability to easily add themes, plugins, and services to your WordPress website.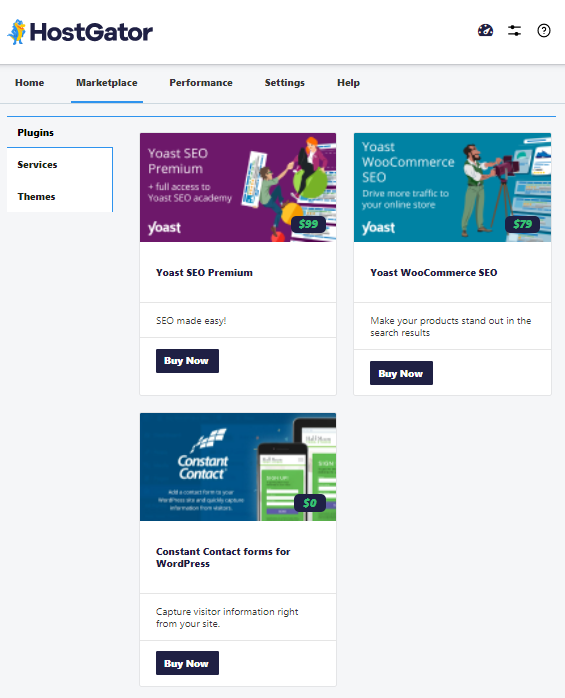 Performance
The Performance tab allows you to manage site performance and boost speed and performance via cache depending on your preferred cache settings. It is also where you can clear your site's cache.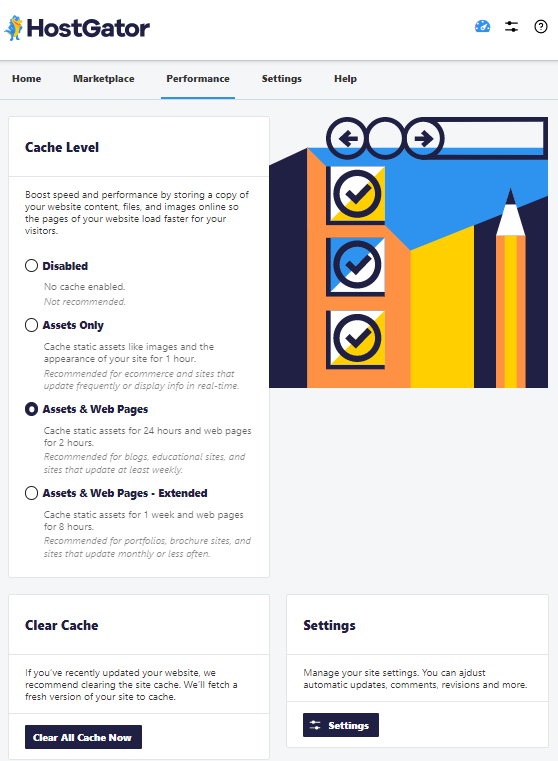 Settings
The Settings tab allows you to customize your automatic updates, comments and content options.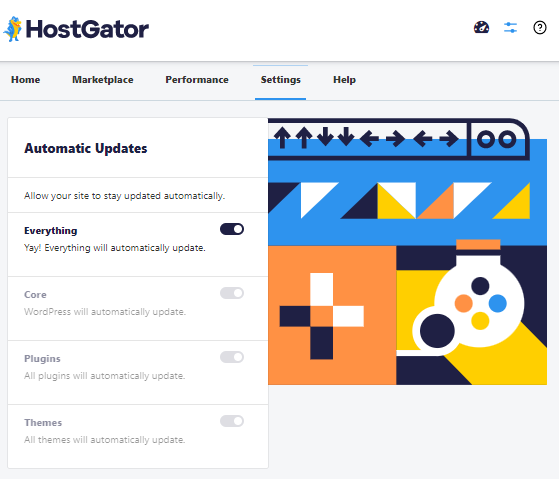 This is also where you can enable or disable your Coming Soon page.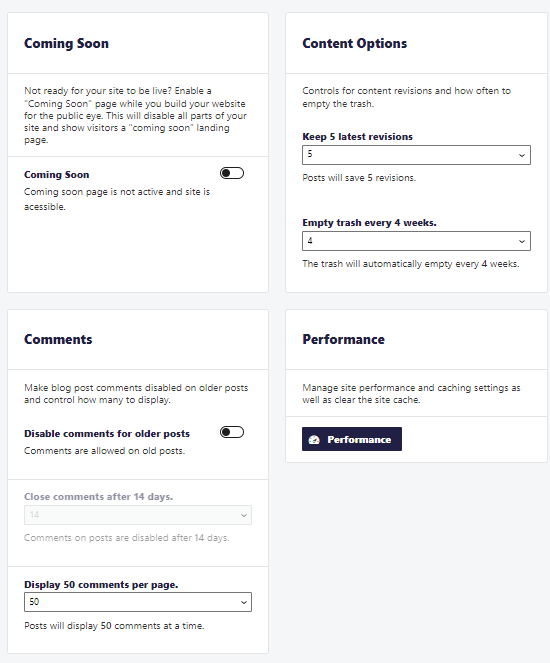 Help
The Help tab provides you with different options where you can contact HostGator's Support team, which includes the following platforms:
You can also utilize HostGator's knowledgebase and video tutorials.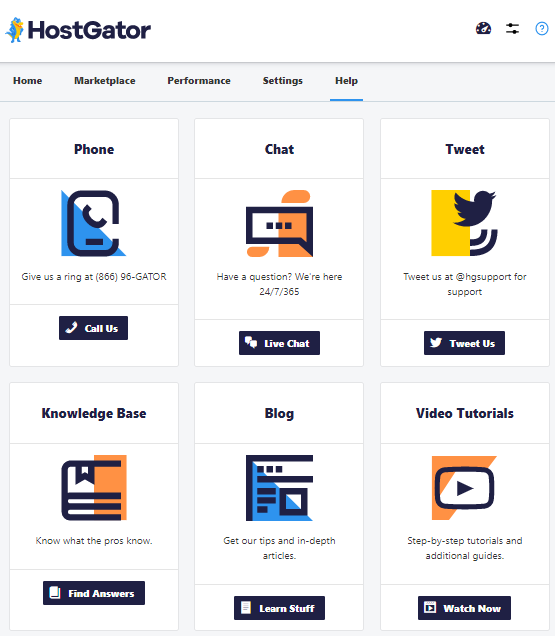 ---
Related Articles
Here are some support articles to guide you with your WordPress journey.