Basics of DNS Records
What is DNS?
(DNS) Domain Name System. This system helps to locate a website on the internet. It is a system that translates an IP address into a human- friendly name (like example.com). There are different types of DNS entries that you can create or modify in the DNS Zone Editor.
Below Are the DNS Record Types:
---
Name Servers 
Name servers are the primary records in DNS and act as the server component.  It connects the IP address to a domain name on a server. The primary function of the name servers is to translate an IP address (192.123.45.6) to an easily remembered domain name (example.com).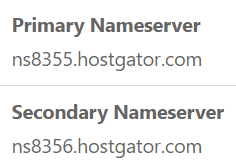 Here is an article to know where to get your name server information with HostGator: What Are My Name Servers?
---
A Record
Also known as Address records. This record points a domain or subdomain to a specific IP address (IPv4) on a server (example.com to 192.987.654.321). This record controls which specific server will host an online presence such as email, website, and online apps.

---
CNAME Record
A Canonical Name Record is used to alias and map a domain or subdomain to another. This record should always be pointed to a domain or a subdomain. The most common example is when you have both example.com and www.example.com.

---
MX Record
A Mail Exchange Record (MX record) specifies the mail server responsible for sending and receiving messages on behalf of a domain name.

---
TXT Record
This would be better categorized as human-readable information. The most commonly used example (as pictured) is a hostname or IP address.

---
SRV Record
The Service Record is used to point a domain name to another domain using a specific destination port. It allows services as a VOIP (Voice over Internet Protocol) or IM (Instant Messaging).

---
AAA 
This record is similar and works the same way as the A record. The only difference is it allows you to point a domain name to an IPv6 IP address. Currently, HostGator does not support IPv6 addresses.

---
DNS Glossary
Zone File. It is a text file that contains all the DNS records of a domain name. This is where you can add, remove, and delete a DNS record.
Name. This section is where you place the domain you wish to add or edit its DNS record.
TTL. Acronym of Time To Live. It is the expiration date placed on a DNS record. It tells the server how long a record should be stored locally before a new copy of the record must be retrieved from the DNS. 
Address. 

It points a domain name to the destination server that the domain and sub-domain are sending the site traffic.
---
Related Articles
Changing DNS Zones (MX, CNAME and, A Records)