eCommerce is growing at lightning speed. In fact, U.S. online retail sales reached slightly over $343 billion in 2019 and are projected to amount to over $476.5 billion by 2024.
But, eCommerce growth doesn't happen just by chance. Growing a successful eCommerce business takes a combination of hard work, strategy, and the right tools.
If you're looking to scale your eCommerce business this year, you'll need the right tools. Here is a quick look into the best 15 eCommerce tools your website needs in 2020.
You might like…
1. WooCommerce
It's safe to say that any successful eCommerce store is using one of the top eCommerce platforms. If your website is built with WordPress, then one of the best eCommerce plugins is WooCommerce.
WooCommerce is a WordPress plugin that helps you create a thriving online store with just a few clicks of a button.
With WooCommerce, your options for your online store design and functionality are robust. Here are just some of the things you can do with the WooCommerce plugin.
Design your store
WooCommerce allows you to choose a theme and customize it to your liking. This includes personalizing your homepage design, your site structure, payment options, and shipping options.
Products and pages
The next step is to set up your products and pages. You can customize your product pages with different product types, categories, variations, and even different payment options.
Store features and functionality
Do you want to allow your website visitors to subscribe to your email list? Are you interested in connecting your Facebook account to run ads and drive interested visitors back to your eCommerce store? What about including a live chat feature?
WooCommerce has free and paid extensions that help you customize the functionality of your website. If you can dream it, you can do it with WooCommerce.
Once you have selected your theme, customized your store options, and added any desired features, you'll be ready to launch your eCommerce store.
2. Google Analytics
Owning an eCommerce website without tracking and measuring performance is like walking through a thick forest and hoping you'll find a way out.
Google Analytics, or any other preferred analytics platform, is the polestar that helps you navigate the eCommerce world successfully.
With Google Analytics, you can track critical eCommerce performance metrics, learn what is and is not working on your website, understand which products your customers like, and make adjustments to improve your conversion rates.
If your website runs on WordPress, it's easy as pie to connect Google Analytics. You can either add your tracking code to the header or install a plugin and follow the directions.
3. Easy Digital Downloads
One of the best things about the internet is you don't even have to have a physical product to make money. Plenty of successful eCommerce store owners sell digital products.
Digital products include:
Ebooks
Online courses
Documents
Software
Design packages
Photography
Art
Music
While selling a digital tool is a killer way to share your talents and make money, you have to have a system in place to accept payments and securely send your product.
Easy Digital Downloads is a top-notch WordPress plugin that helps you set up your digital store in minutes.
Top features include:
Buy now and add to cart buttons
Customizable action button text
Cart saving functionality
Guest checkout or registration capabilities
Terms of agreement requirement
Customer management
Discount codes
Data reporting
And more!
To learn more about Easy Digital Downloads, check out their website.
4. OptinMonster
Website traffic is fantastic, but do you know what is even better? Website traffic that converts into sales or leads.
OptinMonster is an eCommerce tool that helps online store owners grow their email list, generate leads, and make more sales.
Top features of OptinMonster include:
Drag and drop builder. You don't have to know how to design to create the perfect opt-in form. OptinMonster has a drag and drop builder that helps you create forms that will lead to higher conversion rates.
Campaign types. You're not limited to one way to capture subscribers. OptinMonster offers the following: lightbox pop-up, full-screen welcome mat, slide-in scroll box, floating bar, sidebar forms, in-line forms, content locker, and coupon wheel options.
Campaign triggers. The best time to capture a lead is when a website visitor is thinking about you. With campaign triggers, you can detect visitor's behavior and serve up the right campaign to the right person at the right time.
Targeted campaigns. It's also possible to capture more leads with targeted campaigns, including referrer detection, page-level targeting, on-site follow-up campaigns, on-site retargeting, geo-location targeting, cookie retargeting, device-based targeting, and ad-block detection.
OptinMonster, or a similar conversion marketing tool, is a must-have for eCommerce store owners that want to boost their marketing opportunities.
5. Constant Contact
We talked about using OptinMonster to capture leads, but what do you do with the leads once you have them? You use a stellar email service provider (ESP) to send targeted, high-quality emails to your most loyal subscribers.
Constant Contact is our favorite ESP, and it even integrates with HostGator.
With Constant Contact, email marketing is easy. Since Constant Contact already has a WordPress plugin, all you have to do to get started is sign up for Constant Contact, download the plugin, and follow the set-up directions.
Once your account is up and running, here are some things you can do with Constant Contact:
Choose from customizable templates. You don't have to be a designer to send out a gorgeous email to your subscribers. Constant Contact has several proven templates and you can customize them with your logo, brand, and images.
Create targeted campaigns. Constant Contact allows you to segment your lists to send personalized and highly-targeted campaigns to your audiences. For example, you could segment your lists by gender. If you sell clothing, you could market men's t-shirts to one list and women's t-shirts to another. It's magic.
Performance tracking. Just like with any marketing strategy, email marketing performance tracking is a must. Constant Contact comes with built-in analytics and reports to monitor your open rates, conversions, clicks, and more.
These are just a few of the advantages of investing in an email service provider.
6. Hootsuite, Buffer, or Sprout Social
Social media marketing is a surefire way to bring traffic to your website, capture your audience's attention, and boost your sales. Here are some of the most impressive social media stats to keep in mind as you look for the right social media management tool:
Social media marketing is an excellent way to boost brand recognition and show off your online store.
However, social media marketing is no small feat. This is especially true if you're managing Facebook, Instagram, Twitter, YouTube, LinkedIn, and more.
It's smart to invest in a social media management tool such as Hootsuite, Buffer, or Sprout Social to help you stay organized.
These platforms help you build your social audience, create targeted messages, organize your content, schedule your content, and boost social advertising.
7. Cart Recovery for WordPress
Ready for some eye-opening information? The average cart abandonment rate is just under 70 percent for all industries, mobile users have an abandoned cart rate of nearly 86%, and eCommerce brands lose $18 billion annually to cart abandonment.
If you're looking to increase your sales, then starting with recovering sales from cart abandoners is the first place to start.
A solid WordPress plugin for help with this is Cart Recovery. Cart Recovery helps with:
Tracking customer names and emails in checkout
Automated cart recovery emails
Cart repopulation
Tracking capabilities
Dynamic per-customer discount codes
And more!
All eCommerce stores should have a plan for abandoned cart recovery.
8. AdEspresso
Did you know there are over 24 million eCommerce websites? This means if you want your website to stand out in the crowd, you'll want to invest in advertising.
AdEspresso offers automated tools for eCommerce to streamline your product advertising and capture the attention of your target audience.
Here are some ways AdEspresso can help you build a strong advertising strategy:
Create campaigns across multiple channels. AdEspresso supports campaigns on Google Ads, Facebook, and Instagram.
Conduct an A/B test. AdEspresso helps you split test anything, including headlines, images, segments, and more.
Grid composer. This feature helps you create campaigns across hundreds of locations.
Automatic page post promotion. Gone are the days of searching through old posts to promote. This feature automatically boosts posts based on the parameters you set.
Dynamic ads. Easily create ads that are targeted to your audience.
Management. Manage all your campaigns from one convenient location.
Analyze. Track your progress with tools that help you glean valuable insights and harness the power of automation.
The last thing you want to try and do is manage your ads separately. Look into a tool that will help you create valuable campaigns, capture insights, and organize your advertising efforts.
9. WP Product Reviews Plugin
Product reviews are valuable for several reasons. First, they help boost your website in the search results, especially when someone is searching for product reviews on your particular brand. Reports show that 63% of consumers find product reviews from a search engine query.
Product reviews also give your product credibility and help you build social proof. When other people endorse your products, new customers are more likely to buy. In fact, 90% of consumers want to read between 5-10 product reviews before trusting a brand, and 68% of consumers will decide whether to use a product or service after reading 1 to 6 reviews.
If you're looking to increase your sales, consider capturing reviews and posting them on your website.
There are several ways to do this, but the WP Product Review plugin is as good as any other method.
This WordPress review plugin is easy to set up, and it helps you:
Interact with your users
Create a top products review widget
Update the colors of your widgets
Add download buttons, wrap-up widgets, and specific reviewer options
Add rich snippet to your posts
And more!
When building your eCommerce store on WordPress/WooCommerce, don't forget to allow others to review your products, and to post them on your website.
10. BuzzSumo
Another essential way to grow your eCommerce business, and drive traffic to your website, is through content marketing.
Content marketing includes writing blog posts, doing outreach, promoting your content, and staying active in conversations surrounding your industry.
When it comes to content marketing, the last thing you want to do is trust your gut, or write content that you think will perform well. It's expensive to invest in content marketing, so it's critical to get it right the first time.
The best way to approach content marketing is with a data-driven mindset. This means searching for popular content topics, finding influencers to share your content, and creating content that will blow your audience away.
BuzzSumo is arguably the best content marketing tool available to eCommerce store owners. With BuzzSumo, you can search for a specific topic and see the most popular articles surrounding that topic.
Armed with this information, you can create blog posts that will add to the conversation. In other words, you can create the same type of content but do it better.
BuzzSumo also helps you identify influencers and other people that have written about your topic. Once you know who these people are, you can reach out to them and ask them to promote your content (just be cool about it).
11. Salsify
Salsify is an excellent tool you should look into if you sell multiple products across different platforms.
It's not uncommon for eCommerce retailers to sell on their websites, Amazon, Google Shopping, Instagram, and more.
When selling across several platforms, it means you have to update your digital assets and product information on every platform you sell.
It can be highly time-consuming to log in to every platform and make the respective changes.
Salsify is a time-saving commerce experience management tool that helps you manage all your digital assets, product content, and social commerce from one tool.
In other words, instead of logging into your website, Amazon, Google Shopping, Instagram, etc., to update content, you can connect your accounts to Salsify and make changes in Salsify. Once you publish the updates, the tool will update your info across all relevant platforms.
12. AIOSEO
AIOSEO (which stands for All In One SEO) is one of the best SEO plugins and toolkits for eCommerce websites on the market. It helps you optimize your content for SEO, so you can get more traffic and boost your eCommerce store earnings.
AIOSEO offers the following notable features:
SEO customer user roles so you can grant users access to SEO features, but not your entire website.
Google News access to help you submit your latest news
Local SEO optimization tools
Schema markup support so you can get more traffic with rich snippets
Social media integration to control how your content look across platforms
Robots.txt editor to instruct web crawlers how to search your site
Video SEO sitemaps and WordPress XML sitemaps that you can generate automatically
SEO audit checklist so you don't miss anything important
AIOSEO is a comprehensive tool that will help guide you through the process of optimizing your eCommerce site for search.
13. SeedProd
SeedProd is a go-to WordPress tool for building landing pages, including sales pages, opt-in pages, webinar pages, and more.
With SeedProd, you don't have to know how to code to make a landing page. Instead, you have access to a visual drag and drop builder that makes it easy to create gorgeous landing pages.
If you're a WooCommerce user, the tool also offers custom WooCommerce blocks, making it easy to make product-focused landing pages.
Other top features include:
Live preview
Draft mode
Mobile device preview
Revision history
Template saving capabilities
150+ templates
And more!
14. WP Paint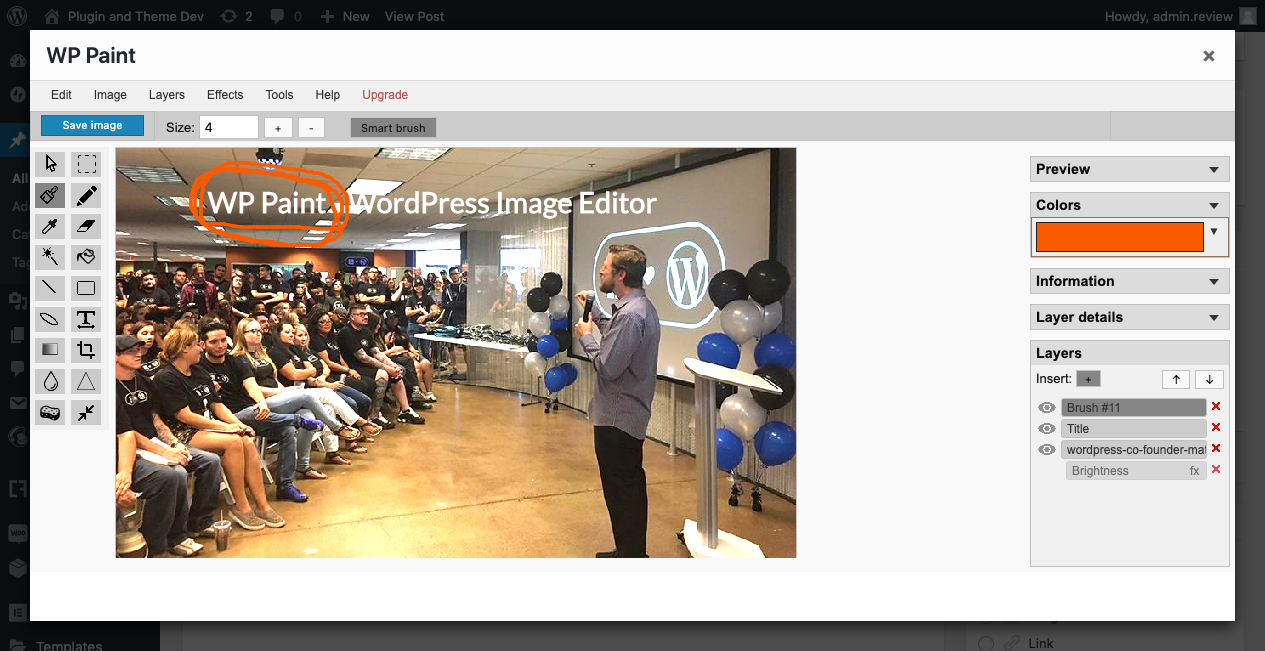 You can't skimp on image quality on your eCommerce site. Customers demand detailed product photos that look gorgeous.
Sometimes it takes a little extra work to create beautiful images, but this doesn't necessarily mean you need to learn all the ins and outs of Adobe Photoshop.
Instead, consider installing a plugin like WP Paint. WP Paint is one of the best photo editing plugins for WordPress because it's easy to use, and you can edit right within your Media Library in your WordPress account.
If you want to up your image quality game but don't want to face the learning curve of other desktop editors, consider WP Paint.
15. WPForms
If you're selling products online, it's critical to include an easy way for customers to get in contact with you. One way to help customers stay in touch is to provide contact forms on your website.
WPForms is a drag and drop tool that makes it easy to build all of the following types of forms:
Contact
Payment
Newsletter
Survey
Registration
And more!
With WPForms, you can either customize one of the 100+ templates or use the drag and drop builder to create your own forms.
The tool creates mobile-friendly forms, allows you to create subscription forms, and the forms are easy to embed on your WordPress site.
Wrap Up
Starting an eCommerce website is one of the top ways to build a business or a side hustle. However, it takes the right strategy and tools to scale your business quickly and effectively.
To get started with your eCommerce website, build a WordPress site through HostGator today, and then look into the tools in this article to help you grow your business.
Krys Lambiase (aka "Lambo") is the Senior Product Marketing manager of Hosting at Newfold Digital.  He started his career in sales and support answering various customer inquiries until eventually moving into technical training, management, and product marketing.  As a long-time WordPress enthusiast, he spends his time reading blogs, participating in meet-ups, and building websites for friends and family.  Outside of work he enjoys video games, zombie movies, and touring breweries around Austin.