Obtaining and Installing FileZilla
FileZilla is a cross platform graphical FTP, FTPS, and SFTP client. It is developed by the open source community and released free of charge under the GNU (General Public License).
With FileZilla you can upload, download, and maintain files on remote servers, and it is a great tool for managing and maintaining website files through the use of a user friendly graphical interface.
Where and How to Download FileZilla
FileZilla can be downloaded from filezilla-project.org.
Click the left gray box for the the client download. It is important that you get the Client version and not the Server version.
To download, click the green 'Sourceforge' box which has detected your operating system and selected the appropriate version.
Once downloaded, follow the installation instructions.
Congratulations, FileZilla has now been installed to your computer. You are now ready to open the application and connect to your web hosting server using the FTP client, FileZilla.
Be sure to download the FTP Client and not the FTP Server. Otherwise, you will not be able to upload and download files from HostGator's FTP servers.
When you open FileZilla Client, it should look something like this. If it does not, you probably have the Server version instead.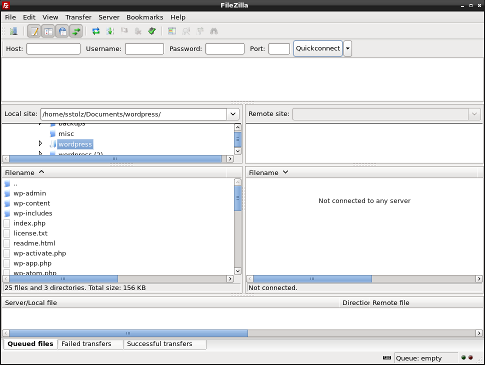 ---
FileZilla Article Series
How to Obtain & Install FileZilla
---