It's tempting to focus on social media instead of email for marketing when you're starting a business.
Social media is cool and fun, and email seems kind of stale by comparison. It's also a lot easier to set up social media accounts than it is to build and manage an email list.
But email still rules in terms of return on marketing investment, so if you want to grow your business, email needs to be part of your marketing mix.
Why Does Email Marketing Still Work?
One reason email rules is because it reaches virtually everyone. Sure, there are plenty of people on social media, but not everyone uses the same platforms, and some folks don't use social media at all.
But do you know anyone who doesn't use email? Do you ever go more than 24 hours without checking your email? Probably not—and email is email, no matter which operating system or email service provider you use.
What about Gen Z? Do teenagers even use email anymore? According to a study by OptinMonster, 75% of teenagers consider email part of their daily lives.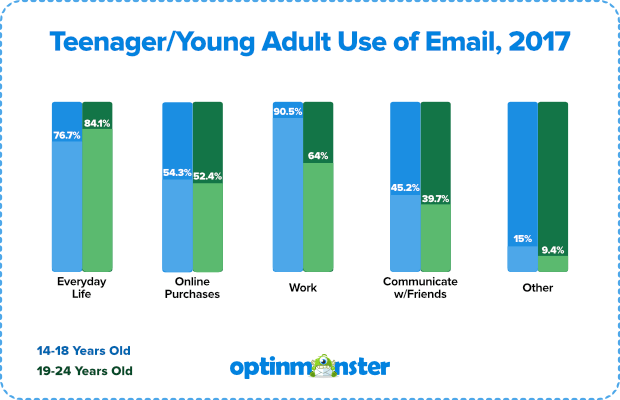 The study also found that overall, 99% of people check their email every day. Fifty-eight percent check it first thing in the morning, a much higher number than the 14% who check social media first.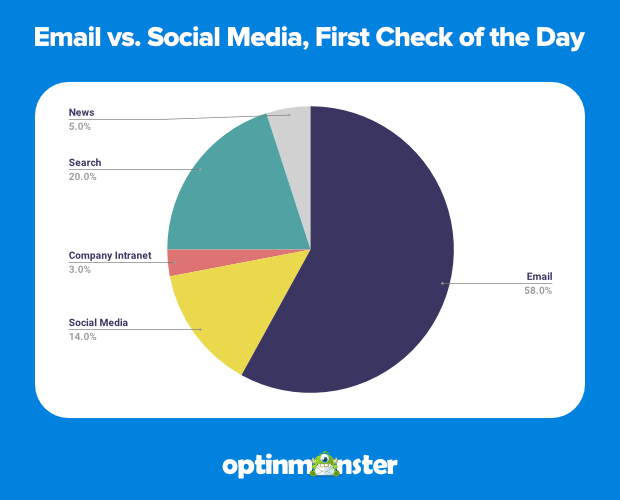 And it's not just that people check their email. People engage with marketing emails at a much higher rate than they do social media posts, according to the study. The average open rate for marketing emails is more than 22% and the click-through rate is 3.7%. The average engagement rate for posts on Facebook, Twitter, and Instagram is less than 0.6%.
Why does email get so much more engagement? In part, recipients are more likely to see email than social posts. An email sits in the inbox until it's opened or dismissed. But a post may not even show up in someone's feed, and if it does, it competes with a steady stream of other posts, comments, and links to other media.
Broad reach and high engagement contribute to email's high ROI — $38 for each dollar spent on email marketing, according to the Direct Marketing Association. Over the past ten years, email has outperformed every other marketing channel, from search and social to affiliate programs and display ads.
7 Steps to Making Email Work for Your Business
Okay, so you're convinced that email is a worthwhile part of your small business marketing program. How do you begin?
Here are the basic steps.
1. Choose your email marketing software
Building and growing a list is not a DIY affair. You'll want to choose a service like Constant Contact to manage list opt-ins, segment your list, create campaigns, and measure their effectiveness. You can sign up for a free trial to test the features before you choose a subscription plan.
2. Get people to join your list
Make your list worth joining. Your opt-in forms should offer something your target audience wants, whether that's a coupon code, a free gift, a free report to help them solve a problem, or something else appealing.
It's also a good idea to let people know how often you email. People sometimes avoid joining lists because they're worried about getting emails every day. Your offer can overcome that objection. For example, "Get 10% off your first purchase. Sign up for our weekly email list."
3. Take care of your list
Not every customer who joins your list will be interested in the same offers, products, or services. That's why it's important to segment your list. Rather than send one-size-fits-all messages to every list member, you can create separate messages for each segment, to deliver what they're looking for.
Segmentation is important for personalizing offers, which we'll get to in a bit. Constant Contact lets you refine your list segments by automatically grouping your list based on the links they click in your emails, so your information is always evolving and up to date.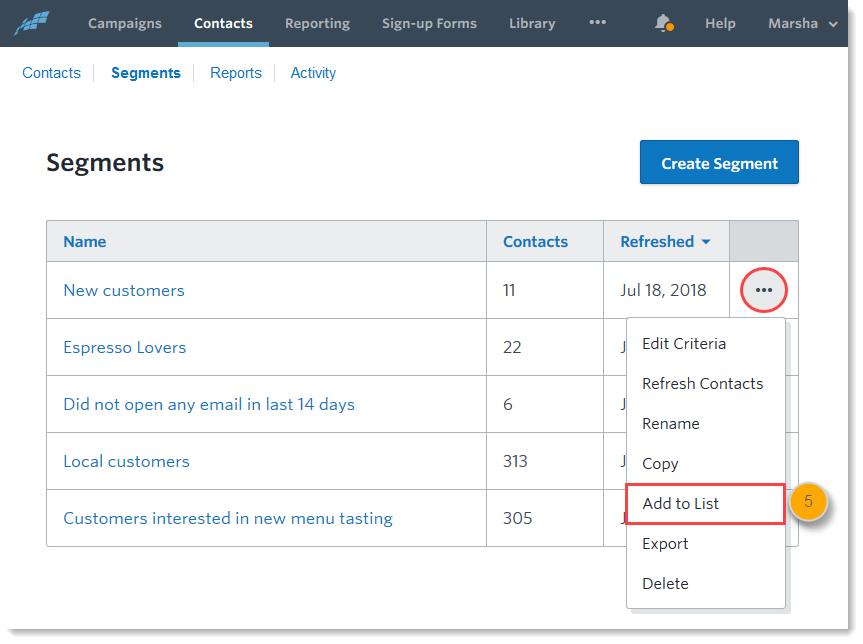 Make opting out easy. One-click opt out is the gold standard. It keeps your list members from getting frustrated and reporting your messages as spam, which can reduce your delivery rates.
4. Connect with customers in their inbox
Your messages will get more opens, click-throughs, and conversions if they deliver what your list members want. You can personalize offers to segments and even individual customers based on their past purchases, seasonal needs, and the links they've clicked on in your previous emails.
For example, send preview-sale emails in March to your customers who buy new swimsuits every spring. Or send your premium dog food customers monthly offers for the newest treats and toys. Customers who clicked on your bespoke bags in your last campaign can get a follow up offer on those items later in the week.
You can add graphics and videos to your emails to keep readers' eyes on the page and to showcase your products. Be sure to test your multimedia messages before you send them to make sure they'll look good in your customers' inboxes.
5. Test your campaigns
Use your email marketing service's A/B testing tools to see which subject lines, content, and offers get the best responses from your list members. Use that information to make your next campaigns more effective.
6. Monitor your metrics
Watch your email service dashboard for each campaign to see how many opens, clicks, and unsubscribes it gets.
You'll also see the peak days and times for email opens so you can time your future campaigns more precisely.
Link your email service to your Google Analytics dashboard so you can track visitors who arrive from your email links, what types of devices they use to visit, and where they go on your site, and whether they convert.
7. Refine and repeat
Email marketing is a process that should get easier and more effective over time. Use your data from past campaigns, your dashboards, and feedback from your customers to continuously improve your messaging—and your ROI.
Ready to grow your business? Get started with Constant Contact today.

Casey Kelly-Barton is an Austin-based freelance B2B content marketing writer. Her specialty areas include SMB marketing and growth, data security, IoT, and fraud prevention