Running a small business is a ton of work. As important as your website is to the success of your business, you don't have a lot of time to spend on maintaining it. You have a seemingly endless list of other responsibilities to tend to as well. And if you're like most small businesses, you don't have a huge budget to hire someone else to maintain the website for you either.
But that's okay, because what you do have is a wealth of available tools that make managing a website easier. For small business owners, selecting the right web management tools will make maintaining your website (and the rest of your online presence) much faster and easier.
Here are 14 useful web management tools that are either free, or affordable enough for small businesses to reasonably invest in.
Website Management Tools
Creating and maintaining a website used to require learning coding languages like HTML or C++. Who's got time for that? Definitely not your average small business owner.
Website owners today can skip the programming lessons and use intuitive website management tools that make it easy for even the most inexperienced beginners to build a website, make updates to it, and maintain it over time. These are some of the most popular and easiest-to-use website management tools to consider.
1. WordPress
WordPress is the most popular content management system (CMS) in the world. Around a quarter of all websites are built on WordPress. Its popularity is well earned. It combines ease of use with enough flexibility and functionality that organizations of all sizes can bend it to their needs. For small businesses, the main appeal of WordPress is that it's entirely free, and using it to build and maintain a simple website is easy.
Because of how ubiquitous the CMS is, you can tap into a wealth of resources devoted to learning WordPress from blogs to video tutorials to online courses—many of them free.
And while the CMS packs a lot of the most important functionality a small business needs, you can add to it with WordPress plugins. With over 45,000 plugins available that offer features spanning security, SEO, spam blocking, social sharing and more, you can find just about any additional functionality you need for your website.
2. Gator Website Builder
When starting a new website, the fastest, easiest, and cheapest option to get a professional-looking site off the ground is using a website builder. With Gator, HostGator's website builder, you can have a new website up within hours of when you first sign up for the tool. And each time you need to make an update to the website over time, minor tweaks can be completed within seconds.
What makes creating a small business website with a website builder so easy is that you start with a template that gets the basic structure into place. Then you use an intuitive drag-and-drop menu to make changes to it that make the design uniquely yours. You can change out the colors for your main brand colors, upload your own images, and fill in the text on the page with a few simple clicks.
All of the templates Gator provides are responsive, meaning you can be sure your small business website will look as good on mobile as it does on desktop.
And the service comes with access to free stock photography, which makes adding images to your website an easier process as well. The website builder also offers compatibility with many of the main programs small businesses use, such as all the main social media channels and G Suite.
3. cPanel
Most web hosting plans will come with access to the provider's control panel, commonly shortened to cPanel. The cPanel is an intuitive website management tool that provides important functionality, such as:
Managing your website files
Creating and managing email addresses at your domain name
Setting up redirects
Managing website backups
Creating website databases
Installing basic security features
What your cPanel looks like and how it works will vary based on the web hosting provider you choose, but it's an important tool across the board for managing your website.
4. Google Analytics
Google Analytics is a massively useful, entirely free tool for understanding your website's performance. It's rare that a recommendation applies to every small business website, no matter the type. But every small business with a website should use Google Analytics.
The information provided within the tool is surprisingly comprehensive considering what you're (not) paying. As a sample of the insights you can find, it includes:
Details on how people find your website
Which pages of your website get the most traffic
What devices and browsers your visitors use
Who your visitors are based on demographics and online behavior
How long visitors spend on your website
What their journey on your website looks like when they visit multiple pages
What pages they exit on
How many of your visitors convert, based on desired conversions you define
And that's not even a full list. The information within Google Analytics is invaluable for understanding how your visitors interact with your website, which is how you learn to make it more effective.
5. Joomla
While many small business owners that opt for a CMS will be best served with WordPress, another popular option is Joomla.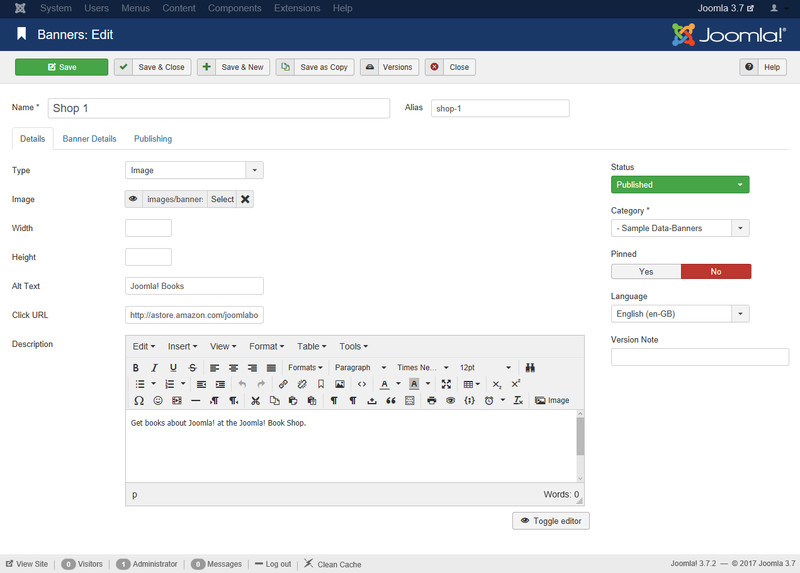 Joomla's harder to use and requires more of a learning curve, but in some cases it's the better choice. In particular, Joomla is considered a bit more secure, since it isn't targeted by hackers as often as its more popular counterpart. And it's the better choice for websites that will have more social components, where visitors create accounts to interact with each other on the site.
Joomla is free to use and open source, which means it's regularly updated and there's a library of modules you can use to extend your website's functionality within it. As with WordPress, you can find a lot of different resources to help you learn how to use Joomla. It does take more technical skill than WordPress does though, so small business owners with limited time and patience for working on their website may want to hire someone to help if they choose to use Joomla.
eCommerce Tools
An eCommerce website requires distinct features and tools that other business websites can make do without. For that reason, any online business will need to consider additional web management tools that provide eCommerce functionality. These are some of the top eCommerce tools to consider.
6. WooCommerce
WooCommerce is the most popular eCommerce plugin for WordPress, making it one of the most widely used eCommerce software options, with over 74 million downloads. It's owned by the same company as WordPress, so you can count on consistent compatibility. And it makes setting up an eCommerce store intuitive via a set-up wizard that walks you through each of the steps.
Like WordPress, WooCommerce is free and open source. And there are a wide variety of modules that extend the tool's functionality, some of them free and some of them for a fee. Some highlights of what you can do in WooCommerce are:
Creating product pages
Setting up your preferred payment method
Automatically calculating tax based on your visitor's location
Selecting your shipping options and rates
Organizing your products for discoverability with categories and tags
Letting customers set up accounts
Offering and redeeming coupons
The interface for WooCommerce looks a lot like WordPress, so using it doesn't require learning anything new. It's a free, easy option for managing your web store.
7. Magento
Magento is another popular open-source eCommerce software. It provides the most important functionality you need for an eCommerce website, including:
A shopping cart
Check-out functionality
The option to let customers create accounts
Guest check-out options
Ability to create product pages and automate inventory tracking for each
Integration with the most popular payment-processing options
In addition to the core functionality Magento provides, you can take advantage of a large extension marketplace that includes an array of options for adding to your ecommerce website's functionality.
The open-source version of Magento is technically free, but many users invest in the paid version of the software for additional functionality. And for many small business owners, building an eCommerce website with Magento involves a level of skill that will require hiring help. That can make the price tag of using Magento higher. But for businesses that want the level of functionality that Magento provides, the cost of using it can be worthwhile.
Online Marketing Management Tools
Creating and maintaining your website is important, but none of that work will amount to much if people can't find it. To drive traffic to your small business website, you have to do online marketing. To keep your online marketing organized and efficient, having the right online marketing management tools is important.
8. HubSpot
HubSpot's marketing software helps you connect all your marketing efforts to each other and better track your success as a result. The company offers a free version of the software that provides lead capture forms, email marketing, and analytics that provide insights into the customer's journey.
They also offer a more comprehensive paid version of the product that provides advanced features like marketing automation and more personalization options. For small businesses, their paid versions can be costly. But as your business grows, the added functionality may be worth the upgrade.
9. Buffer
Social media is a great opportunity to connect directly with your customers and grow awareness of your brand. At the same time, it's an overwhelming medium with an array of different channels that are each difficult to navigate on their own, much less figuring out how to use them all together.
Social media management tools like Buffer can help. You can manage all your profiles in one place, schedule updates in advance, and gain better data on how your social media posts are performing.
Buffer offers a basic free plan that allows you to connect up to three social accounts and schedule a maximum of 10 posts in advance. For the ability to manage more accounts and plan your social scheduling further out, you can upgrade to one of their paid plans.
10. Hootsuite
HootSuite is a similar tool that allows you to control all your social media management in one dashboard.
HootSuite's free plan allows management of three accounts and scheduling of up to thirty posts. Paid plans allow you to add more social profiles, schedule more updates at a time, and also let you manage some of your paid social advertising within the product.
11. Yoast
Yoast offers WordPress SEO plugins to help with managing the parts of your website that contribute to on-site optimization. That includes making it easier to fill in all the meta fields of a page that influence SEO, such as the title tag and meta description. It also automatically reviews each page and provides insights for how well optimized it is based on factors like the frequency of your target keyword and the page's readability level.
You can use the Yoast free version to get basic SEO functionality, or upgrade to the premium for some added features like internal linking suggestions.
Online File Management
Our last category of web management tools that can make your life easier as a small business owner is online file management programs. The ability to seamlessly share files between different devices and people, while still controlling permissions of who has access, can vastly simplify the process of collaborating on content, planning, and organization within your business. These tools all offer useful features for doing that.
12. Google Drive
Google Drive is a free set of tools provided by Google, and also comes included as a part of the G Suite product. Within Google Drive you can create and share a number of types of files, including documents, spreadsheets, and presentations. You can define who's allowed access to each file you create, and whether they can simply view or also edit them.
Google Drive's collaborative features make it easy for different people to see each other's edits and comments, making it a powerful tool for your team to work together on your website, business plans, and any content you create for marketing purposes. And because it's accessible on any device type, it also makes it possible for you and your team to access important documents from your phone or home computer, as well as your main work device.
13. Dropbox
Dropbox is a cloud storage solution that allows you to keep all your files in a central location that's accessible from any device. As with Google Drive, you can share those files with others and enable comments to allow for collaboration. There's a free version of Dropbox for individuals that allows up to a set amount of storage space, and a paid version for businesses that offers more storage and more features for collaborating.
14. Box
Box is another product for content storage and collaboration. It boasts strong security features, so you can share content amongst the people who need access without worrying about competitors getting ahold of it. Like the other products, it allows you to control who has permissions for each file and enable content and edits from those directly involved in each piece you share.

Better Tools Lead to More Efficient Web Management
Enough aspects of running a small business are hard, there's no reason to skip the web management tools that make running your website and online marketing easier. With the right apps and products, you can simplify the work involved in maintaining a great website, making sure your customers can find it, and tracking your progress over time.
Kristen Hicks is an Austin-based freelance content writer and lifelong learner with an ongoing curiosity to learn new things. She uses that curiosity, combined with her experience as a freelance business owner, to write about subjects valuable to small business owners on the HostGator blog. You can find her on Twitter at @atxcopywriter.