FTP Getting Started
File Transfer Protocol (FTP)
Most web developers use FTP to upload their files, pages, and pictures to the internet. Many different FTP programs are available, some free, some paid, and some better than others.
By default, an FTP account is automatically created when registering a hosting package here in HostGator.
What FTP applications can I use?
Below are some FTP clients you may download and install for free. 
Filezilla FTP
Core FTP
Cute FTP
Smart FTP (30-day demo)
Here is the link on how to download and configure these clients.
Where Can I Download an FTP Client?
---
FTP connection settings
Once you have downloaded the FTP client, you'll need to get proper settings to connect to your hosting account. 
FTP connection information can be found in the cPanel and the Welcome email we sent after you paid for your hosting account. 
Your FTP information contains the following information:
FTP Host/Address: (Site IP address or Server Hostname)
FTP User: (cPanel/FTP username)
FTP Password: (cPanel/FTP password)
Port: 21
Path/directory: (blank*)
---
Locating your FTP credentials
What is My FTP Host/Address?
Your FTP Host / Address would be your IP Address which can be seen in your cPanel. Here are the steps:
Log in to cPanel.
On the right-hand side, look for the General Information section.
Locate your IP Address.
What is my FTP username? 
By default, your FTP username is the same as your cPanel username.
What is my FTP password?
The password is found in your Welcome email. It would be the same as your cPanel password.
What is my FTP port?
By default, the port number would be 21. However, you can also leave this field blank when connecting to your FTP account.
What is my FTP path/directory?
Leave this field blank unless you want to load a particular subfolder in FTP automatically. This field specifies the file path where you wish your files to go. You only need to fill out this field whenever you create a new FTP account in your cPanel.
---
What does an FTP client look like?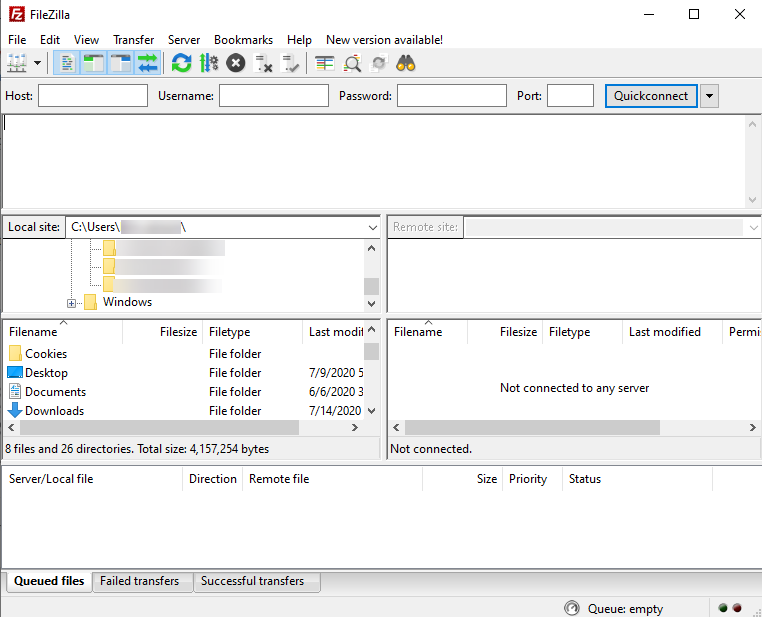 This is the interface of the commonly used FTP Client, FileZilla. You will notice the fields Host, Username, Password, and Port above and the Quickconnect button. You will need to enter the information discussed above in those fields and click QuickConnect to initialize the connection to the server.
---
How do you create your own FTP account?
Your cPanel gives you the ability to create your own FTP account. To learn more about how to create an FTP account and  How to connect to FTP via Filezilla, please refer to this tutorial video:
*The FTP Accounts found inside your cPanel are under the Files section.
Related Article: