Even with all the iPhone/Samsung/Google phone camera updates, one truth remains. Nothing can replace the value of a professional photographer with a high-end camera.
Not convinced?
Quickly think back to that time you asked a Stranger Danger to take a picture of you and your family at the Eiffel Tower. You know, the picture you were hoping to use as your holiday card.
Anyway, do you remember how Stranger Danger somehow took a picture of *almost* everyone in your family but only captured half of the kid standing on the end? Worse, the Eiffel Tower isn't even in the picture.
Sheesh. Everyone relates, and that's why the world needs photographers like you.
But, here's the thing.
If you don't build a gorgeous photography portfolio website, the world won't know you exist, and no one wants to have to rely on Aunt May to take pictures at grandma's 90th birthday.
Do the world a favor and take some time out of your day to build your photography portfolio website on WordPress.
Here's everything you need to get started.
You might like…
What is WordPress?
Before talking about why and how to build a photography portfolio website, let's quickly review what WordPress even is.
WordPress is the largest content management system (CMS) on the Earth. There are currently over 64 million websites built on WordPress, and this includes some of the most widely-read and recognizable websites. I'm talking about sites like The New Yorker.
WordPress is also an open-source platform. This means anyone who knows how to code can modify the code to create themes and plugins for WordPress.
This is excellent news for you and me, because it means we don't have to learn how to code.
All we have to know how to do is press a few buttons to install a theme and plugins, input basic information, and follow directions. The result will be a gorgeous website that looks like a pro made it.
Why should photographers use WordPress?
Here are three smart reasons you should choose WordPress to build your photography portfolio website.
1. WordPress is highly-intuitive
When WordPress was a much younger platform, there was a huge learning curve. It was difficult to figure out how to build a website.
Remember how we talked about how WordPress is huge and open-source? Because WordPress is an open-source platform, more and more people are adding cool code, and it's growing every year.
As time goes by, the interface gets better, the plugins become more advanced, the themes look more beautiful.
Today, setting up a WordPress site is as easy as following basic directions. Anyone can do it. Even if you've never even seen a line of code.
Getting started with a WordPress account is easy too. All you have to do is decide which hosting plan from HostGator best suits your needs, sign up for hosting, and then use the one-click button to install WordPress.
As soon as you've installed WordPress, you can build your site one of two ways.
The first step is to use the WordPress Site Builder. Using the WordPress Site Builder is a smart idea if you've never seen the WordPress interface before.
It will walk you through how to:
Create a homepage
Add your contact page
Build your about page
Add content
Customize your site
Publish your site
If you want to skip the WordPress Site Builder, no problem. The dashboard is still intuitive, and it's not difficult to skip around and create pages, add content, choose a theme, and activate plugins.
While you can certainly skip around and customize different parts of your web page, it's smart to start by picking a theme. This way, you can decide and see what your website will look like before you start creating pages, building your menus, writing your copy, and adding pictures.
2. You can pick a photography portfolio theme
A lot of photographers use WordPress, which is excellent news. The reason? There are several gorgeous photography portfolio themes you can use.
You don't have to know how to code to set up your website. You can simply search for a photography theme, pick one, activate it, and import your own photos.
Here are some quick instructions on how to pick a photography theme on WordPress.
How to activate a WordPress theme for your photography website
1. Log in to your WordPress account
2. Look for "Appearance" on the left side of the dashboard.
3. Hover your cursor over "Appearance." Click on "Themes" from the drop-down menu.
4. WordPress will redirect you to the "Themes" page. Usually, you'll see a few of the most common themes pre-installed. The pre-installed themes aren't usually the best themes for photographers, so it's worth it to search for another theme. Search for another theme by pressing "Add New Theme" and looking through the themes. You can also use the search bar.
5. Once you've settled on a photography theme you like, hover your cursor over the respective theme box until you see the word "Activate."
6. Press "Activate," and you're ready to roll.
Now your new theme is activated, and you can start customizing your theme.
If you're not sure where to start or what some suggestions of great themes are, check out some of the best WordPress themes for photographers here.
3. There are several plugins for photographers
Another advantage of WordPress over other website builders is how many plugins are available.
As a quick review, a plugin is a pre-coded website enhancement that adds some kind of functionality to your website.
For example, let's say you wanted to add a beautiful gallery of your photography on your site, but wanted it to look better than what the bones of WordPress has to offer.
Good news! There are plugins for this, like Envira Gallery: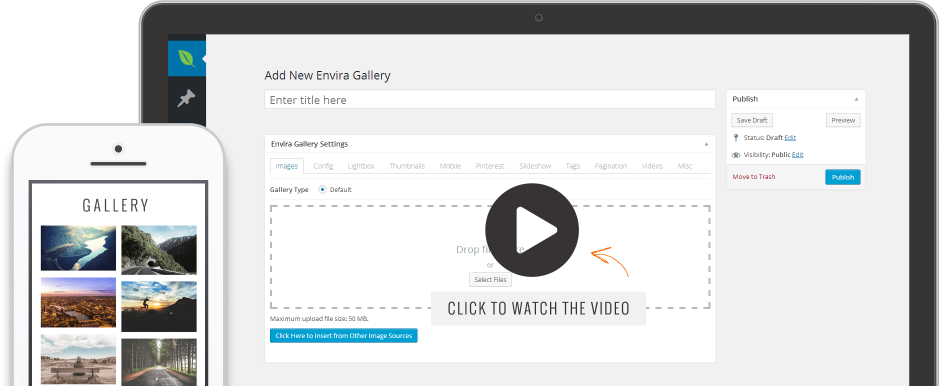 Instead of trying to code your website to show your photos, you activate the plugin and follow the plugin directions to add your photos.
There are several different kinds of plugins available to WordPress users. Here are some of the best plugins for photographers.
You'll also want to consider adding plugins that work well on almost any website. These types of plugins include an SEO plugin, a spam protection plugin, a commerce plugin (if you sell your photography), and a caching plugin.
If you're ready to add a plugin to your site, here's how to get started.
How to add a plugin to WordPress
1. Log in to your WordPress dashboard.
2. Lok at the left-hand side of the dashboard.
3. Find "Plugins."
4. Hover your cursor over "Plugins," and click on "Add New."
5. Check out the menu bar to browse through popular plugins, or enter a keyword in the search bar to search for a relevant plugin.
6. Once you've selected the plugin you want on your site, click on "Install Plugin."
7. Activate the plugin by clicking on "Activate."
8. Follow the instructions to customize your plugin.
If you have the .zip file of a plugin, you can add it by going to the plugin page, clicking on "upload plugin," dragging and dropping the whole .zip file into the upload box, and pressing "Install now." Then, follow the same instructions as above to activate the plugin.
Build your photography website with HostGator today!
If you've been thinking about starting your photography business, the time is now. Save the world from poor smartphone pictures from Stranger Dangers and Aunt May.
Remember, the first step in turning your photography side hustle into a full-fledged business is getting your website up and running.
A website helps people find you, it allows you to show off your talents, and it establishes credibility.
Get started by browsing the web hosting plans from HostGator today. Let us know if you need help picking a plan.