Why Do I Need to Update PHP?
Getting started with web hosting and all of the new terms and tools can seem daunting initially, but we hope this guide with help.
The process to install WordPress is now more painless using Softaculous in your cPanel. Once it is installed and you log in for the first time, you may find out that you have to update your PHP version. This article will explain what that means, the steps you need to take, and why it isn't already done for you.
Note:
 If you have an
Optimized WordPress
plan and see a notification about updating PHP, please reach out to us via
phone
or
Live Chat
, as this is a task that we will take care of for you. The Optimized WordPress plans are fully managed for you so that you can focus solely on the experience of managing a WordPress site.
---
What Is PHP and Why Is It Important to Update It?
PHP is the scripting language that WordPress is written with. It works in the background to allow you to create dynamic and responsive websites. When we first started designing websites, they were static, but today with WordPress, you can create dynamic sites with a whole host of features thanks to PHP.
WordPress is so widely used by beginners and pros alike because it is built so that you don't need to know anything about PHP, HTML, CSS, or any other coding languages. What you do need to know is that using the most up-to-date version keeps your site secure, stable, faster, and it can improve how your website ranks in search engine results. 
New versions of PHP can help to:
Maintain the website functionality.
Improve site efficiency and load speed.
Fix any vulnerabilities that have been discovered in previous versions.
---
When to Update PHP Version on WordPress
If you visit your site for the first time ever, or after updating WordPress, and see an error message like this: "Your server is running PHP version 5.4.45, but WordPress 5.6.2 requires at least 5.6.20." This message means that the version of PHP you're running is too old for the version of WordPress you've installed.


To fix this, you have to update to at least the version listed in the message; however, we highly recommend updating to the latest version available on our servers.
If you're able to log into WordPress, then you are using a current enough version for it to run. Still, you may see a notification about needing to update the version of PHP to the recommended version, like the screenshot below.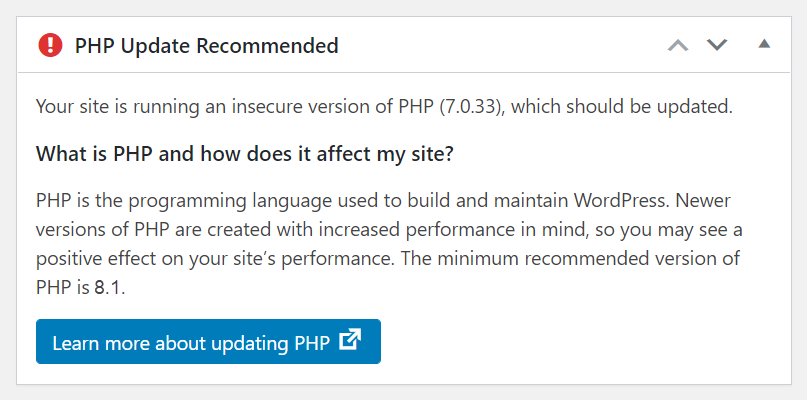 If you do see this notification, you will want to follow these steps on How to Update the PHP Version.
But first! Backup your website before you update anything. Having a backup of your site while it looks and works the right way enables you to restore your site if something goes wrong during an update.
All of our Shared servers have 
scheduled backups
 that occur daily, weekly, and monthly. However, those backups are only meant to be for emergencies and are not guaranteed. We highly recommend utilizing a service like %%17951_cta2%% to take regularly scheduled backups and provide you with a simplified restore process.
---
How Long Does It Take to Update PHP?
Updating your PHP version is relatively quick and straightforward. Once you've created a backup, the process to update PHP can take less than a minute to complete. We put together this guide, How to Update the PHP Version, that includes a video and step-by-step instructions you will need to take to update PHP in your cPanel. 
---
Why Don't We Update It Automatically?
WordPress offers you the ability to use any number of themes and plugins. However, if we were to update your PHP version without first making sure your theme or plugins are compatible with the latest version, it could cause your site to be down or not function properly. 
Our administrators are continually adding the most recent PHP versions to our servers so that you can update them once you're ready. You have to make sure your theme and plugins are compatible with the new version first.
Typically when there is an update for WordPress or PHP being rolled out, most developers will update their themes and plugins to be compatible. This information is commonly available from the developer on the theme or plugin page on wordpress.org if it is still being updated.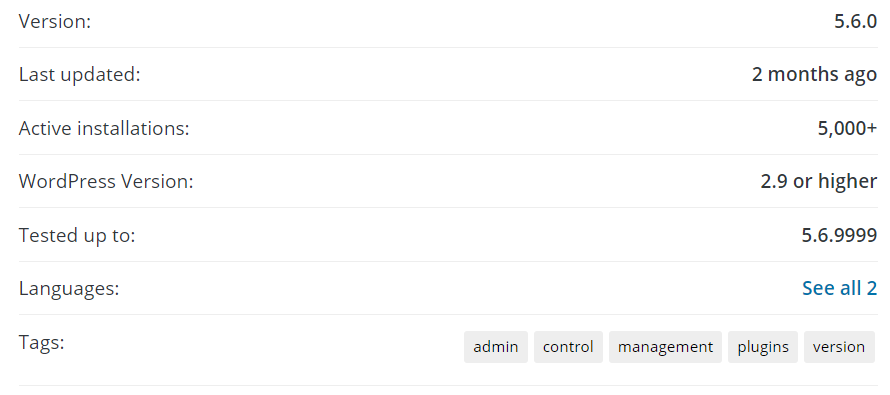 This way, you can update them before updating to the latest version of WordPress or PHP. 
---
Additional Resources