Logging Into WordPress With HostGator
WordPress, being the most popular platform used to create 42% of websites, allows its users to create posts, add pages, use various themes/plugins, manage their shopping cart, and access additional features through its own dashboard. Using your HostGator WordPress login, you can get access to your dashboard and make the necessary updates on your website.
When it comes to logging into WordPress with HostGator, there are three options. Here's how.
---
Option 1: Via Customer Portal
WordPress Single Sign-On (SSO) feature is only available to new Shared hosting customers who used the One-Click method to create a new WordPress site. 
Log in to your Customer Portal.
In the Dashboard, navigate to My Websites, then click Edit Site.

The WordPress Dashboard login page will be shown on the next page.

Enter your WordPress Admin username and password. Click on the checkbox Remember Me, then click Log In.

Note: You will be automatically logged in to your WordPress Dashboard when you click the Remember Me checkbox.

You are now logged in to your WordPress Dashboard.
---
Option 2: Via Softaculous
If you initially used Softaculous to install WordPress, we recommend using this method. There is no need for your WordPress logins; however, you will need access to your HostGator cPanel.
Did you manually install or transfer WordPress on your HostGator account? Would you like to use Softaculous to manage your WordPress installation? Great news! Follow the instructions on
How to Import WordPress into Softaculous
to take advantage of all the Softaculous features.
To log in to WordPress via Softaculous:
Log in to your cPanel.
Look for the Software section, then click the Softaculous Apps Installer.

On the Softaculous home page, click the Installations box.

Locate the WordPress site you wish to access, then click its profile icon under the Admin column.

 

A new tab will open automatically, logging you into the WordPress dashboard.
---
Option 3: Via wp-admin (Direct Login)
This method allows you to access your dashboard directly using your domain name and WordPress logins. There is no need to log in to your HostGator Customer Portal or cPanel to access the WordPress dashboard.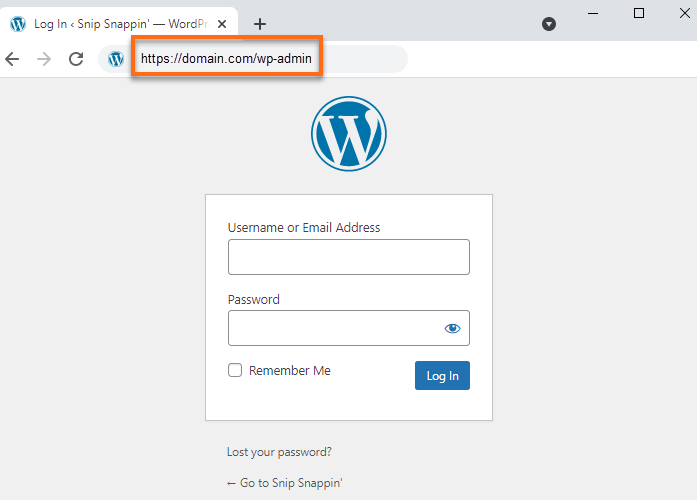 Main Domain
Visit the WordPress dashboard by launching your browser and going to your domain with /wp-admin at the end.
Format: (Please replace 'domain' with your actual domain name.)

http://domain.com/wp-admin
Sub-Directory
If you installed WordPress to a sub-directory, use your domain followed by a forward-slash, then the sub-directory with /wp-admin at the end.
Format: (Please replace 'domain' with your actual domain name and 'subdirectory' with the actual sub-directory you used during installation.)

http://domain.com/subdirectory/wp-admin
---
Helpful WordPress Resources