How to Install an SSL Certificate via WHM
To install an SSL Certificate for your website to be secure, which allows you to take credit card payments, please follow the directions below.
1. Log Into Your WHM
You will first need to log into your WHM. You can do this by going to https://example.com:2087 and then enter your username and your password.
2. Install the SSL Certificate
Go back to the Main Menu and select the 'SSL/TLS' icon.

Then select 'Install an SSL Certificate on a Domain' icon. You will then be taken to the 'Install an SSL Certificate on a Domain' management page. You will need to fill out all fields in order to install the SSL Certificate.
1. Enter the CRT into the first field. The SSL Manager will then try to fetch the rest of the fields needed.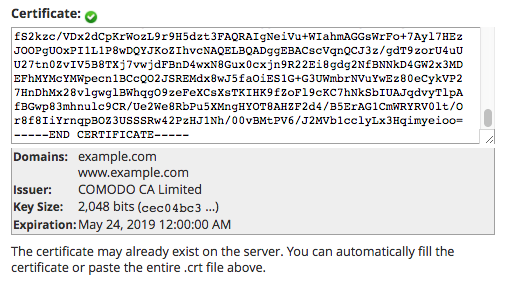 If any of this information isn't correct then your SSL Certificate isn't issued properly and you need to contact your SSL issuer for them to assist you with having the SSL Certificate reconfigured.
2. You will now need to insert the RSA key (If one was automatically fetched for you, please replace it with the one we have given you).

3. You will then need to enter your CA Bundle in the last field (If you do not enter a CA then the SSL Certificate will appear as self-signed and a warning will be shown when customers attempt to access your site securely).

Once you enter all three needed aspects of the SSL Certificate (CRT, RSA, and CA Bundle) then click the 'Install' button. The server will then install the SSL Certificate and notify of completion or if any errors that may have occurred. The new certificate should begin to work immediately and you may view your site using https:// to confirm this. If you need a merchant or credit card processing account, please fill out our application.
Resellers who would like to enable the ability for customers to install their own SSLs, the SSL Site Management option will need to be enabled in the Feature Manager in WHM. For more information please see the following article:
Server Name Indication (SNI) allows a server to present multiple certificates on the same IP address and port number which allows multiple secure (HTTPS) websites (or any other Service over TLS) to be served off the same IP address without requiring all those sites to use the same certificate. Currently, this option is available on almost every server with cPanel version 11.38 or higher, including HostGator's Reseller servers.