How do I know which WordPress Plugin is right for me
WordPress is an open-source content management system (CMS) written in PHP and uses MySQL databases to build blogging and e-commerce to portfolio websites. One of the things that make WordPress a powerful platform is the use of plugins.
Plugins are the addons that you can install to enhance and add new features, functionalities, and integrations to your website. With thousands of them now available from different sources (WordPress.org's repository and third-party websites), it is important to ensure that you choose the right one before purchasing and installing them on your WordPress website. Remember, one lousy plugin can damage your website in many ways, such as slowing down your website, creating security risks, and compromising your visitors' user experience.
This article discusses the following topics:
---
View plugin's information
Before purchasing or installing a plugin, we strongly recommend checking the plugin's information page. If the plugin is from WordPress.org's repository (your WordPress Dashboard's Plugin section), you can click the More Details link to view the plugin's details.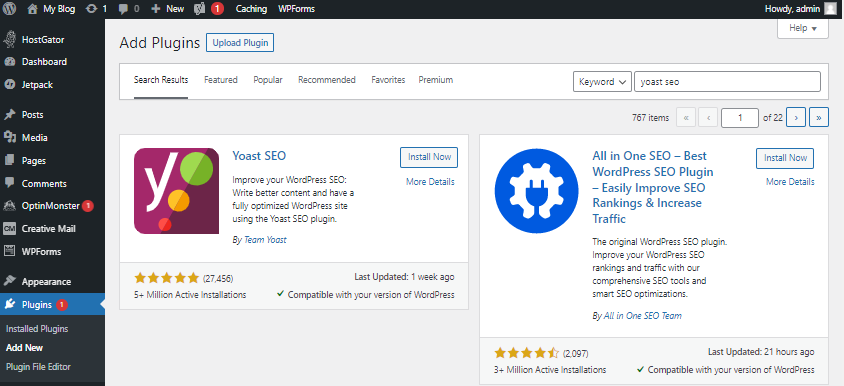 In this section, you will find the general information about the plugin on the right-side panel. You can also click the tabs to view more details.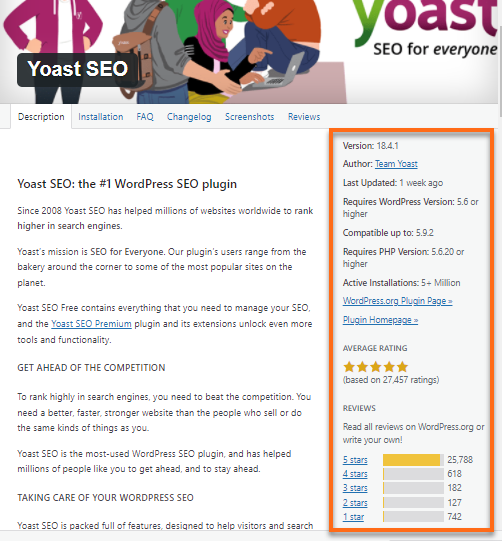 ---
Checklist for choosing WordPress plugins
When was the plugin last updated?
On the right-side panel, the Last Updated shows the last time a plugin was updated by its developer. A plugin that has been updated recently is a good indication that it is actively maintained and, therefore, safe to use on your website. Was it updated 6 to 8 months ago? Yeah, that plugin is still considered safe. Two years? You may want to reconsider it.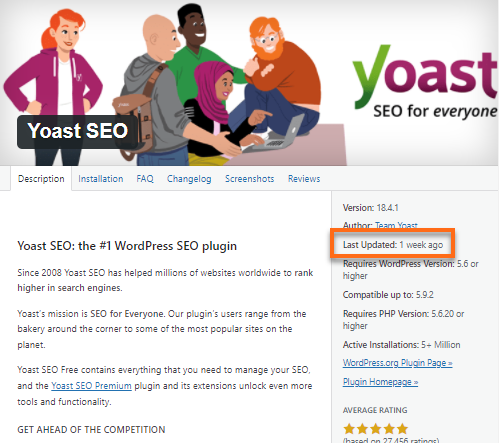 Another question you might ask. Is the plugin going to have updates in the future? You may want to check the Changelog tab to see how often the plugin is updated by its developer. The date when the plugin was last updated, the plugin's version, and what was updated in the plugin are among the details you will find in the Changelog tab. The regularity and consistency of updates indicate the plugin developer's active involvement in maintaining the plugin.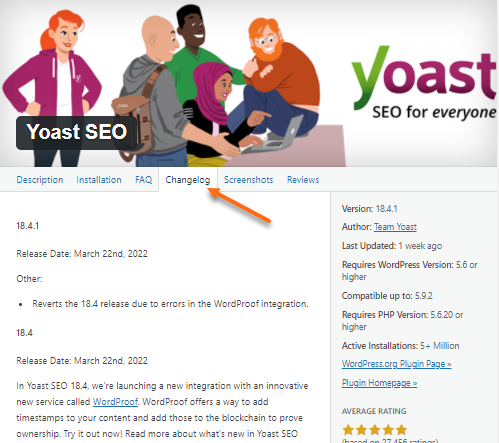 Where to get plugin support?
Please note that HostGator cannot offer direct support to WordPress plugins.
Plugins are developed by developers in the WordPress community. For more information on where to get support for your plugin, please check out the article, How to Obtain Additional Support for WordPress.
To know more about the plugin's developer, click the link beside Author on the plugin's information page.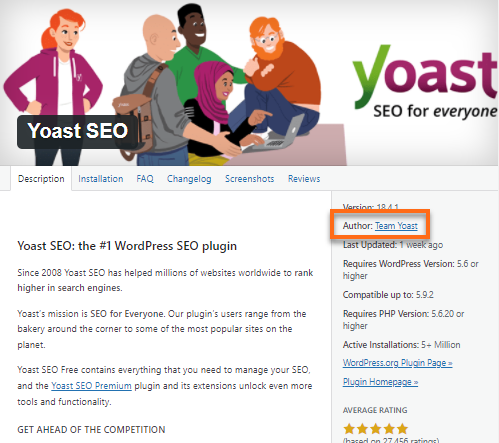 What is the plugin's required WordPress version?
Compatibility is a major factor in choosing the right plugin. If the plugin is not compatible with your current WordPress version, it may not function properly or, in worst cases, break your website. Check your WordPress version first before installing a plugin.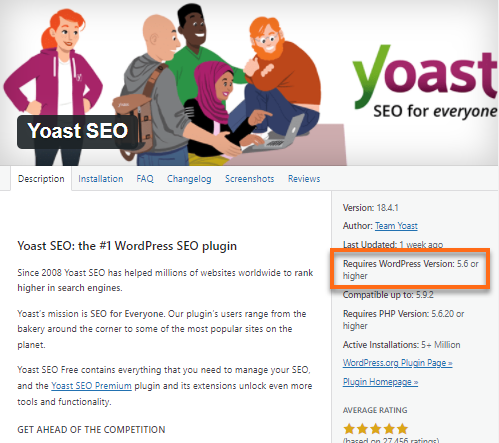 You may go to the WordPress Dashboard and look at the bottom right section to check your WordPress install's version.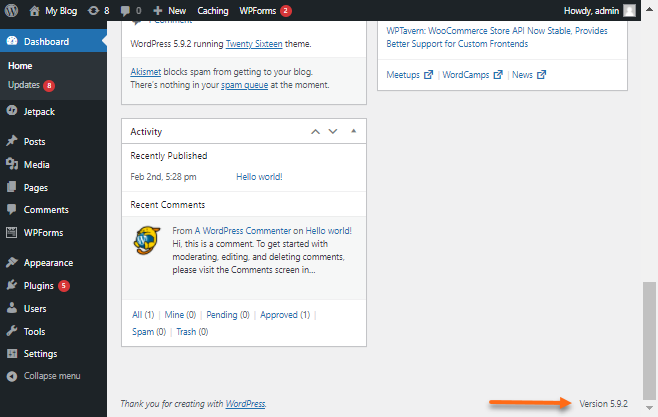 What PHP version is the plugin compatible with?
WordPress is written in PHP. It only makes sense that a plugin's PHP version requirement is shown on its information page. Every hosting company has a PHP version that they can support, and the same goes with HostGator. 
Starting in early March 2022, HostGator will upgrade the available PHP versions on our hosting servers to include PHP 8.0. Please see Upgrading to PHP 8.0 for more information.
If you want to know your HostGator account's current PHP version, please check out the article, What Version of PHP Are You Using.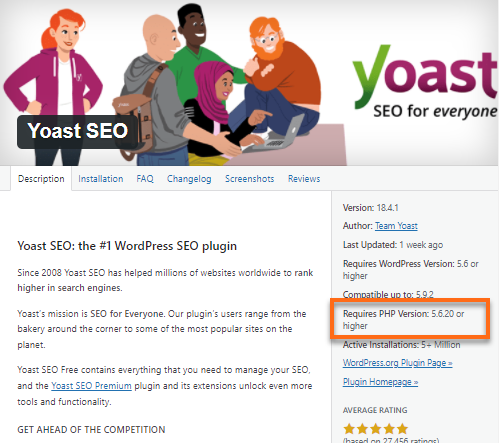 How many people are using the plugin?
The number of Active Installations is a good indicator of whether the plugin is doing its job. This factor is a good way of knowing the current trends and can give you an idea of how the plugin is fairing. You can see the difference between a plugin that has been downloaded by thousands of users and a plugin that has been downloaded just a few times.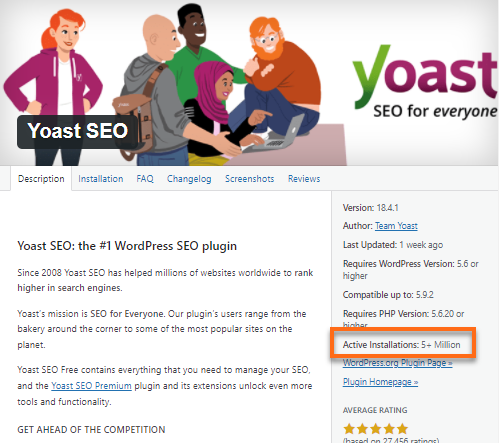 Please note that there are also plugins with high active installation rates that do not fair well when it comes to functionality. Before using a plugin, it is still recommended to check other factors and not depend everything on this one factor alone. Remember that plugins are constantly being developed. You may find a new plugin that was just recently released, so not many users know it yet, but you may find that it is doing a great job. Who knows?
What are the plugin ratings and user reviews?
The "star" rating is usually what a user will look at when choosing any kind of product or service. (Fine, guilty there!) The rating and user reviews are the most obvious factors to look out for. The user reviews give the star rating much more context. You may encounter varied reviews that do not make sense, so we recommend reading more user feedback before deciding to use a plugin.
On the right panel of the plugin information page, you'll get to see the Average Rating and Review sections. Click the stars to read the users' reviews. You can also check the Reviews tab to see more user reviews with their star ratings.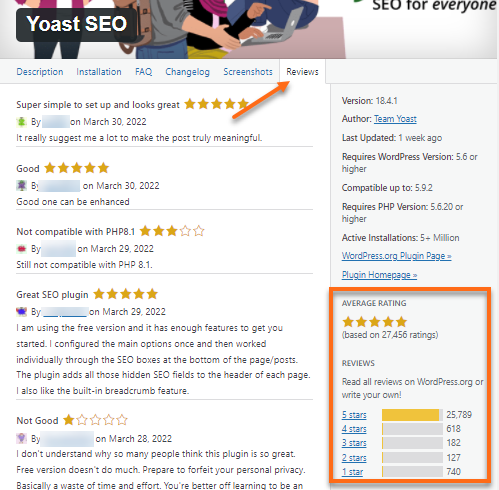 Is there any plugin documentation available?
Plugin developers usually include a description and some tips about their plugin on its information page. Aside from the Description tab, which is the default tab you will see when you open the plugin's information page, you can also check the Installation tab and Screenshot tab for more details, although not all plugins have these tabs. Some plugins also have the FAQ tab, where you get to see some tips, shortcodes, settings, and even advice from the plugin developer that you can use.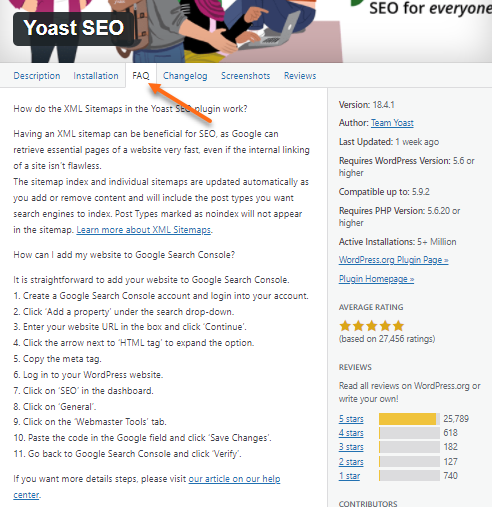 ---
Free vs. Premium plugins
You might ask yourself, are paid plugins better than the free ones? Why should I pay for a plugin when there's a similar one I can get for free? Is there a difference between the two when it comes to their functionalities? These are all valid questions, yes. Great questions, by the way!
Depending on the needs and requirements of your website, you can choose to use either the free or premium (or paid) plugins. 
Here are some key differences you may find between the two.
Customization
Free plugins are generally limited to a set of features and functionalities. You will get what you were "generally" expecting from a free version. However, it does not mean that it lacks credibility since some free plugins out there do the same job as the paid ones. This is where you will need to do a bit of reading and research.
On the other hand, premium plugins offer many possibilities for your WordPress site as they provide more customization features and functionalities that are not available on the free versions. You can start with the free version of the plugin for your website. When you think it is time for your website to get the additional features it needs, you can upgrade to the premium plugin version to "unlock" its additional features.
Continued Development and Improvement
Ideally, plugin developers should continue creating or at least updating their plugins. However, that is not always the case. In the case of free plugins, their developers can stop updating the plugin anytime they want. It is free, and they are not paid to update these plugins. This is different from premium plugins. Plugin developers of the premium ones continuously improve and develop the plugin's overall coding fixes and design to enhance its function and usability rate.
Maintenance, Support, and Updates
Generally, if you require assistance with a plugin, you reach out to the plugin developer. However, free plugins are offered as they are and with no warranties. The plugin developer can stop doing updates and maintenance works on the plugin anytime, thus making it difficult to get the support you would possibly need.
However, premium plugins offer active support and maintenance and regular updates. Most of the time, they also come with detailed user guides and video tutorials (if you're lucky!). You can also expect regular updates from the plugin developer, who actively updates the plugin to maintain compatibility with new WordPress and PHP version releases.
As a takeaway, remember that one of the things that are often overlooked is that "the same settings" doesn't necessarily mean "the same results." Plugins may have the same control settings and design and may even have the same functionalities. However, adding one plugin, whether it's free or paid, can make a difference on your website. So, better create a backup of your website first before making any changes! Happy plugin browsing!
---
Related Articles