CPU Resource Restriction
Resource intensive websites can lead to server issues and, consequently, can result in account restrictions. HostGator allows a maximum of 25% CPU usage limit on our shared and reseller servers. If a hosting account exceeds this limit for longer than 90 seconds, resource restrictions will be placed on the account.
At this time, if the CPU usage for an account is found to be outside of our terms of service, we will begin serving a cached version of your site. This means that your site will be rendered statically and will be served with updates at regular intervals. If this is happening, you may notice a significant delay for changes to your site to be visible after you have made them.
To learn more about CPU resource usage limits for HostGator servers, and how you can monitor them using SSH, please refer to the following knowledge base article:
How to Know if Your Account is Restricted
In the event that you exceed the resource limit for your hosting account, the following account alert box will be displayed across the top of the screen when you log into cPanel: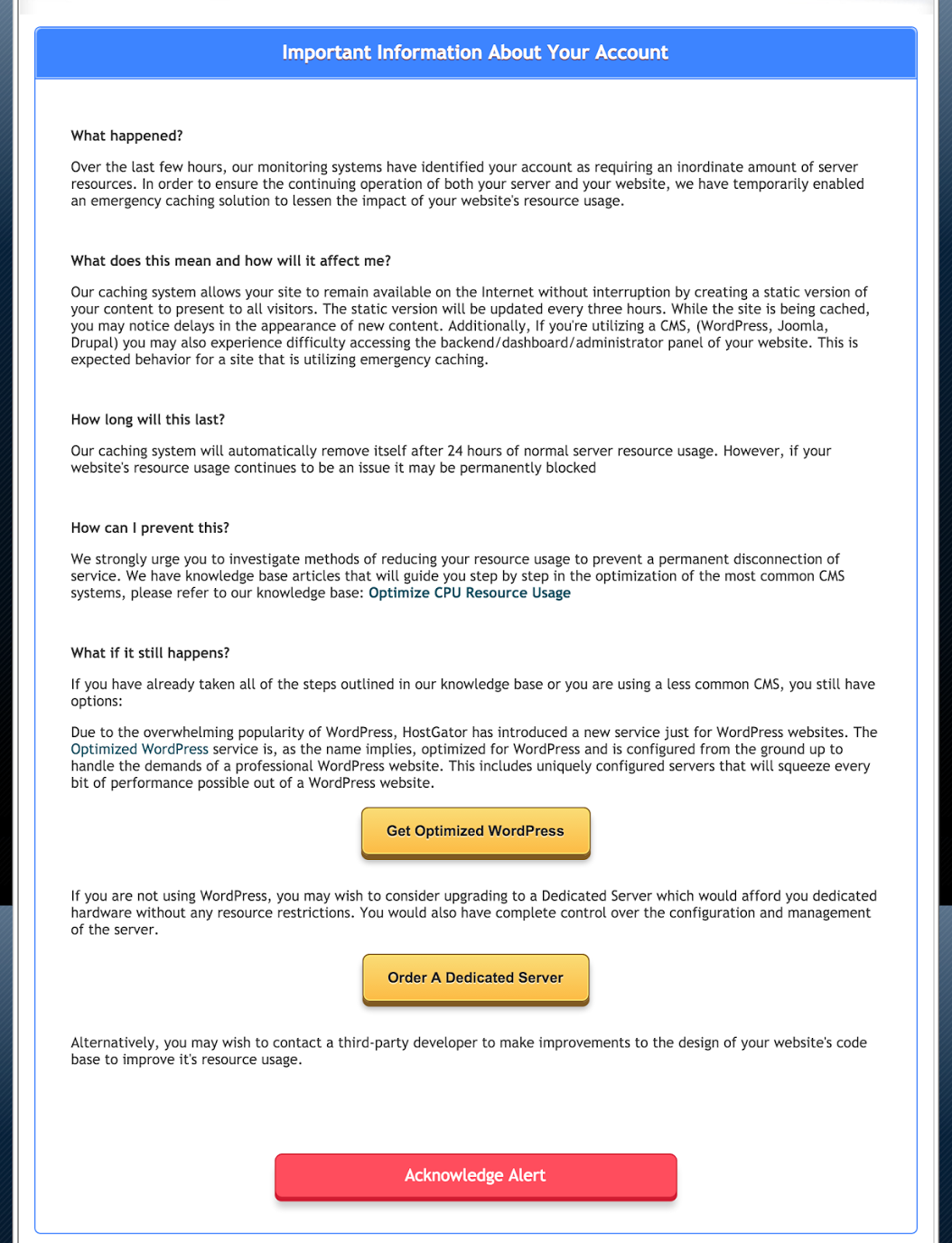 You may click the Acknowledge Alert button to dismiss the account alert.
 
How to Remove the Resource Restriction
Caching will be removed from your site automatically when your resource usage has decreased. Many customers will not notice caching and may even experience improved performance as this can be a superior way to deliver content to visitors.
The following sections will assist you with optimizing popular website software and with monitoring your resource usage to assist with reducing your usage so that the caching may be removed.

Optimizing Your Scripts
To avoid or remove CPU resource restrictions, we strongly recommend optimizing the scripts which are in use on your site. The following knowledge base articles offer tips for optimizing common scripts:

CPU Resource Usage Graph
For more details on your CPU resource usage, you can click on the View your resource usage link. The resulting graph will display data to help you determine how much over the resource limit the account is as well as the time at which the overage occurred.