Enable Auto-Reply for an E-mail - Plesk
Please follow the directions below to enable auto-reply for an email address in Plesk:
Note: This example is using Plesk 10, however, the steps will be the same for other versions of Plesk.
1. Click on the Mail tab




2. Select an e-mail address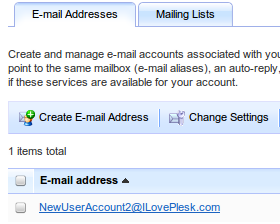 3. Click on the Auto-Reply tab.




4. Check the "Switch on auto-reply" check box and fill in the "Auto-reply message text" and the "Forward to" e-mail address and press the OK button.