BoxTrapper
Note: Use of BoxTrapper can cause issues, including increased loads on your server and increased backscatter of messages to illegitimate email addresses. BoxTrapper logs can also take up considerable space on your server.
It is highly recommended that you use SpamAssassin in conjunction with BoxTrapper as it will reduce these issues. Please feel free to contact us via phone or Live Chat if you have more questions about using BoxTrapper.
BoxTrapper Information
---
How Does BoxTrapper Work?
BoxTrapper is designed to protect your inbox from spam. It requires all email senders not on your approved list of addresses (your 'whitelist') to reply to a verification email before you can receive their mail. BoxTrapper returns a confirmation email to senders, who must reply before their email is delivered to your email address. A verified address is added to your whitelist.
Note: It is important to understand that even if BoxTrapper is enabled and automatic white-listing is disabled, any e-mail address you yourself send mail to will automatically be added to your whitelist without any other interaction. Since you are in effect interacting with that e-mail address, BoxTrapper assumes you welcome interaction with this address and automatically whitelists the e-mail address in question.
---
Enabling BoxTrapper and Adjusting Settings
Any email user can sign into webmail, and just before you select the mail program, you will see an icon for BoxTrapper: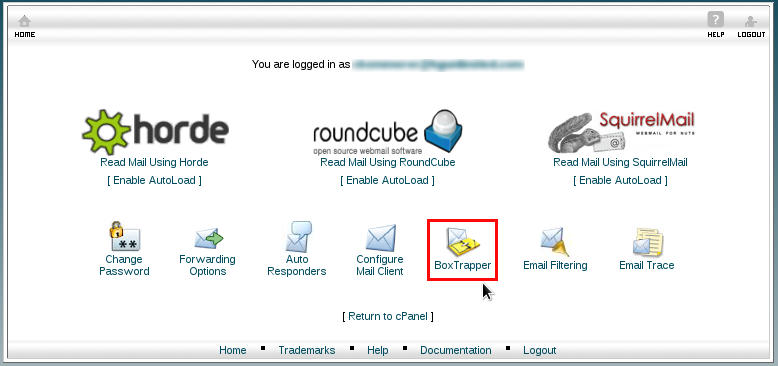 BoxTrapper is also accessible from your cPanel:

When accessing BoxTrapper via your cPanel, you will be presented with a list of each email account which may be managed: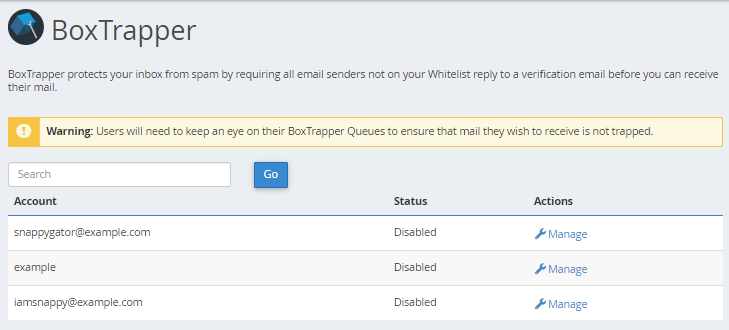 From the Configuration screen you may also enable/disable the trapper, edit the whitelist, ignore list and blacklist settings, customize your verification and blacklist messages and review the mail logs to see what emails are not being delivered: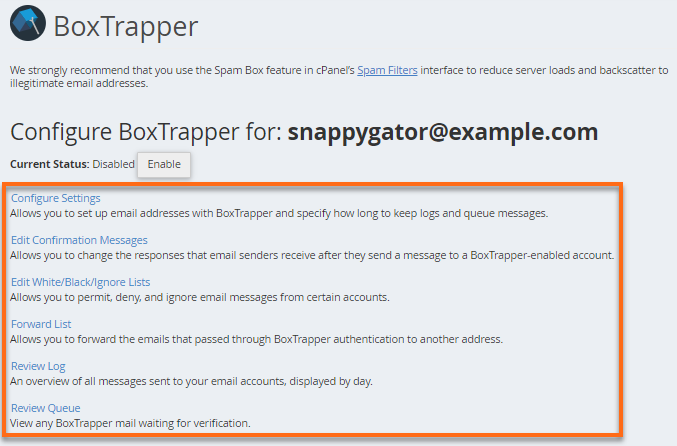 A forward list can also be set up in BoxTrapper to send whitelisted and verified mail to designated email addresses, in addition to the address BoxTrapper is protecting.
---
White/Ignore/BlackLists
The whitelist is a list of content that will be allowed into your inbox after the address has confirmation.
The ignore list is a list of users or subjects whose email you do not wish to receive. (These messages will not receive any notification or reply.)
The blacklist is a list of content you do not wish to receive in email. The sender of blacklisted content will also receive a warning message of your choice.
---
Adjusting BoxTrapper Logs To Use Less Space
As noted, BoxTrapper logs can rapidly grow to considerable size, depending on the amount of traffic your email account is receiving. You can help address this by setting how many days BoxTrapper will keep the mail logs on the server:
Simply click on "Boxtrapper Spam Trap" under Email Managment,
Click "Manage" next to the email address you want to adjust.
Click "Configure Settings"
Type in a new number into the third text field "How many days should logs and messages in queue be kept" and click "Save".
This must be done for each user as each user's settings are independent of the other users on the account.
---
Sample Return Message
BoxTrapper returns a message to any senders who have not completed the verification steps. See the information below to see a sample bounce-back message:
The message you sent requires that you verify that you are a real live human being and not a spam source.

To complete this verification, simply reply to this message and leave the subject line intact.

The headers of the message sent from your address are shown below:

From email@sendingdomain.com Sun Feb 07 15:33:19 2010
Received: from server.sendingdomain.com ([IP]:48345)
by server.websitewelcome.com with esmtps (TLSv1:AES256-SHA:256) (Exim 4.69)
(envelope-from <email@sendingdomain.com>)
id 1NeEkl-0003wm-Qh
for email@recievingdomain.com; Sun, 07 Feb 2010 15:33:19 -0600
Received: from espion.houston.sendingdomain.com ([IP]:63694 helo=[IP])
by server.sendingdomain.com with esmtpa (Exim 4.69)
(envelope-from <email@sendingdomain.com>)
id 1NeEkm-00036v-4Z
for email@recievingdomain.com; Sun, 07 Feb 2010 15:33:16 -0600
Message-ID: <4B6F31A0.8000106@sendingdomain.com>
Date: Sun, 07 Feb 2010 15:33:20 -0600
From: USER <email@sendingdomain.com>
User-Agent: Thunderbird 2.0.0.17 (Windows/20080914)
MIME-Version: 1.0
To: email@recievingdomain.com
Subject: boxtrapper
Content-Type: text/plain; charset=ISO-8859-1; format=flowed
Content-Transfer-Encoding: 7bit
X-AntiAbuse: This header was added to track abuse, please include it with any abuse report
X-AntiAbuse: Primary Hostname - server.sendingdomain.com
X-AntiAbuse: Original Domain - recievingdomain.com
X-AntiAbuse: Originator/Caller UID/GID - [47 12] / [47 12]
X-AntiAbuse: Sender Address Domain - sendingdomain.com
X-Spam-Status: No, score=2.1
X-Spam-Score: 21
X-Spam-Bar: ++
X-Spam-Flag: NO