503 Service Unavailable Error Message
Are you seeing a 503 service unavailable on your website? This 503 Service Unavailable error page usually gives no clue what's causing it, which you may find frustrating. But don't fret! This article will discuss a 503 error page and what could cause it.
What is a 503 error?
A 503 error message indicates an issue preventing access to the site and lets visitors know that the target site still exists. However, the service or data is temporarily unavailable.
Note: Search engine rankings temporarily remain in place while a 503 error page is displayed. This allows addressing the underlying issue while maintaining search rankings. However, if the underlying problem is not resolved, search engine rankings will ultimately be affected.
A typical 503 error looks like this: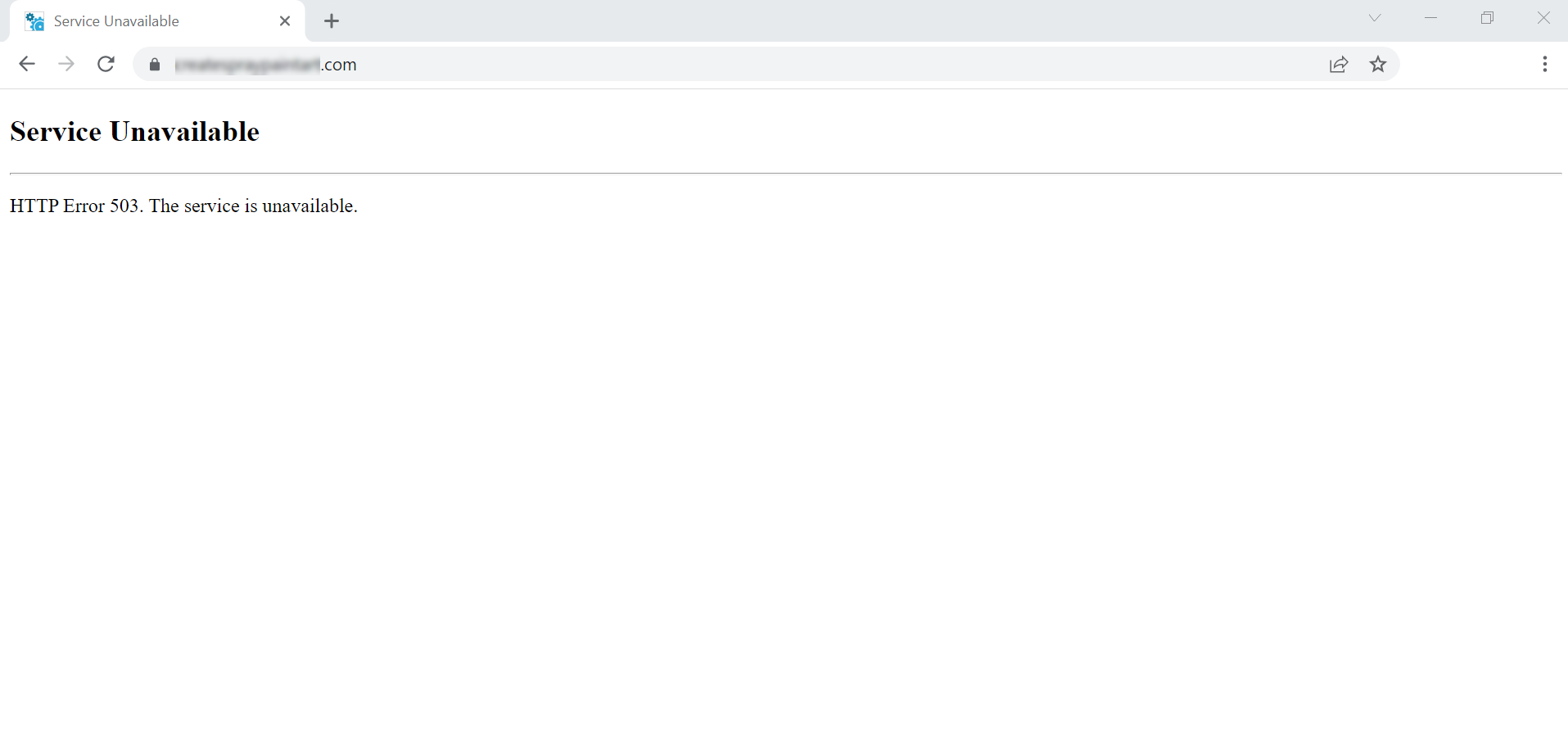 You might see a different message saying the page cannot be found.
---
What causes a 503 error?
503 errors are specific to certain issues. Typically, if you see this when connecting to your HostGator site, it is related to one of the issues below.
Exceeding the processes limit
HostGator may need to block access to a website using more processes than allowed by our Terms of Service. This is often due to a script or plugin on your site misbehaving and using excessive resources, which can threaten the stability of the entire server.
If this is the case, HostGator will email the account in question. Please review your email for any message from HostGator with the phrase TOS/CPU or TOS/MySQL in the subject. This message will include details of the issue and the steps we recommend to help resolve it. Remember that you can usually view your site's processes in your cPanel.
Here are support articles you may find helpful in managing your process limits and resources.
File permission settings
HostGator has permission restrictions in place for files on shared servers. This might cause the issue you are seeing (or sometimes a 403 error or 500 error.) More information about setting and modifying your file permissions is at:
Password denial, insecure scripts, or other security-related issues
Several security issues can result in a 503 error on your site. Please review your mail for any relevant message from HostGator regarding such an issue. The article below is also helpful for reviewing and improving your site's security.
---
Windows site showing 503 error
A 503 error is normally caused by the application pool crashing or restarting. This can occur when your website is sustaining an extremely high volume of CPU, which could significantly impact the server's performance.
In the Plesk control panel, you can now manage your application pool and recycle it should your site begin to show a 503 error message.
To manage the application pool:
Log in to the Plesk.
Under Websites & Domains, look for Dedicated IIS Application Pool for Website.

An error will be displayed in the IIS Application Pool section when a 503 error is detected.

Click Recycle.

A successful status prompt is displayed when you restart the application pool.
Recycling your application pool should resolve the 503 error. However, suppose the site exceeds 25% of the shared system resources. In that case, the application pool will again be disabled to protect the server's stability. The site will need to be optimized by you or your developer before restarting the application pool.