Customer Control Panel Interface - Plesk
Customer Panel Overview
If you log in as an administrator or reseller, simply click Domains or Subscriptions in the left-hand menu, then click the Manage in Control Panel link for the main domain you wish to access.

The Control Panel is designed to provide your subscribers with the hosting management features through their own panel. It consists of several tabs for common operations.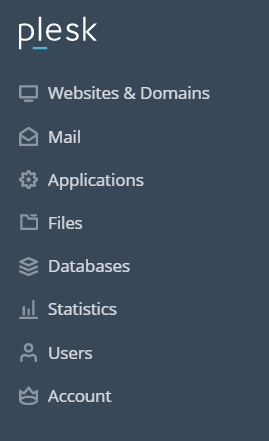 Websites & Domains - This provides access to functionality for registering domain names, creating, modifying, and deleting websites, setting up hosting features, databases, subdomains, domain aliases, viewing statistics, backing up websites, etc.
Mail - Mail provides access to functionality for creating, modifying, and deleting e-mail addresses and mailing lists.
Applications - This provides functionality for installing, configuring, and removing web applications, such as blogs, photo galleries, online stores, and others.
Files - A shortcut to the File Manager.
Databases - This provides access to create or manage databases
Statistics - It provides reports on disk space and traffic usage.
Users 
Account - This provides information about your subscription, changing your contact information, etc.
The number and location of icons and links in the control panel depend on the number of available services, installed applications, and functions provided in accordance with the subscription.