What is Google AdWords?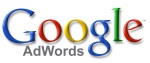 Google AdWords is a pay-per-click advertising program by Google. With AdWords, advertisers can promote their website's products and services on Google.com's search results in the "sponsored links" section. Quality ad text and relevant keyword buys will give you a competitive edge over your competitors. And with AdWords, you can set your own budget and change your campaigns at any time -there are no commitments or spending requirements of any kind.
Sign up for HostGator Web Hosting today and receive a free voucher for $100 in Google AdWords® credit after you spend $25 on Google Advertising.*
What are the benefits of Google AdWords?
Get more from your advertising dollars. On average, it takes $60 to acquire a customer using email. And $70 by direct mail. By contrast, it takes an average of only $8.50 to gain a customer through search advertising.
Control your budget and overall costs. Set your daily budget and the amount you're willing to pay for a click. You only pay when someone clicks on your ad.
Advertise where you want. Target your ads to potential customers around the world, or only to those in your town, region or country.
No risk. No obligation. There's no minimum term or commitment. Once you use the coupon amount, you're under no obligation to continue.
How profitable is a web site with no visitors?
With Google AdWords, a web site can be advertised across the Google network to get real targeted traffic today.
Linux shared web hosting clients now get a $100 Google AdWords Advertising Credit added to their AdWords account after spending $25 on Google Advertising.
How do I get started?
Order shared web hosting (either a Linux Shared Hatchling, Baby, Business, or Optimized WordPress Plan).
Redeem your promotional code in your hosting control panel if you have a Shared Linux hosting (Hatchling, Baby, or Business).
Start getting targeted traffic today!
*Terms and conditions apply. The $100 Google AdWords Credit is applied to your account after you spend $25 according to the terms and conditions. More Details