Web Deploy (Web Deployment Tool)
Web Deploy (Web Deployment Tool) is a Microsoft tool that significantly simplifies the migration, management, and deployment of IIS web servers, web applications, and websites.
Note:
Users on a shared server will not be able to use the full functionality of this product. On a shared server, users would need to install web deploy and the Web Platform Installer locally and then use both
FTP
and a
remote database connection
to push the content to the server.
Using Web Deploy will give you the following abilities:
Allow web developers who write code in Visual Studio (IDE) and Web Matrix (development tool) to use Web Deploy to sync code of working and production versions. Loosely speaking, developers can write applications in their local environment and then periodically publish it to a production server by means of Web Deploy. If you you would like to give your customers this time-saving and easy-to-use publication method, install Web Deploy to your server.
Web Matrix helps its users to find a suitable hosting plan in Microsoft Web Hosting Gallery, the catalog where hosting providers advertise hosting offers. If you want your hosting plans to be present in the gallery, one of the requirements is to have Web Deploy.
To install Web Deploy, you must have the following in place:
Windows Server 2008 and later
The server must have the PowerShell scripting language enabled . Windows Server 2008 R1 does not have this component by default (though 2008 R2 has it). Please review this url to have it installed https://www.microsoft.com/powershell. All hostgator servers created after 01/01/2012 will have powershell 2.0 pre-installed.
IIS 7.0 / 7.5 Must be enabled. By default, all hostgator servers will have this role ( Web Server) pre-installed.

Step 1: Install the Microsoft Web Platform Installer
The installation is quick and requires one sever reboot to complete. Using the URL: http://www.microsoft.com/web/downloads/platform.aspx you may download and install web platform.

Step 2: Configure Application Pool
For improved server performance, the subscription should be configured to use its own application pool. To configure your subscription to use its own dedicated application pool, please follow the instructions below to switch on dedicated IIS application pool for your websites:
If you are subscribed to several hosting packages and have access to several webspaces associated with your account, in the Subscription menu at the top of the screen, select the required webspace.
Go to the Websites & Domains tab > Dedicated IIS Application Pool for Your Websites (in the Advanced Operations group).
Click Switch On.
To limit the amount of CPU resources that this application pool can use, select the Switch on CPU monitoring checkbox and type a percentage into the Maximum CPU use (%) box.
Click OK.

Step 3: Secure Web Deploy with an SSL Certificate
One of the benefits of Web Deploy over FTP is its ability to secure information while in transmission. To allow this, you will need to obtain an SSL certificate. Servers pre-configured with Plesk will be assigned the default server certificate. IIS will allow just one certificate to be specified for SSL connections.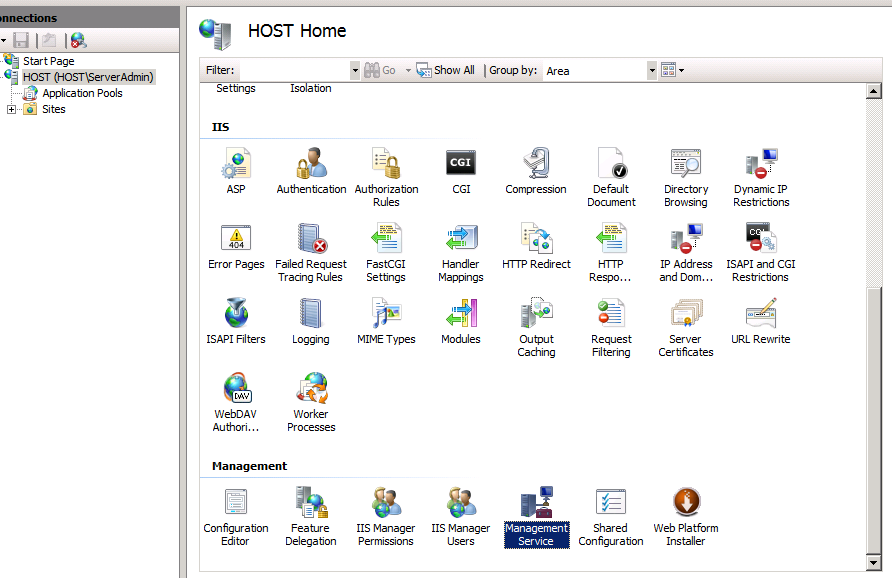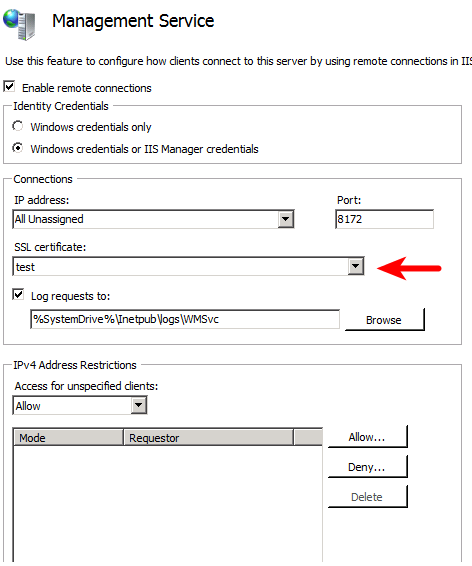 Step 4: Activate Web Deploy in Hosting Plans and Subscriptions
Once you have installed Web Deploy on the server, you will just have to configure the subscription to allow Web Deploy connections as shown below.
Select the subscription name.
Select Websites and Domains.
Select the domain name to have Web Deploy enabled on.

Check the box for Web Deploy Publishing.