Using the Schedule Tab
The scheduling tab within the booking tool is where you can create, modify, and manage all your appointments between your team members.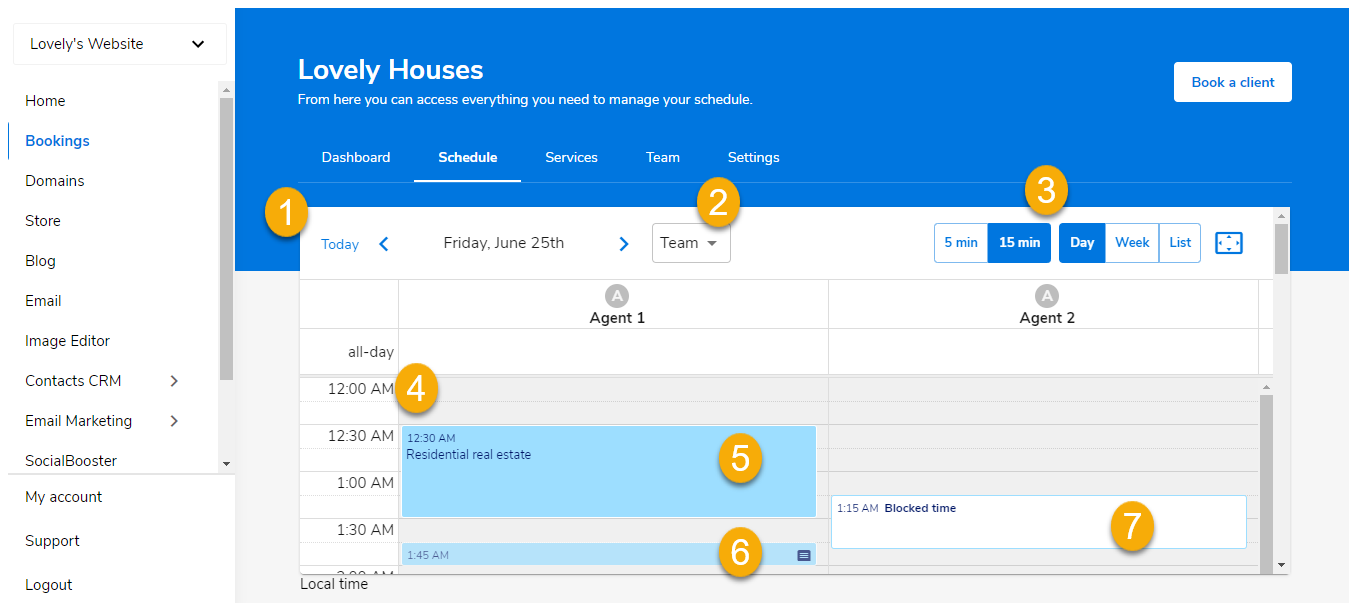 Date 
This will show you what day is displayed. You can use the toggle to see past or future days and appointments.
Team 
Use this button to change which team members are hidden or shown on the board.
Date/Time Intervals 
These buttons will allow you to change the time intervals that display, and if you are viewing appointments daily, weekly, or as a list.
Hours Board 
The hours' board will show your hours and appointments per team member. Hours that are designated as unbookable will be a shade of gray, whereas bookable hours will be in white. Appointments can be dragged and dropped between the hours and team members displayed.
Standard appointment 
Standard appointments can be managed by simply being clicked on. Once they are selected, you have the option to edit* or change the status of the appointment to reflect where it is in its lifecycle. You can have the status set to:

Booked
Waiting
In Progress
Finished
Paid
Canceled*
No-Show
* By using these, you will be prompted to confirm the change and be provided the option to email the client about this change.

Note 
This option will allow you to add a note to a specific time for a specialist. It could be anything from a reminder about a task to be completed or a visitor that will be in.
Blocked time 
A
 Blocked time segment will let you block a section of time for a specific team member so that someone cannot book them through the website.
See how you can view and schedule an appointment!