Site Layout in BaseKit
As of June 19, 2013, BaseKit is unavailable on new Shared (SW) accounts; however, WordPress is an excellent alternative to this builder. The instructions on how to install WordPress are discussed in the article:
How to Install WordPress With Softaculous
.
---
Part 6 of 14 of the BaseKit Getting Started Guide
Managing Pages in BaseKit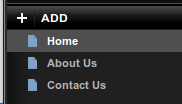 The top of the left Design bar is an area for organizing the pages of your site.
There is a "+" link for adding pages or folders to your site. Listed below this are all the current pages.
When you hover your mouse over an existing page, you have the option to delete the page, clone the page, edit the Name and URL, edit SEO settings, and create page and body scripts.
Click on a page to edit the content of that page.
You can also change the layout using widgets such as Columns Layout.
---
---