Setting Page Options in BaseKit
As of June 19, 2013, BaseKit is unavailable on new Shared (SW) accounts; however, WordPress is an excellent alternative to this builder. The instructions on how to install WordPress are discussed in the article:
How to Install WordPress With Softaculous
.
---
BaseKit allows you the option to control the settings for your sites pages, including titles, SEO and keyword assignments, as well as applying scripts to your site. With just a few clicks, you will be able to modify and edit your site with more functionality.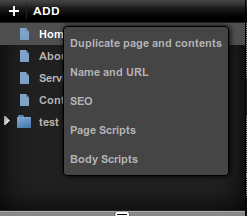 To select the page options in BaseKit:
Log in to BaseKit
Select the page you wish to modify in the left side navigation menu, and select the arrow on the right side.
You will see five options to choose for your page options, Duplicate page and contents, Name and URL, SEO, Page Scripts and Body Scripts.
Duplicate page and contents
This option allows you to make an exact copy of a specific page, such as your home page, and apply the style, theme and formating to another page, allowing you to keep the same design without having to recreate your page. You can then easily edit the information on the new page.
Name and URL
The Name and URL feature allows you to change the name of the page in question, as well as change the link that refers to that page. For example, if you have a Blog page and want this page to point to your blog site, you would simply change the name of the page to fit your blog and enter the appropriate link in the URL box.
SEO
The SEO option allows you to associate which keywords will bring up your site on popular search engines, such as Google and Yahoo. You can create as many keywords as you want, however be sure to separate them with a comma. The description section is what will show up with each page on your search engine. This will describe your site and is what is indexed by search engines, so this content is very important.
Page/Body Scripts
The page and body scripts sections allow you to insert scripts and coding in to the headers of your site, as well as in the body of each page or a single page. You have the option of applying this script to one page, or to every page on your site. Any script placed in the Site Wide Scripts field will be applied to every page across the whole site. Any script placed in the Page Specific Scripts field will be applied to the current page only.
Note: Use of JavaScript may result in damage to your site. This feature is intended for use by people already familiar with JavaScript and we cannot provide support for solving JavaScript issues. Please use this feature at your own risk.