SEO Settings in BaseKit
As of June 19, 2013, BaseKit is unavailable on new Shared (SW) accounts; however, WordPress is an excellent alternative to this builder. The instructions on how to install WordPress are discussed in the article:
How to Install WordPress With Softaculous
.
---
Search Engine Optimization, better known as SEO, is the process of improving the visibility of your site in search engine results naturally, or via non paid methods, such as advertisements. SEO methods are often implemented by every web designer and developer who is determined to obtain specific results for their sites, and increase traffic and sales.
SEO is based off of three basic principles: specific keywords, current up to date content and a sitemap for organizational purposes. With BaseKit, the SEO Settings option allows you to add a description, and specific keywords for each of your pages to ensure your pages can be easily found in search engine results. Every time your page is published, the content is updated instantly, which fulfills the keywords and content portion for optimal SEO ranking.
For your sitemap, there is nothing you need to do to add this to your site. BaseKit does this by default every time you publish your site, to ensure your content is up to date and is able to be accessed easily by search engine queries and visitors to your site. All you do is build your site, make sure your SEO settings are accurate, and BaseKit takes care of your sitemap every time you publish your site.
To edit the SEO settings for your BaseKit site:
Log in to BaseKit
On the left side navigation menu, under ADD hover over the page you wish to edit.
Click the down arrow to the right of the menu, selecting SEO Settings.


From there, a pop up window for SEO settings will appear. The first text box you will see is specific for your keywords. You should make the keywords for each page unique, and specific for that page. You can have as many keywords as you wish.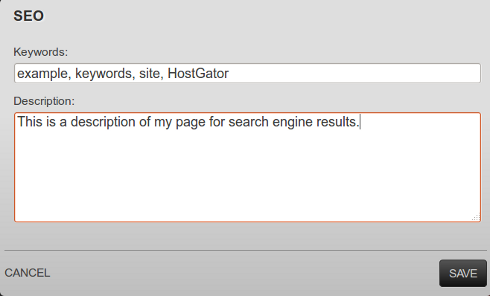 The second portion of the SEO settings is for the description for each page. This is what appears when you view that particular page in a search engine result underneath the link to that page. This should be brief, less than a few sentences and be specific to each page. This will ensure each page is represented accurately when people search for your site.
Once you ensure your content is correct in your SEO settings portion, click the Save button to update your settings. Your SEO information will be updated once your site is published, and you can easily go back at any time to update, add or remove any additional information for your SEO preferences.