SEO Gears Settings
The following sections will walk you through the basic setup and settings of your SEO Gears account.
Jump to a Section:
Domain Management
Logging into your account through cPanel will drop you into the domain management page, where you can choose a domain to work with. If you are trying to get back to this screen or trying to activate your domain, follow these instructions:
Click the domain at the top of the page with the blue down arrow as pictured below. You will get options to either add a new domain (Professional only) or manage your domain(s).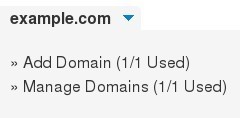 Click Manage Domains. This will pull up the domain management page
Click on the Make Active Domain link as pictured below. If you have multiple domains, click on the one you wish to work with.

Modifying the Account Domain
If you would like to change the domain associated with your account, you can follow the following instructions.
Log into your SEO Gears accounts.
Navigate to the domain management page.
Click the pencil icon as pictured below.

From here, you can change the domain attached to the account, the domain's targeted keywords, and its top competitors.
Click Update Account when finished.
Editing Account Settings
If you need to change the email, username, or password associated with the account, please follow these instructions:
Click on your username in the top right corner of the screen.
From here, you can change your username, password, and/or email address.
Click Update Domain Profile when finished.