SEO Gears Dashboard


For different instruction, click on the tool you would like to learn more about from the image above.
The SEO Dashboard, for Advanced and Professional SEO Gears users, will give a basic overview of your account so you can quickly see how things are coming along with your SEO rankings.
SEO Checklist (4 Step DIY SEO Tools)
The SEO Checklist will show you the 4 basic steps to better search engine rankings and also acts as a table of contents, linking to each section of tools.
Latest Rankings
The Latest Rankings will show your keyword ranks as they progress. This will allow you to log in and quickly check to see if your current SEO tactics are improving your rankings or whether there is some room for improvement. This time saver can be an invaluable tool to getting the results you want.
SEO e-Book
By clicking on the "Download e-Book" link, the SEO Simplified e-Book will be open in a new window as a PDF file. You can either get started reading about SEO or download the book to your computer to read it later. Either way, as long as you have an active subscription, you will always be able to access it from this screen.
What It Looks Like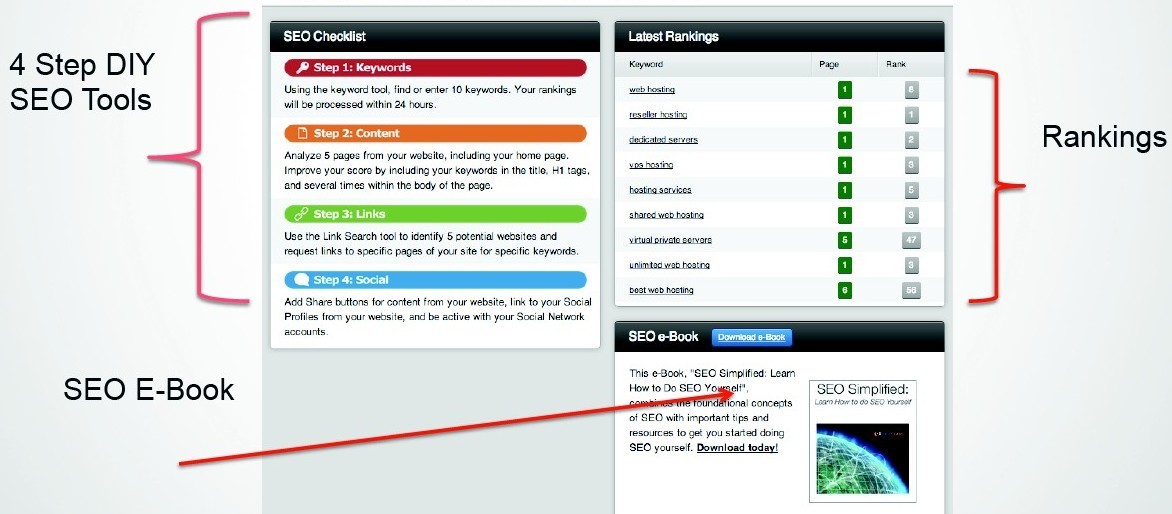 Click the image for a larger preview
JumpStart Users - You will not have a Dashboard. Instead you will only have a page to download the SEO e-Book and a page to run three Head to Head Reports. If you would like to upgrade your account from JumpStart, please see our upgrade instructions here:
If you are unsure of how to access your SEO Gears tool or if you need a good starting place, please read: