RSS feed from HostGator
We have added an RSS feed in all Shared Web Hosting account cPanels (not Resellers), which allows us to send server announcements directly to your cPanel. You may also subscribe to these announcements to receive them by e-mail.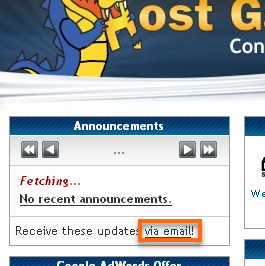 The following email was sent to all shared clients:
Dear Client,
We wanted to inform you of an important new feature in your HostGator control panel. A few months ago, we created an RSS feed to deliver server announcements directly within your cPanel. These announcements will contain important information about your server, such as planned maintenance. In addition, you may also choose to receive these updates by e-mail.
To subscribe, log into your control panel and click on the link titled
Receive these updates via email
. This link is located below the server announcements in the upper left-hand corner of your cPanel.
Please note, we will NEVER release your e-mail address under any circumstances to any third party.
If you have any questions, please feel free to contact us at any time via
phone
or
chat
.
Thank you,
HostGator Support