ResellerClub - Account Access/Password Reset
This article will walk you through accessing your ResellerClub account and show you how to reset your password.
Accessing Your Account
Visit the Reseller Login : https://manage.resellerclub.com/reseller
Enter your Username (your Email Address) and Password and click the Login button.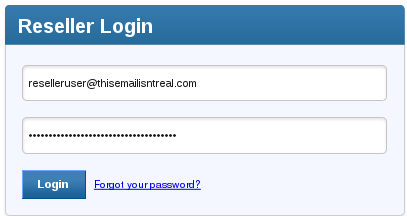 You might encounter an error, as illustrated in the image below: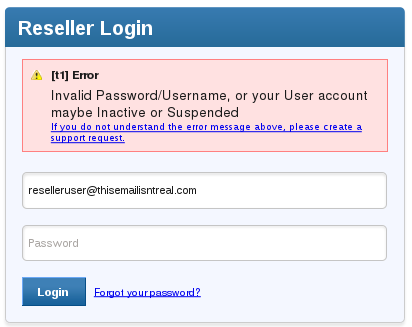 This could occur for the following reasons:
Bad username/password. (Please ensure that there are no spaces in the beginning or at the end of the Username.) If you require a new password, please follow the "Reset Account Password" instructions below.
Your Control Panel access has been disabled by ResellerClub. Please get in touch with ResellerClub's Support Team to resolve this issue.
Reset Account Password
To request  an Account Password reset:
Click the Forgot Password link from the following URL:

Enter your Username (i.e. your email address) and click the Send Reset Instructions button.
ResellerClub will send you email containing a link which will allow you to reset your Control Panel Password.
Please consider the following when creating your password:
Allowed password length is 8 to 15 characters.
Use a combination of capital and lowercase letters, with punctuation marks, special characters and numbers.
Change the password on a regular basis.
Avoid a password that contains personal information (name, birth place, etc.) or dictionary words.
Avoid using repeating characters (aaaaaa), keyboard patterns (asdfgh) or sequential numbers (123456).
Do not disclose your password to anyone.
While setting a new password, you may not re-use the current password or the previous password.
---