Refining Template through Themes - BaseKit Theme
As of June 19, 2013, BaseKit is unavailable on new Shared (SW) accounts; however, WordPress is an excellent alternative to this builder. The instructions on how to install WordPress are discussed in the article:
How to Install WordPress With Softaculous
.
---
Choosing a Theme for your Template

A theme defines how your website looks and feels. The colors and fonts in a theme help set the mood of your website and is part of a visitor's first impression.
A theme is separate from the content of your website, and can be changed without affecting the actual content. For example, if you have a page about your company, and it includes a written description, when you change themes, the words will not change, however they may look different, with a different color and/or font than the previous theme.
To begin a website, you will need to select a template. Once you have done that, you can choose which theme you would like.
Video Tutorial

Changing the Theme on Your Site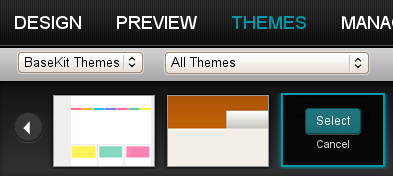 You can change the theme any time by doing the following while in BaseKit:
Click on Themes in the top menu.
Click on the theme(s) you want to preview. A preview of your site with that theme will be shown instantly. You can preview as many as you like. The changes have not been applied to your site at this point.
Decide on which theme you like best.
Click on the Select" button on the theme you are previewing to apply the theme to your website.
Optionally, click on Preview in the top menu to preview your site with the new theme.
Click on Design in the top menu to continue editing your website.
Keep in mind that changing the theme may affect the layout and alignment of elements on your website. For example, one theme may have a bigger font than another, which would affect how the words on the page flow and align with other items on the page.
It is recommended that you check every page to make sure it looks like you expect after changing the theme. It is possible you may have to adjust a few things.