Plesk 11.5 - Subscriptions
Subscription Overview
A subscription assigns a service plan to an account, allowing the use of the resources and services of that service plan by the websites in that account. Each subscription is linked to a main domain.
This article will give a brief overview of the more important tools and functions available in the Subscriptions Panel.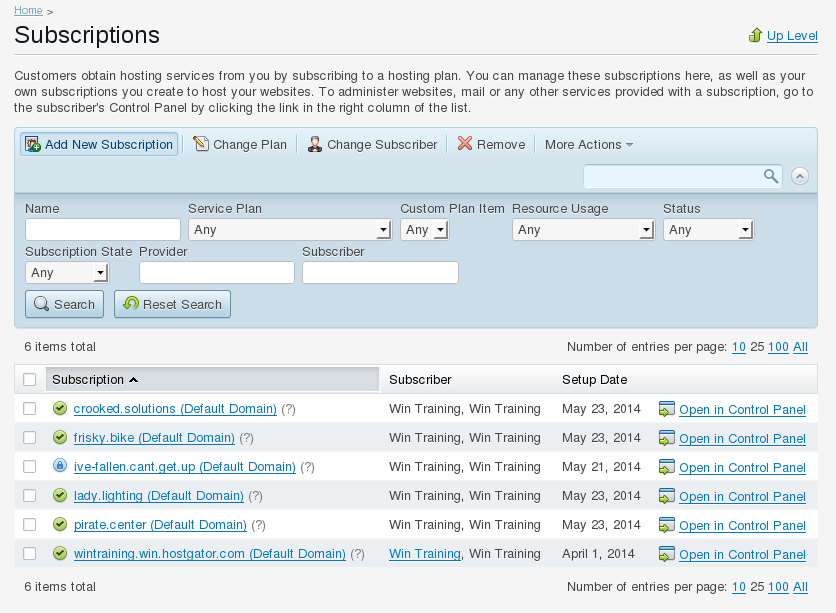 A Note on Domains in Subscriptions

You can create and host multiple domains under one subscription, but HostGator recommends you limit subscriptions to a single domain. Specifically, any subscription which hosts multiple domains will be limited to one IP address and one SSL certificate. This means only one of the domains per subscription can ever have an associated SSL certificate, and all the domains on the same subscription will have the same IP address at all times.
Creating a Subscription
Creating a subscription establishes the domain name, IP address,username, password and service plan for an account. To create a new subscription:
Login to your Plesk Server Administration Panel.
Click Subscriptions in the Navigation pane.
Click the Add New Subscription button.
Enter the main domain name for your new account.
Adjust the settings to suit your requirements.

The default "shared IP" is fine for now, and can be updated when required.

Create the control panel user name and password as directed.
Select a service plan which is appropriate for this new account.
Highlight any add-ons you want for this account, and click the >> button to add them.
Click the OK button to create the subscription.
Managing Subscriptions
Besides creating new subscriptions you can also change and manage existing subscriptions from this panel. Actions include:
Change the subscription to use a different service plan.
Customize an existing subscription. (This unsyncs the subscription from the default service plan, and may be useful in case you want to provide unique terms to a specific account.)
Suspend or activate a subscription.
Remove the subscription association with the service plan.
More detailed information on managing subscriptions is
available here
from Parallel's online user guide.