Plesk 11.5 - Service Plans
Service Plan Overview
A service plan in Plesk defines the allocation of your resources, such as how much disk space, bandwidth, and other features are offered to your customer. There are two types of service plans:
Hosting Plans provide a set of resources and services for web hosting. Resources include disk space on the server and bandwidth for hosting websites, and typical services include web hosting and mail hosting.
Reseller Plans allocates resources and services to a reseller account, which may redistribute these through subscriptions to its own service plans.
Plans are created and managed in the Service Plan panel via the tabs for Hosting and Reseller plans.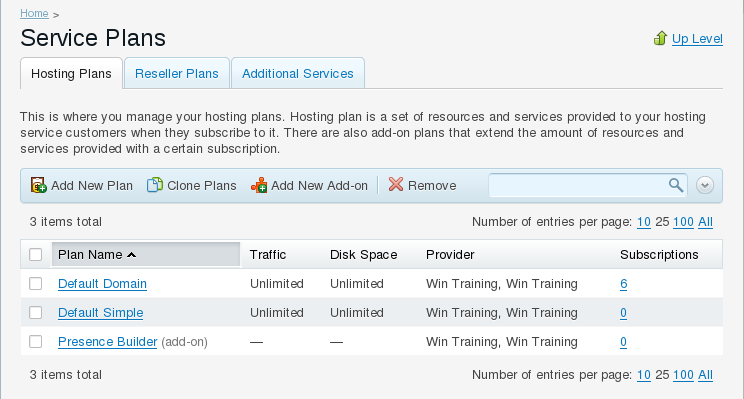 Hosting Plans
This is where you manage your hosting plans. A Hosting plan defines the set of resources and services provided to your hosting service customers when they subscribe to
Reseller Plans
This is where you manage your Reseller plans. These specify the resources and services available to the reseller and allow the creation of reseller subscriptions.
Service plans remain connected to accounts. When you modify a service plan, any account already synced to that plan will update to the new resource, service and privilege settings.
Creating a New Plan
To create a new plan:
Login to your Plesk Server Administration Panel.
Click Service Plans in the Navigation pane.
Choose the type of plan you want to create from the tabs at the top.
Click the Add New Plan button.
Type a name for your new plan.
Adjust the settings to your preference.

Note: Bandwidth is referred to as "Traffic" in Plesk.

Once you are happy with your values, scroll all the way down and click the OK button.
A Note on Domains in New Plans
HostGator strongly suggests you limit the number of domains to one in any new plan. This will require the creation of a new Subscription for each new domain, but ensures that each domain will have the ability to add a dedicated IP and private SSL certificate should this be required in the future. The other settings and tabs are usually fine when left at the default values.