Managing Products
Once you've created your store, the next question you may be asking yourself is, "How do I add my Products?" Well, rest assured, you're in the right place!
In this article, we will briefly cover how to add a product to your already created store, as well as How to Add Product Variants. If you still need to create your store, you may want to review this article first: How To Add An eCommerce Store (VIDEO)
 
-
Adding a Product
Variants
---
To begin adding products to your store, follow these steps:
1. Start within your store's Home Page by accessing it from your website editor or account navigation.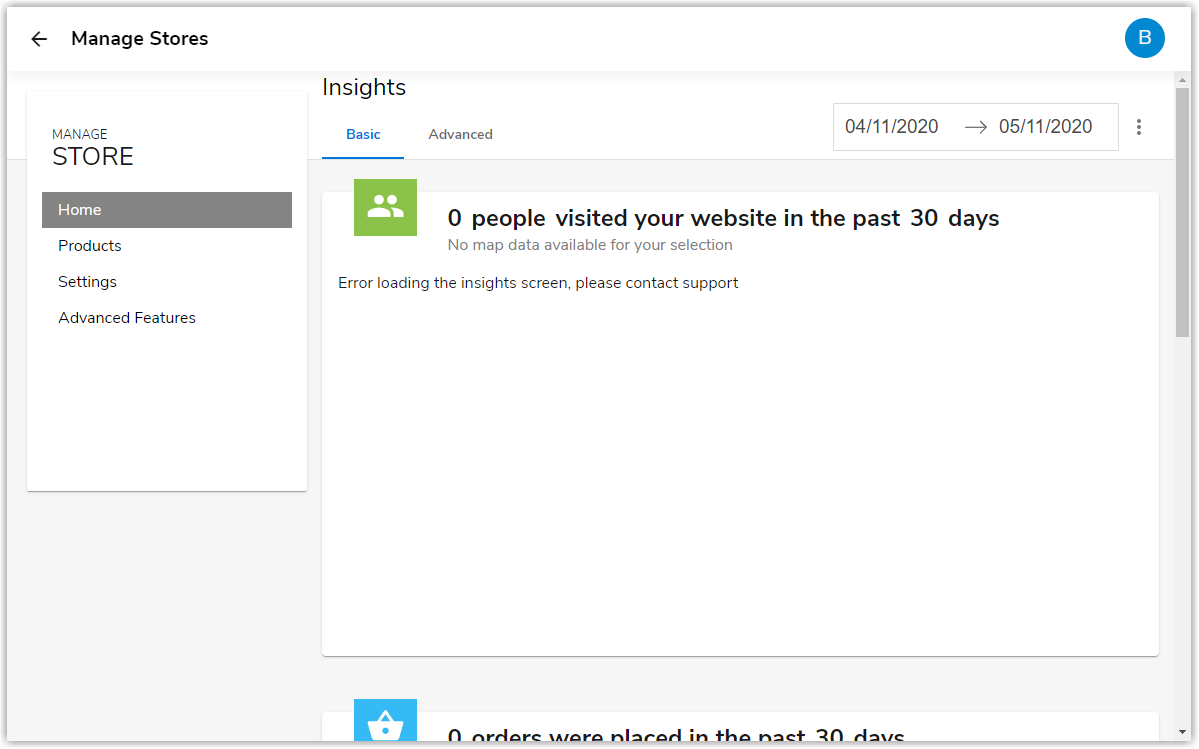 2. Select Products from the left-hand menu to see all your current products.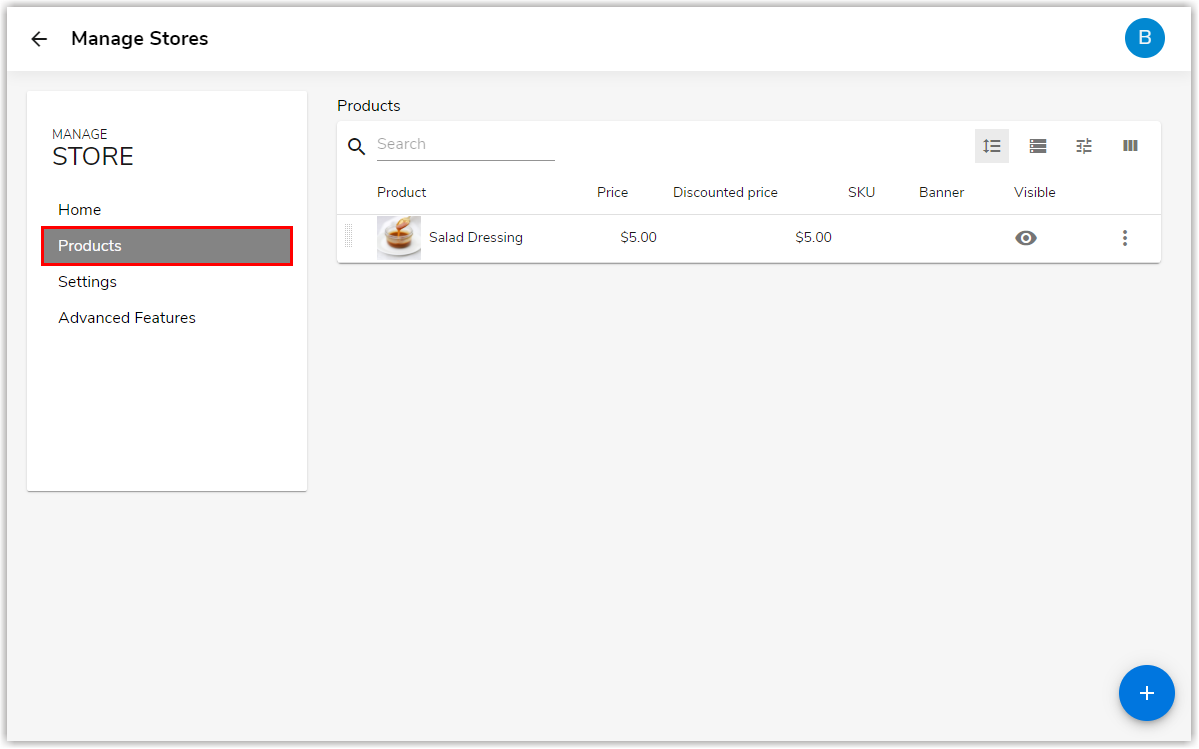 3. At the bottom of the page, hover your mouse over the blue  "+" button and click the option for Add.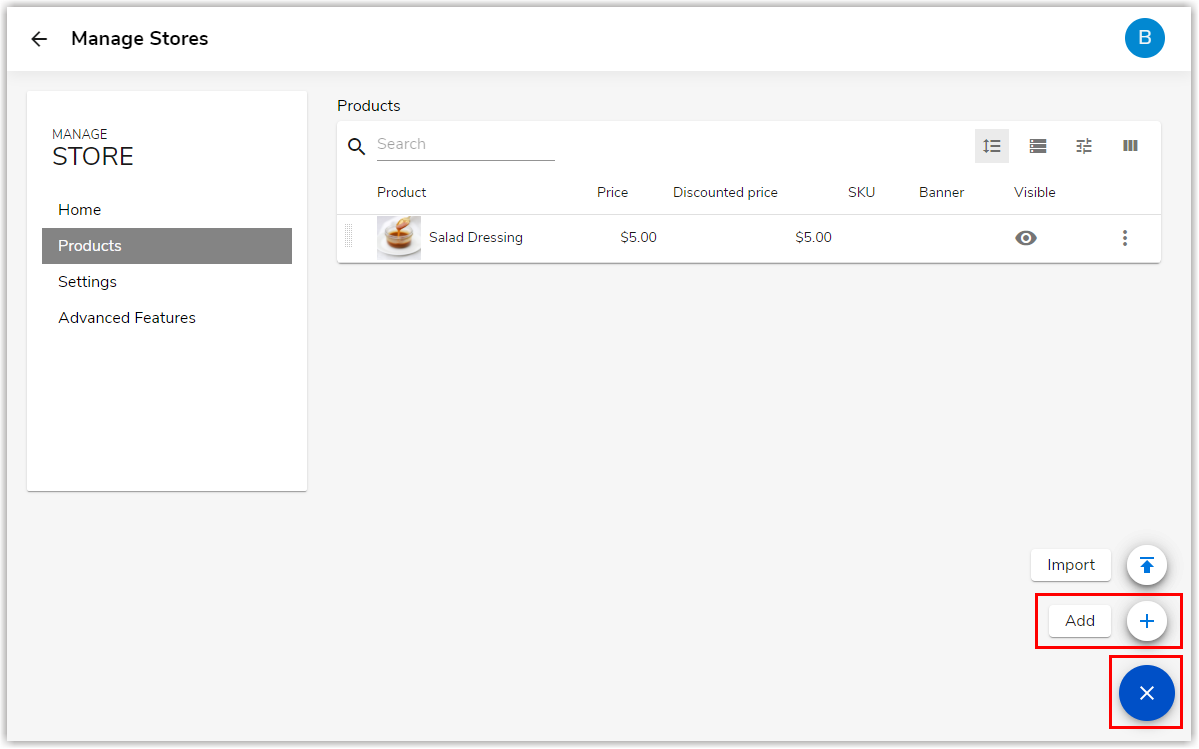 4. In the Add Product page that appears, fill out all necessary fields relating to your product.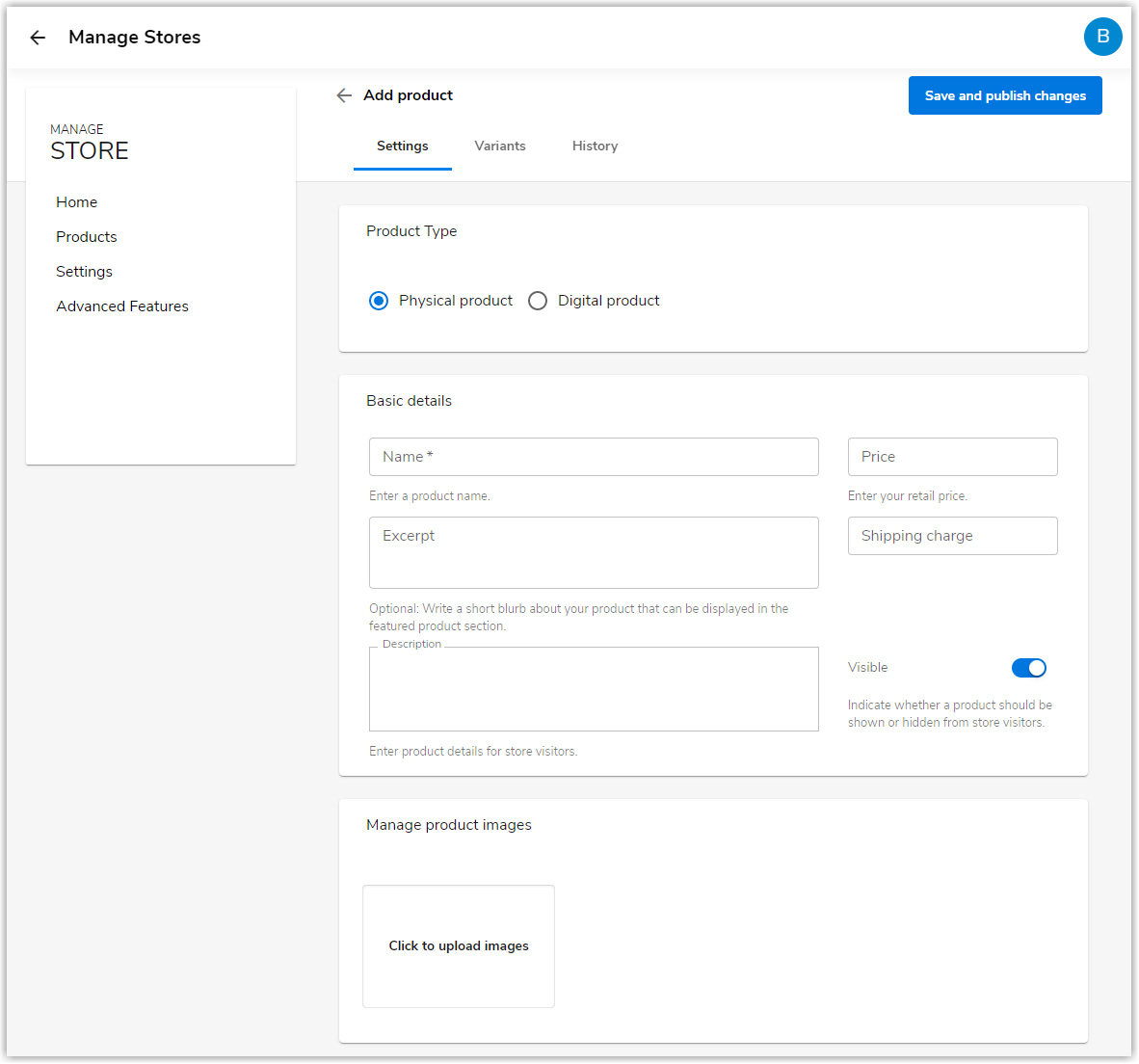 Is it a physical product (or service) or a digital download.

Name: The name of your product will be added here.

Price: Enter your retail price here. You will have the option to include any taxes or have them charged separately.

Excerpt (optional): Where you can enter a small blurb about your product here compatible with some sections.

Shipping Charge: If you will be charging shipping per product this is where you enter the cost to ship a single item.

Description: A full description of your product. You can add measurements, materials, ingredients, and robust information about your product here. In addition, you can use the toolbar that appears above the description box to format, apply text styles, and add links to your descriptions.

Product photos: Add images of your product here to show different colors, views, or sizes.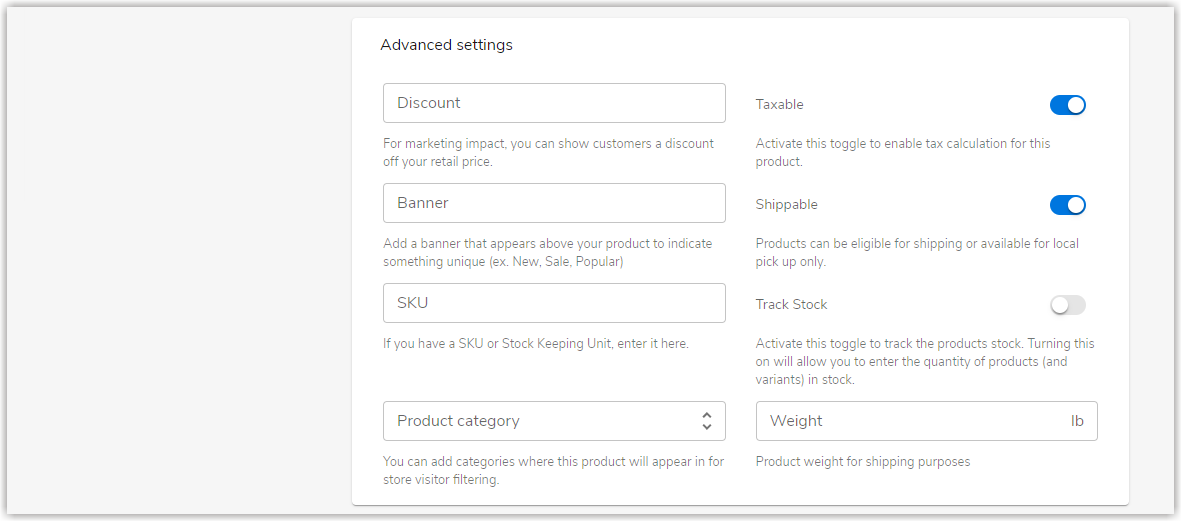 Discounts: Either through a marketing promotion online, a seasonal sale, on social media or in person, you can show customers a discount off the retail price.

Taxable: Activating this will make this item taxable, and calculate it into the order's total.

Banner: Add a flag to a product to advertise something new, on sale, seasonal, or more.

Shipping Available: You can offer shipping to your customers, or a local pickup only availability.

SKU: If you have a stock keeping unit, you can enter it here.

Manage Stock: You have the option to activate an inventory tracking system to manage your quantity of products.

Weight: Enter how much your product weighs for shipping purposes.
5. Once you have entered all the desired information, at the top of the page click Save and Publish Changes.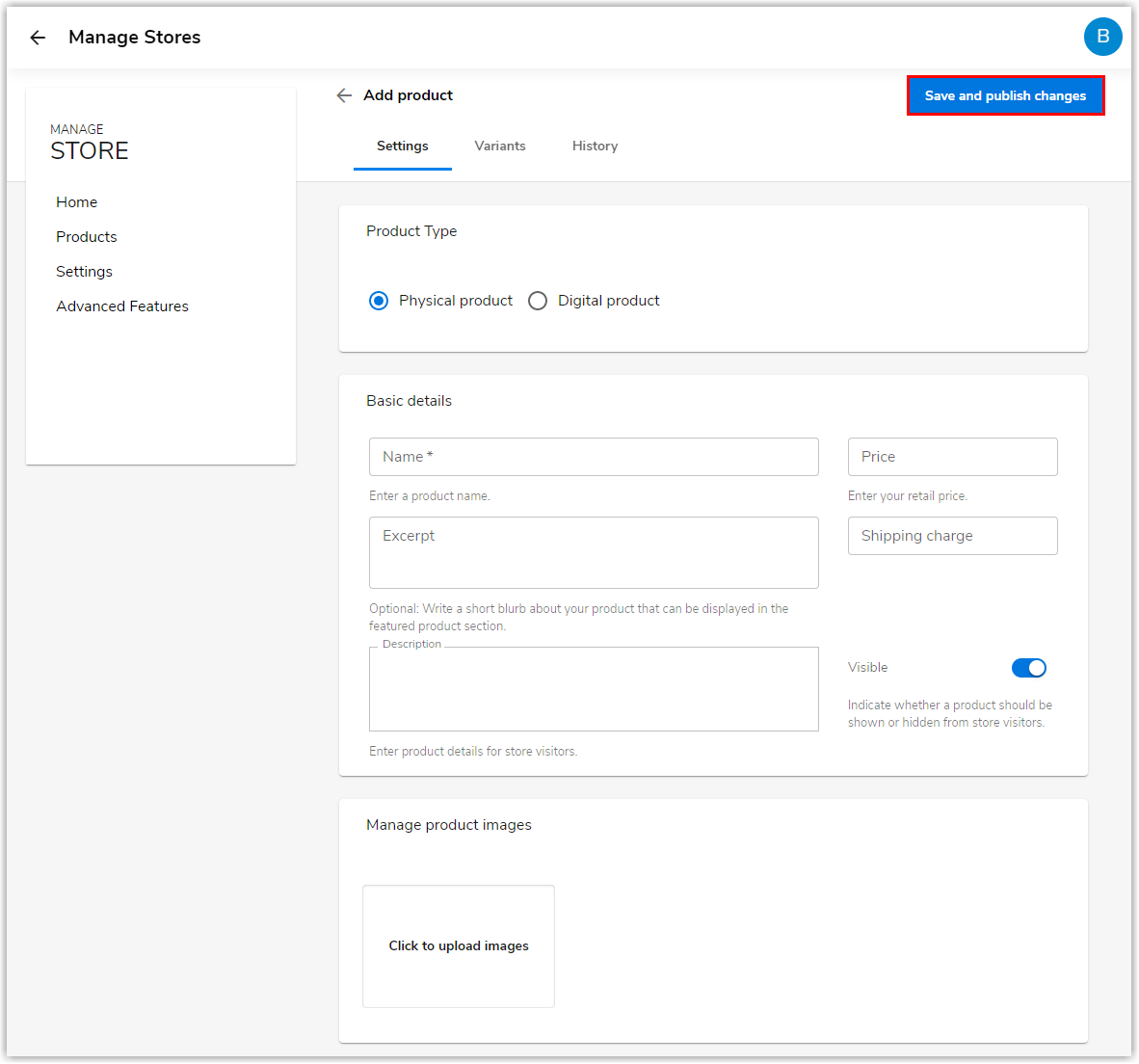 Variants are different selections for users to pick from the same main product. Many times you will see these as sizes, colors, and styles when shopping online, and with our variants tool, you will have the ability to display different selections for any product you wish when a customer checks out.  Using variants will also let you keep track of your inventory, by product and variant, so that you know which colors or sizes are selling best and which ones need a promotion added to them to start selling.
1. To add a variant to a product, first select the product you would like to work with.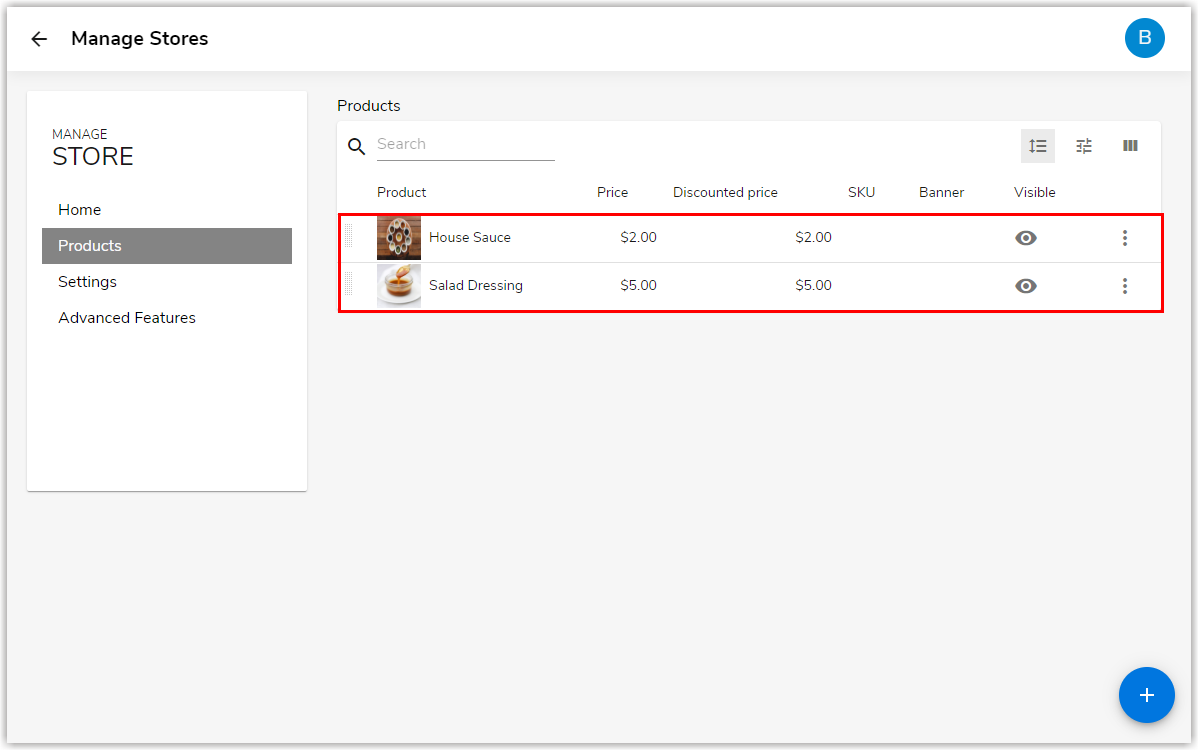 2. Next, click the Variants tab at the top of the page.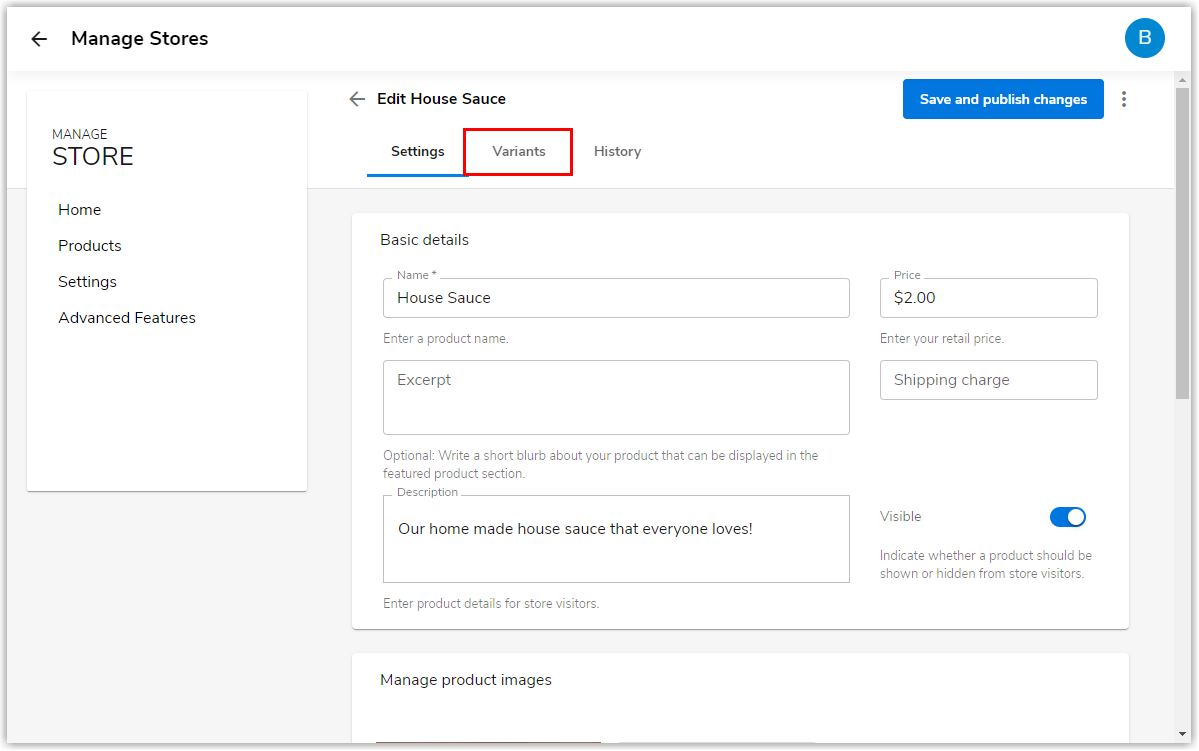 3. Click the button Add a variant.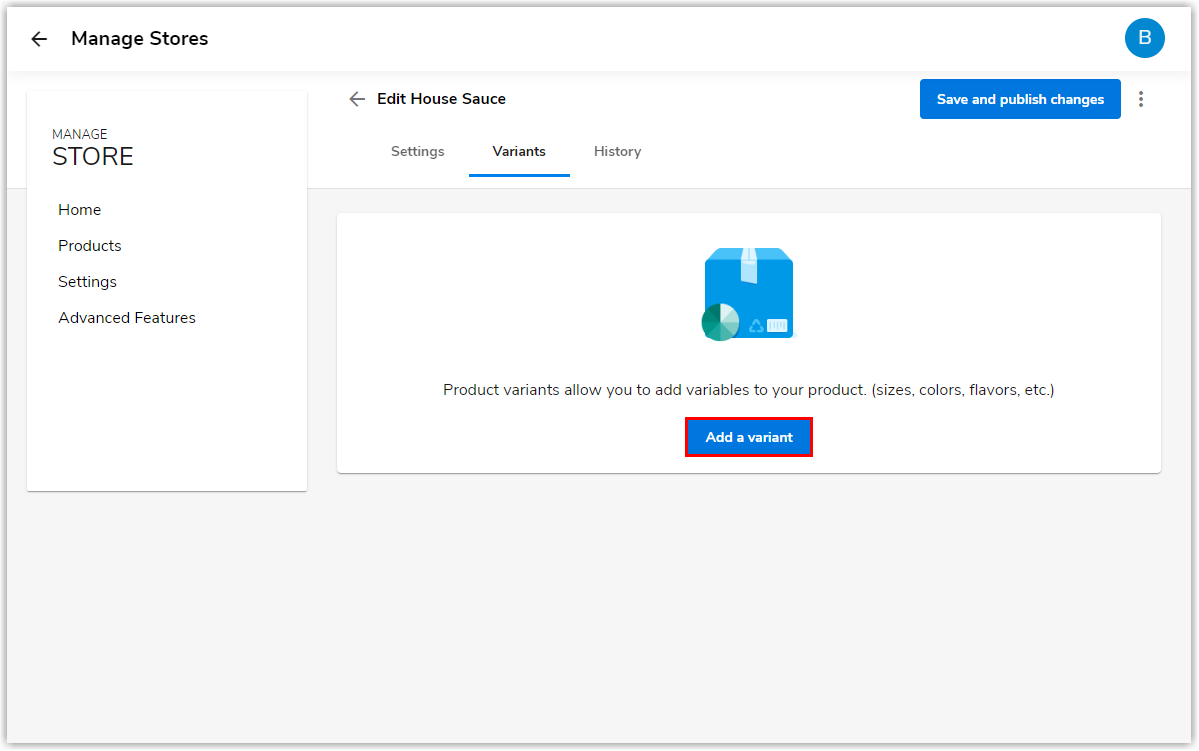 4. In the window that opens, choose a preset variant from the drop-down or enter a custom variant and click the + sign.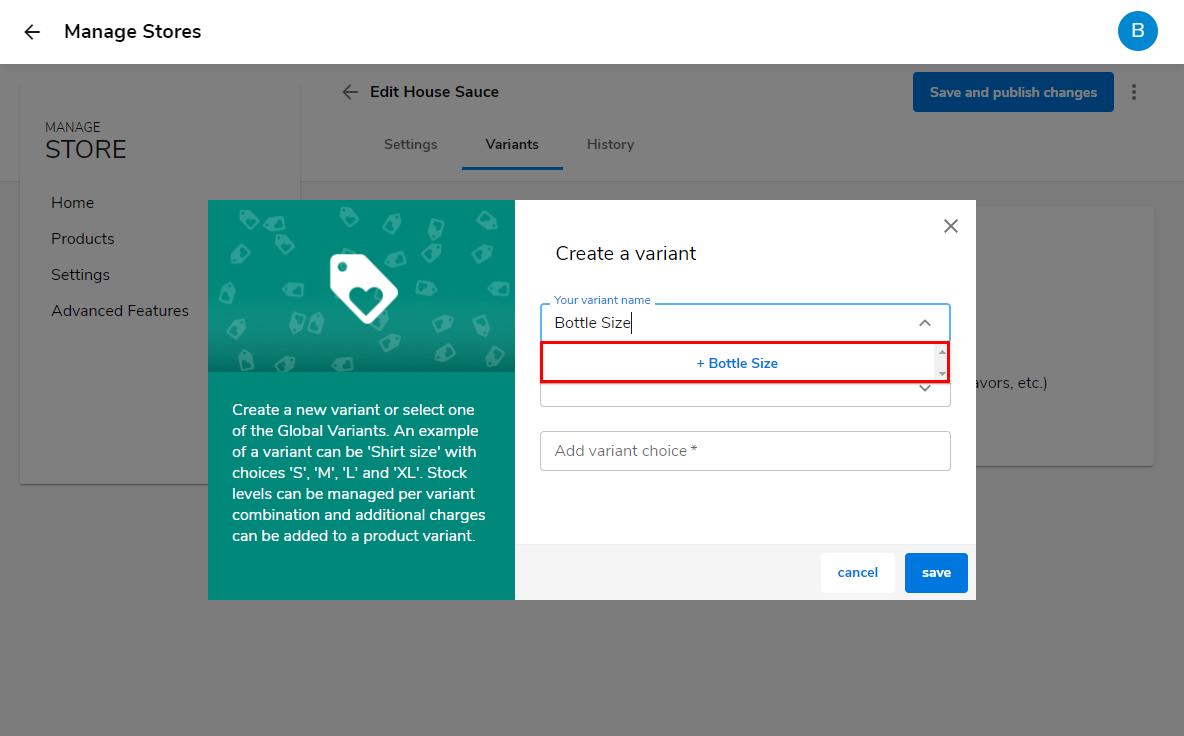 Pro Tip: As you create Variants, you will see the list populate with your selections. We've loaded some of the most common variants already, such as color, shirt size, shoe size, and style, but you can also create your own.
5. In the Variant Type drop-down, choose the type of variation to your product that you will be adding. Please note that this does not show on the website, and is used only for selecting an optimal layout for the variant choice.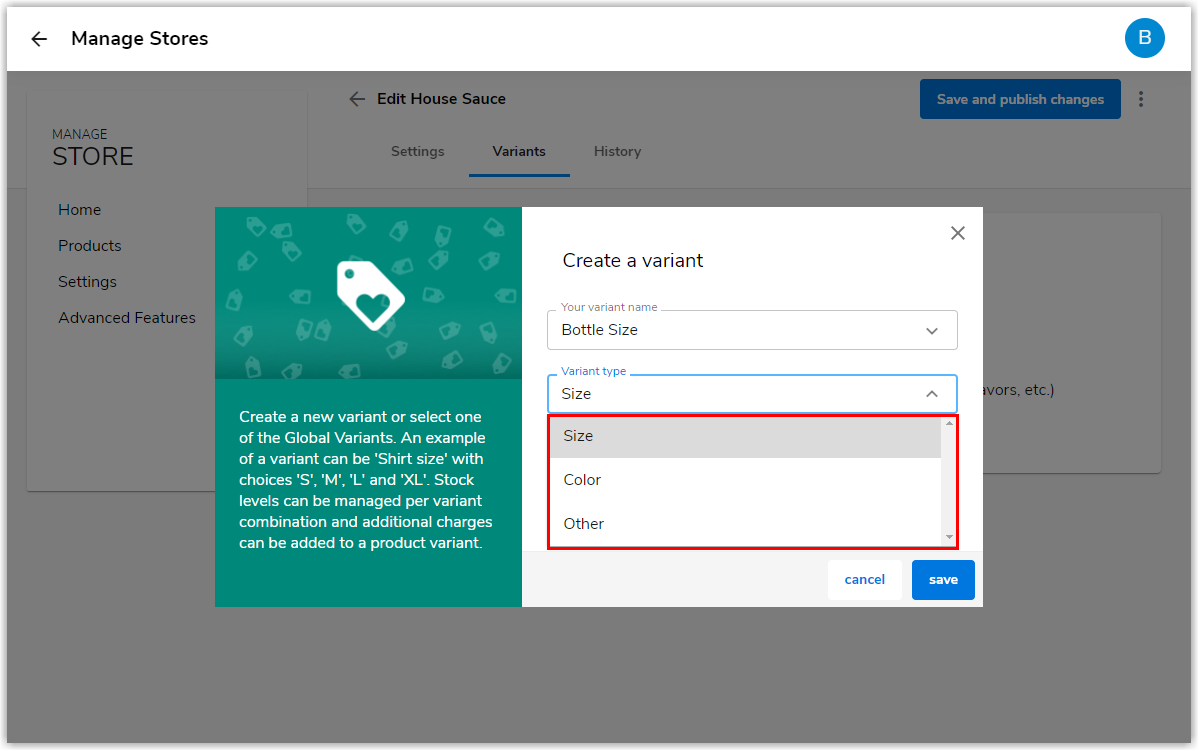 6. Finally, add the choices you would like your customer to select from by typing each selection in and hitting Enter or Return on your keyboard. When you see a bubble with the variant option below, that will tell you that the selection has been added. When you have finished adding all the options you would like, click Save in the bottom right corner.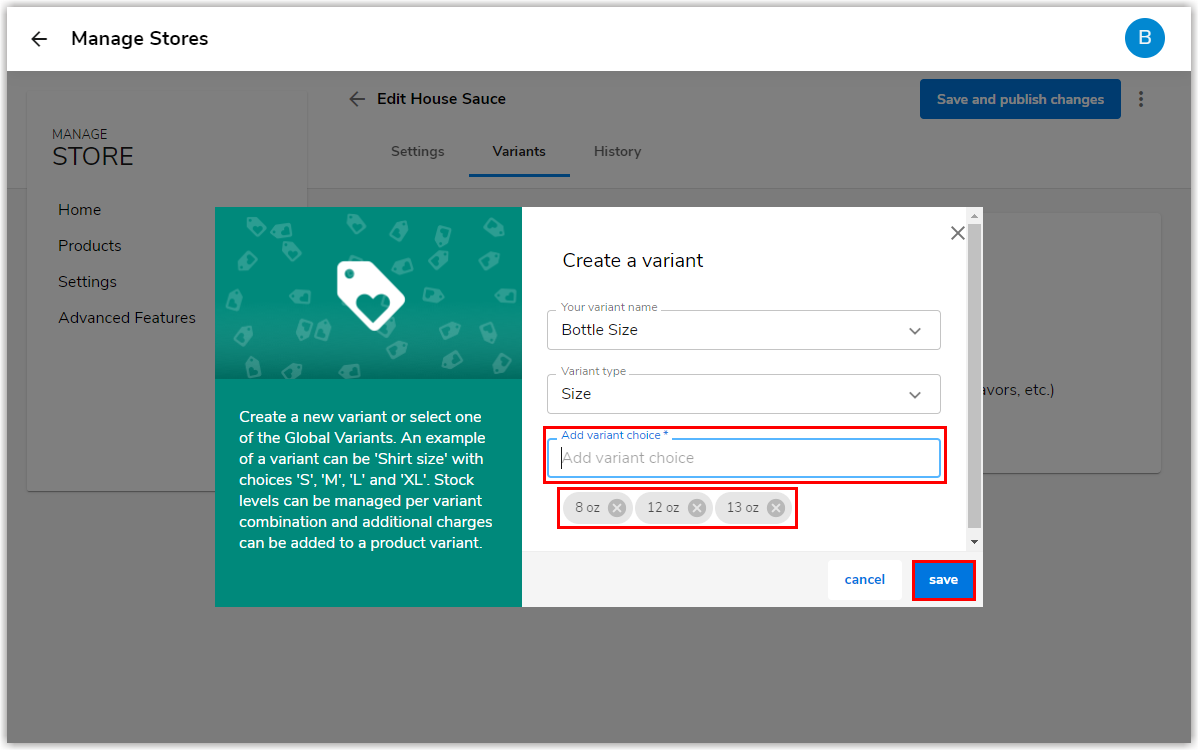 7. You will now see the variant applied to your product with some additional features that allow you to set up your product just how you would like!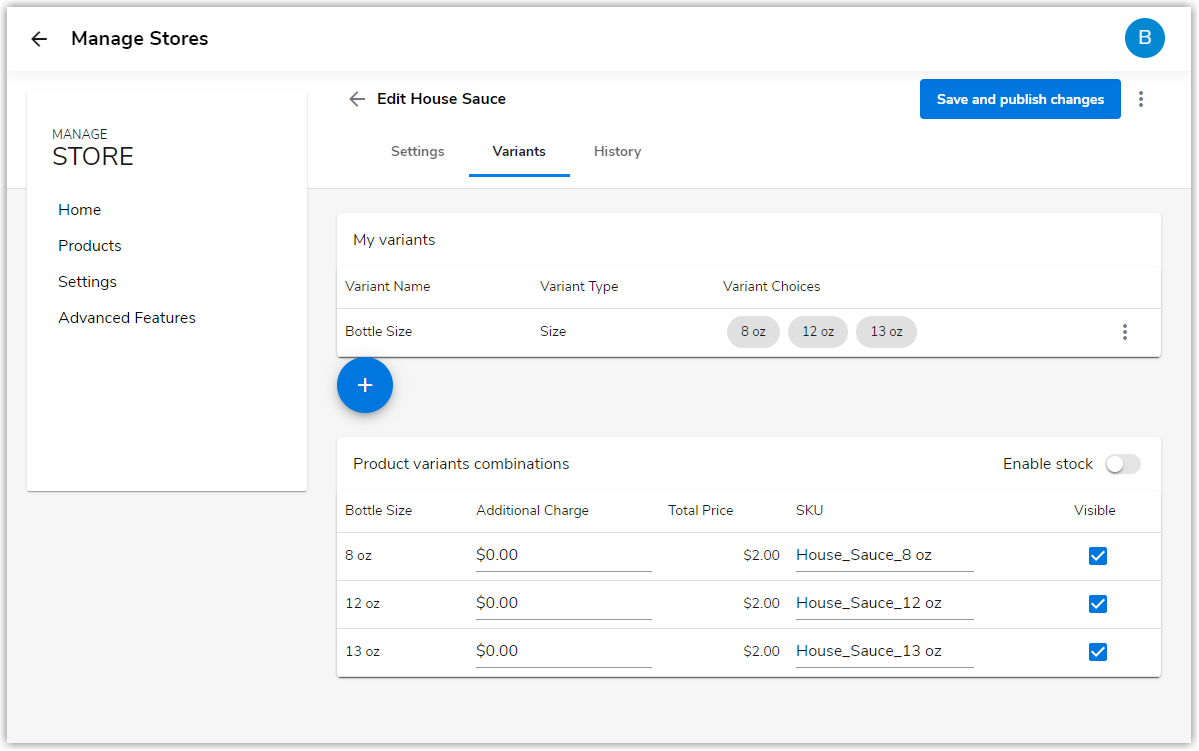 On this page you will be able to:

Add additional variants

Edit the variant

Enable and set stock for each variation

Add additional fees per variation

Customize SKU per variation
8. Once you have added all the variants and settings you would like, click Save and Publish Changes for the variants to go live.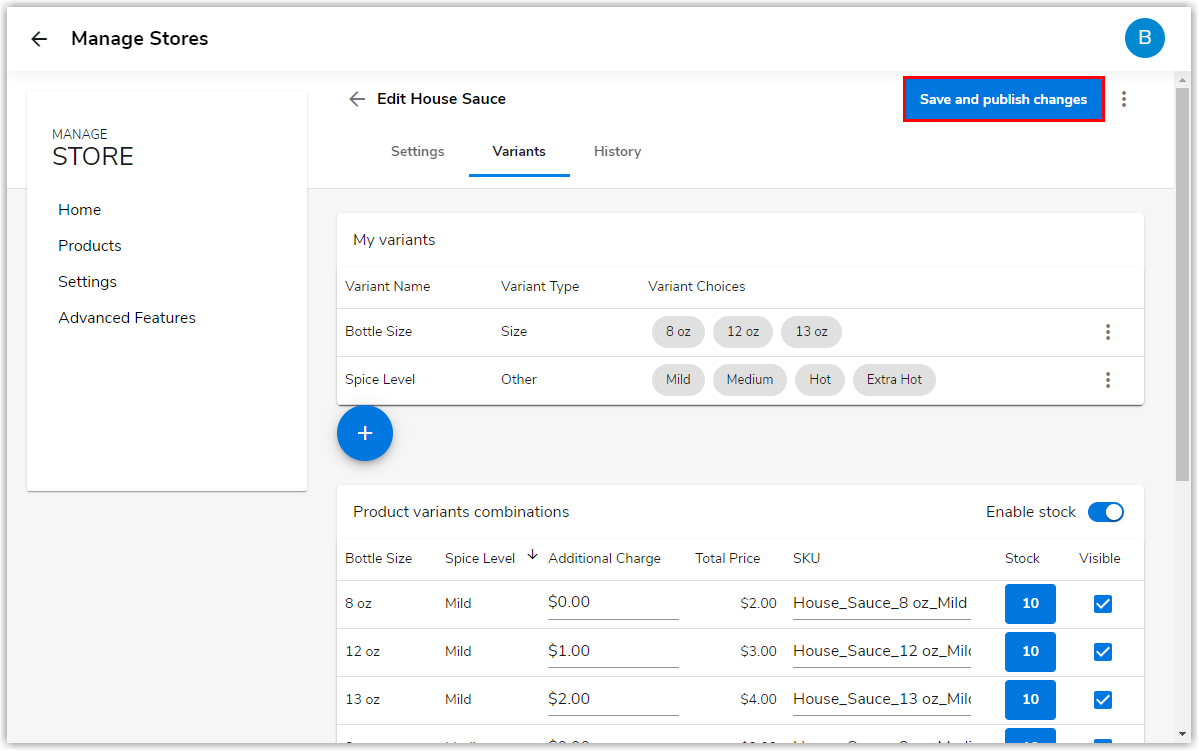 9. Congrats! You will now have these options added to your product and appear on your website and in the website editor.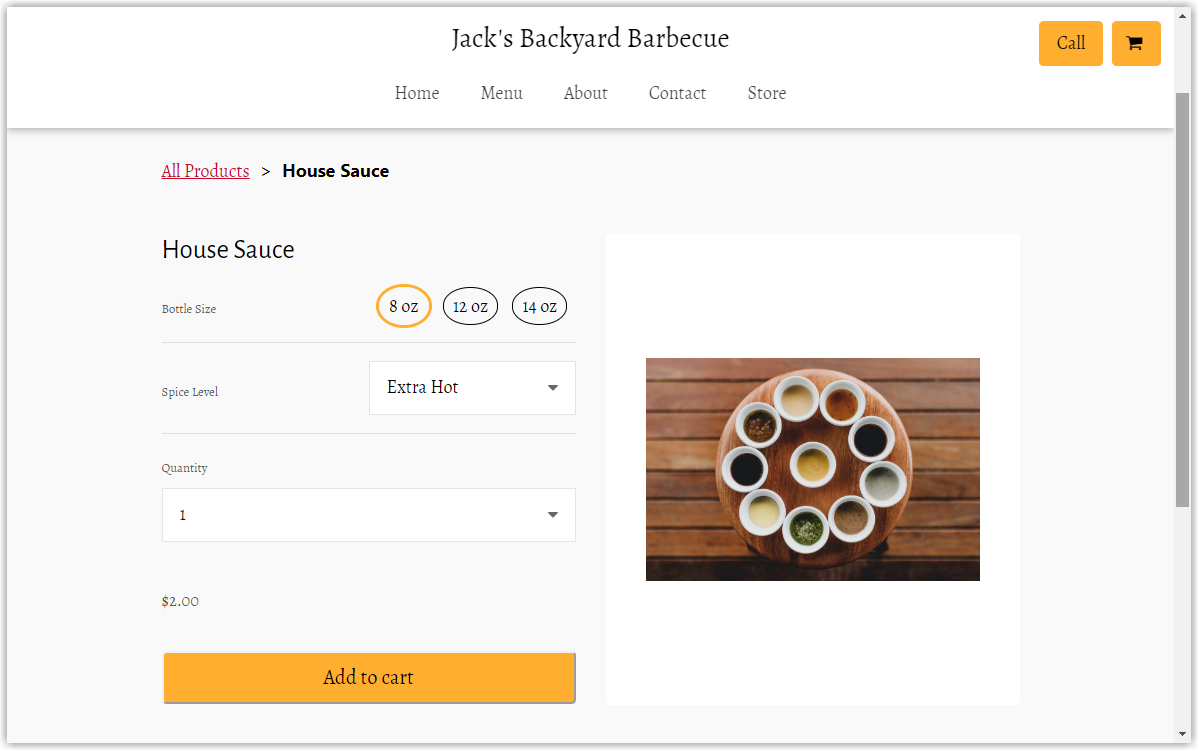 ---
Adding variants to a single product is easy enough, but what if you'll be selling multiple products that use the same variants? We have a tool called Global Variants that will allow you to set up presets that will auto-fill information every time you add a variant to your product.
1. First, to enable Global Variants, navigate to the Advanced Features from the left-hand menu.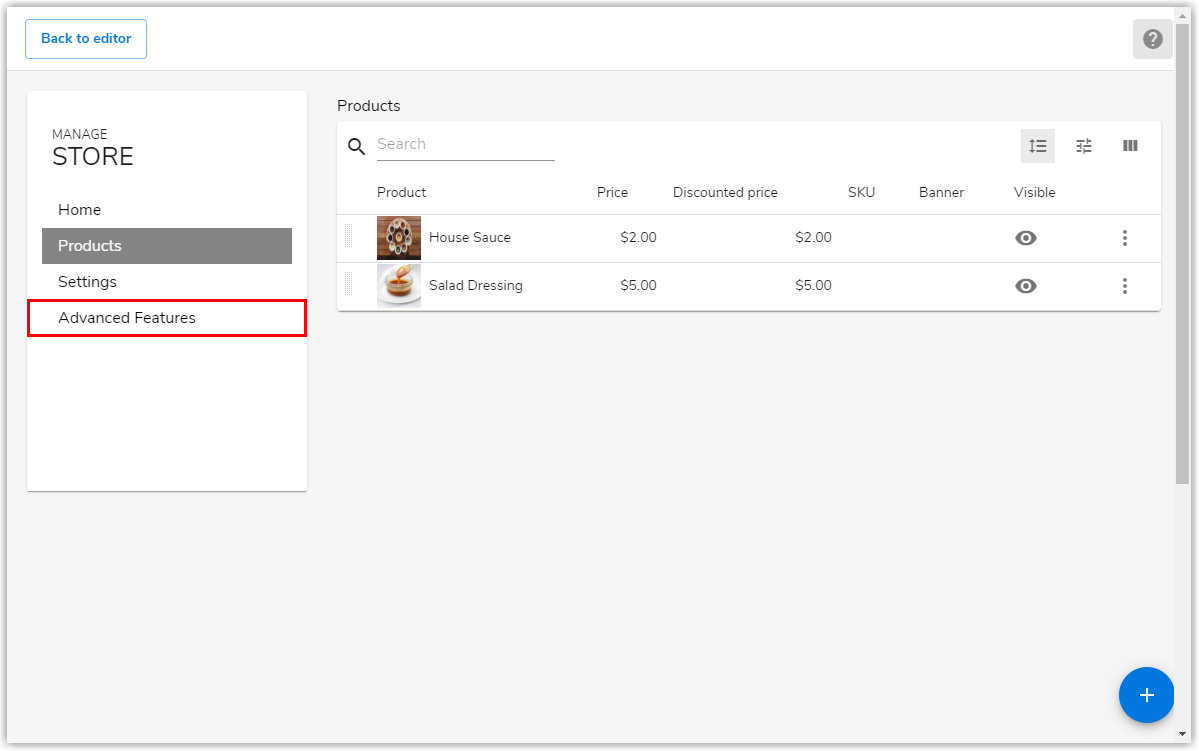 2. Look for Global Variants and toggle the switch to activate.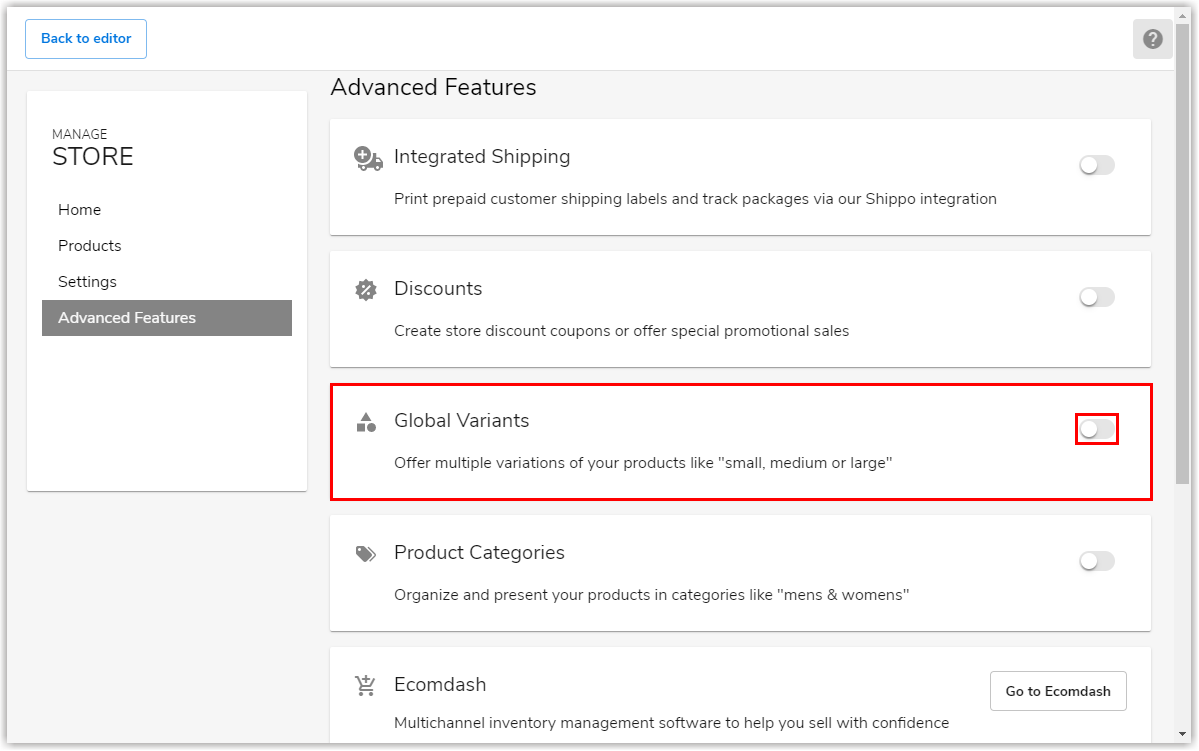 3. You should see the following Global Variants tab appear in the left-hand menu of your store.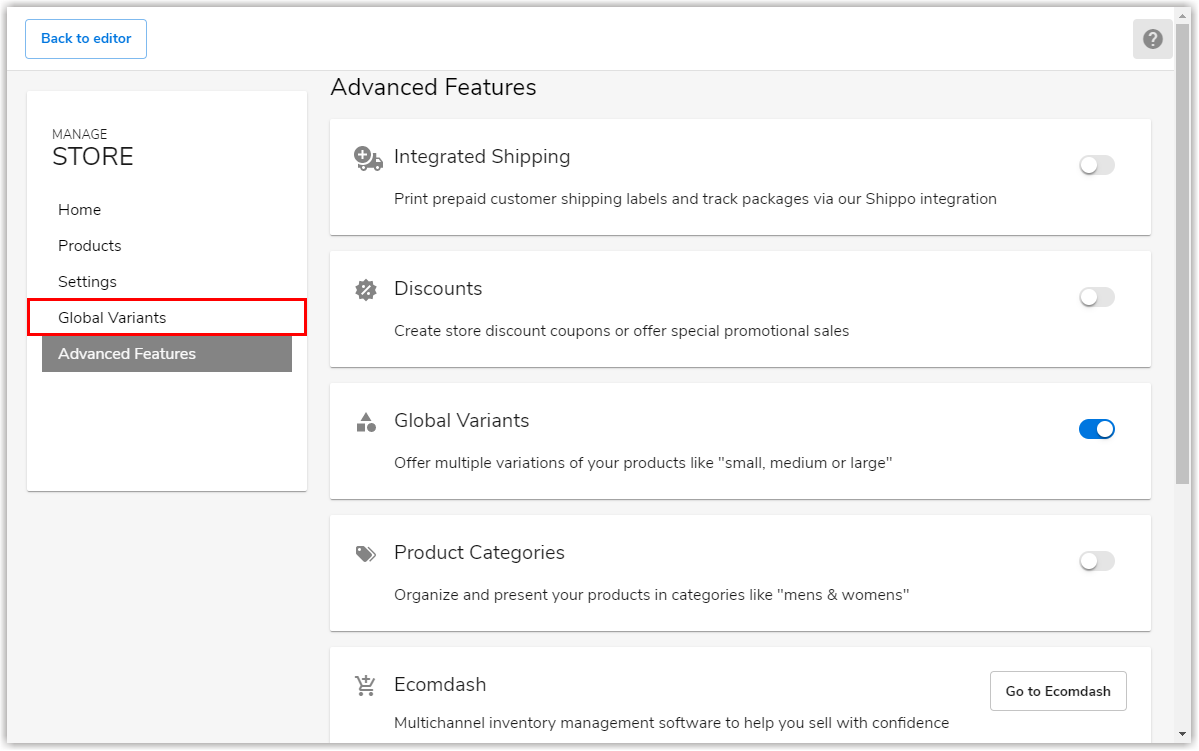 4. Click the Global Variants tab to see all the current global variants on your account.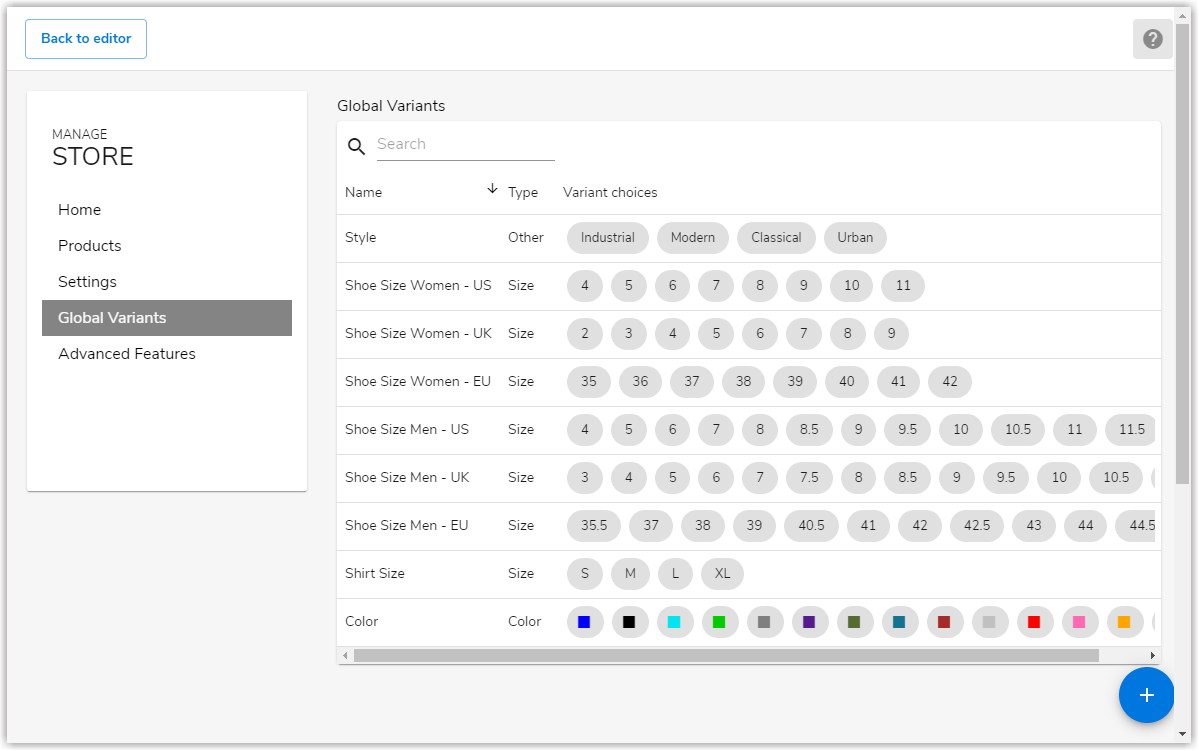 5. You can manage each variant from the kabob menu to the right of each option, or click the + button to add a new one.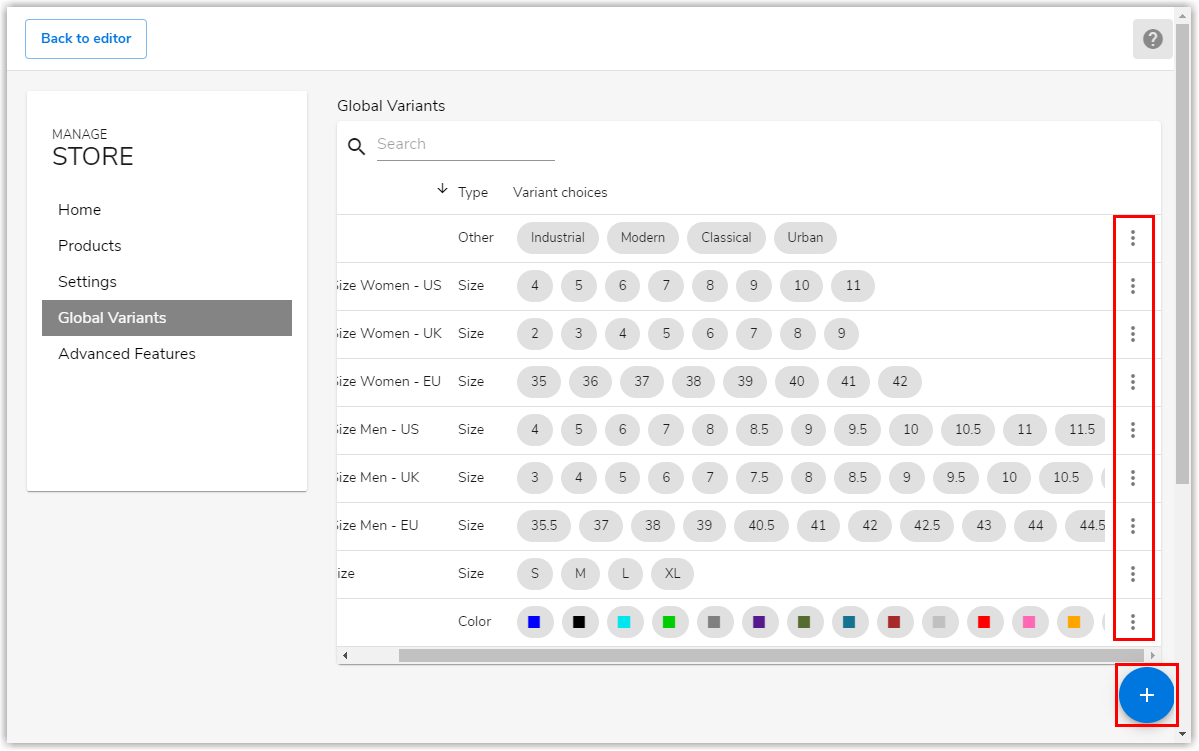 6. Just like adding an individual variant, fill out the Name, Variant Type, and Variant Choices.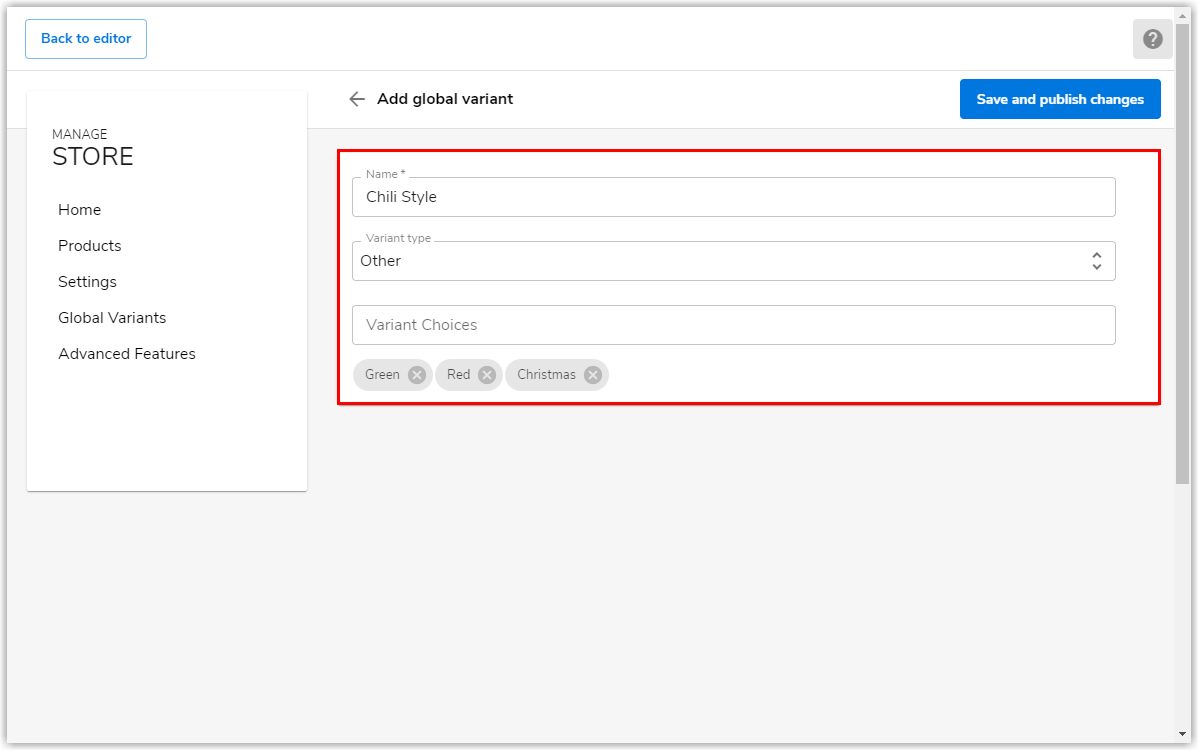 7. When you are finished, click Save and publish changes at the top of the screen.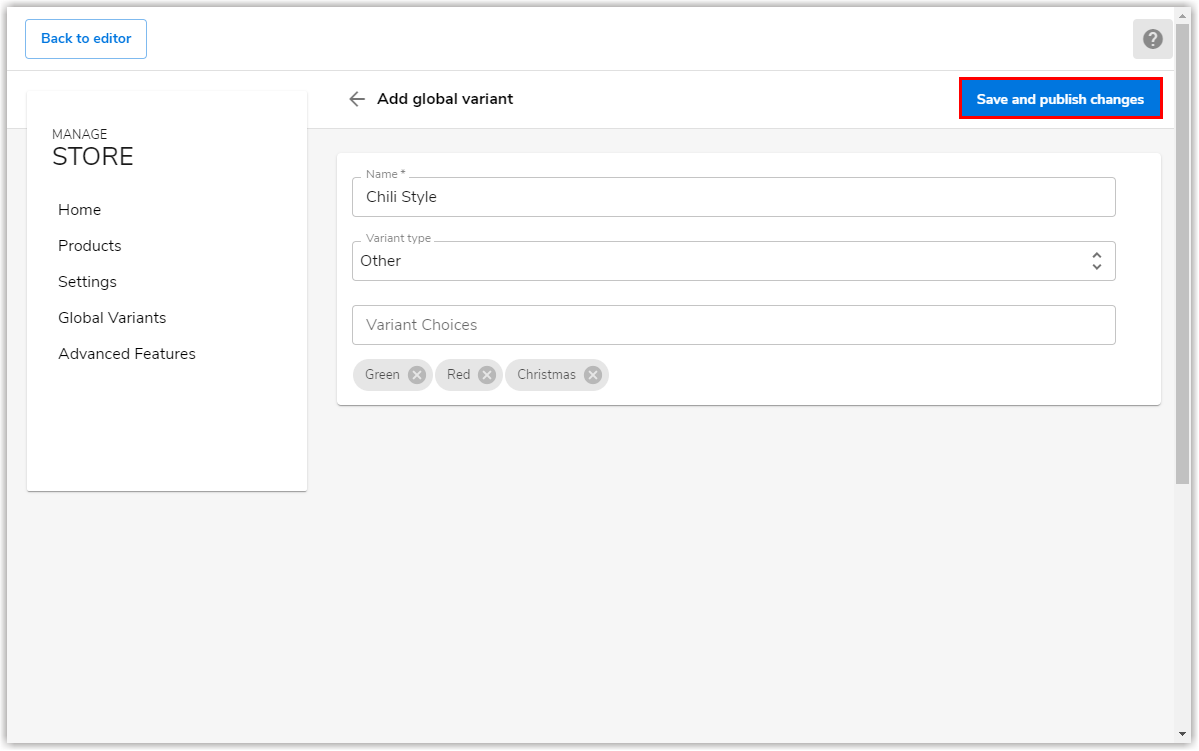 8. Congrats! You will now see your variant as a part of your global variant list!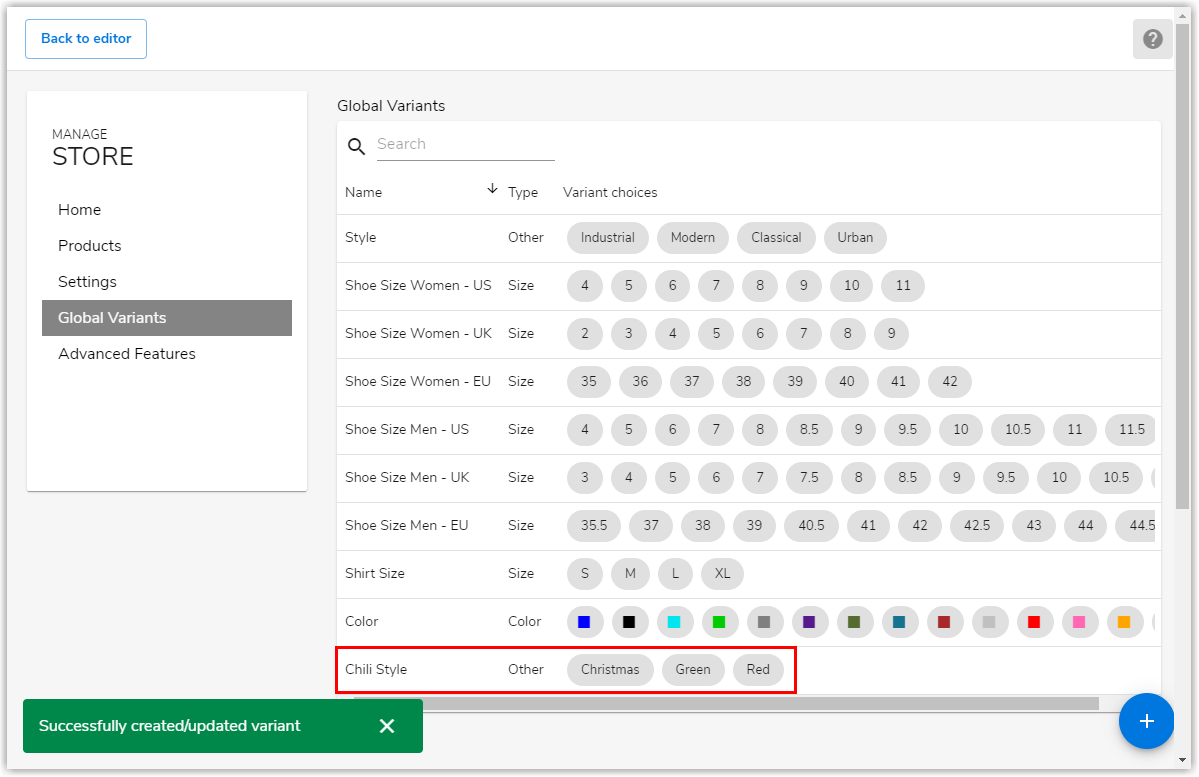 9. Moving forward, for every existing and new product you add a variant to, you will see your custom variant appear from the drop-down list.