Managing Databases in BaseKit
As of June 19, 2013, BaseKit is unavailable on new Shared (SW) accounts; however, WordPress is an excellent alternative to this builder. The instructions on how to install WordPress are discussed in the article:
How to Install WordPress With Softaculous
.
---
A database is a collection of information organized to allow your site to access specific pieces of data quickly. A database is simply an electronic filing cabinet. If you use the BaseKit form or any specific applications on your site, you will have a database.
BaseKit allows you to easily view, manage and delete databases associated with your BaseKit with just a few simple clicks. To manage your databases in BaseKit:
Log in to BaseKit.
Click Manage on the home page.
Select Databases from beneath the Manage menu.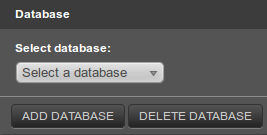 You can select your database (if applicable) from the dropdown menu above. Additionally, you can add or delete a database by clicking the corresponding buttons.