Introducing: The Plesk Admin Panel
This article will give you a brief overview of the important tools and functions available in the administration panel of Plesk.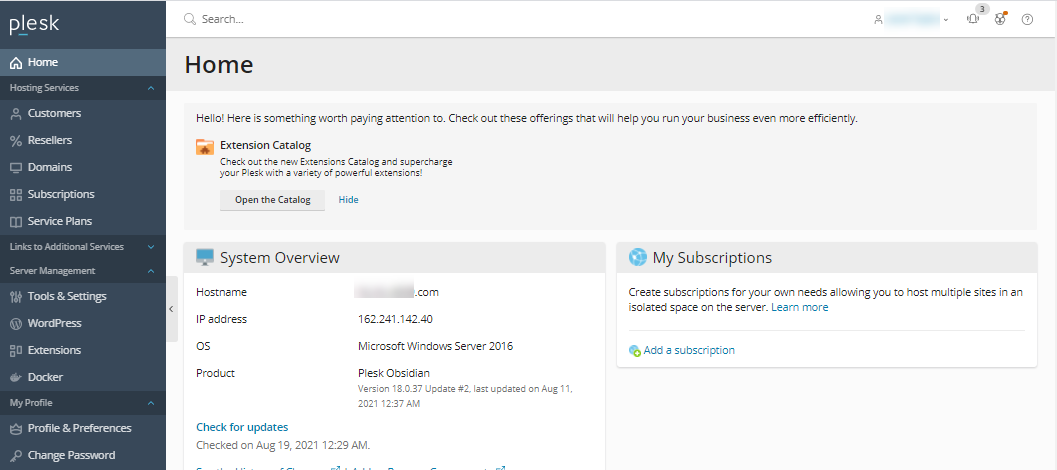 The Plesk Control Panel runs on ports 8880 (non-secure) and 8443 (secure). For security reasons, you should always sign in using the secure URL, which looks like this:

https://<server ip address>:8443
So, if your new server's IP address were 123.45.67.89, you would put the following in the address bar of your browser:

https://123.45.67.89:8443
You may receive a security error involving the SSL certificate. This is normal, and the reason for it will be explained later in this guide.
Navigation Pane
Once logged in as the "admin," you will notice the Navigation pane on the left side. This consists of several menu options for Plesk. The majority of your administrative actions will be performed via the Navigation pane.

Home - This is where you start working with the Panel. Most of the operations you might need to perform are accessible from this area.
The Hosting Services section groups together several useful functions for the management of specific accounts.
Customers - This is where you perform operations on user accounts. Customers are end-users of hosting services; they cannot resell hosting services. You can accomplish the following tasks from this area of the Panel:

- Create, modify, suspend, activate, and remove user accounts
- View traffic usage reports
 
Resellers - This allows you to perform operations on reseller accounts. Resellers can use hosting services and resell the services to end-users. Resellers cannot create reseller accounts for other users. You can accomplish the following tasks from this area of the Panel:

- Create, modify, and remove user accounts for resellers and their customers
- View traffic usage reports
 
Domains: This is where you can view information about hosted websites and their domain names and go to the Customer Panel.
 
Subscription - This allows the management of customer subscriptions to your services. Subscription is a way a customer obtains services and resources provided by a service plan.
 
Service Plans - This is where you manage your service plans. A service plan is a set of resources and services provided to hosting service customers by means of subscriptions. There are also service plan add-ons that extend the number of resources and services provided with a subscription.
The Server Management section contains tools for broader server configuration.
Tools & Settings - This is where you configure and manage system services and view resource usage statistics. It also allows the configuration of global settings related to hosting services and Panel branding.
The My Profile section is for the management of the Administrator account.
Profile & Preferences - This is where you set interface language and skin and update contact information.
 
Change Password - This is where you change your password for logging in to the Server Administration Panel as administrator.
---
System Overview Pane
This pane displays the Hostname, IP address, server operating system, and panel version. This pane also shows a listing of all resellers, customers, subscriptions, and service plans.
Here are some of the features within the administration panel
Next:  Creating a Web Hosting Account in Plesk
---
Introduction to Plesk Administration
---