How to Create Mailing Lists - Plesk
Enable the Mailing List Tab
Note: These examples are using Plesk 10, however, the steps will be the same for other versions of Plesk.
In order to create a mailing list in Plesk, the Mailing Lists feature must first be enabled. To do this:
Go to Server Settings.
Select the Mail section.
Choose the Setup Mailing Lists Server option.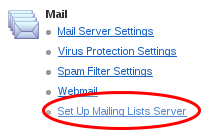 Users will then be prompted to set up the Administrator Mailing List password which will enable the server and the Mailing List tab.
Create a Mailing List
Click on the Mail tab.
Click on the Mailing Lists tab.
Click the Create Mailing list icon.
On the next screen, complete the following fields:

Mailing list address
Mailing list administrator's email (Should be an existing e-mail address)
Password
Confirm password
Subscribers

Press  OK.